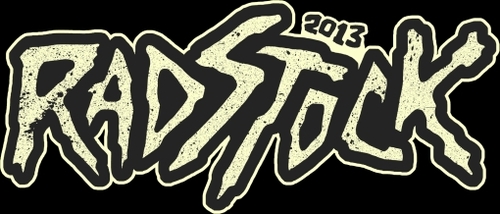 This weekend the inaugural Radstock Festival takes place at Liverpool's O2 Academy. The one-day festival is set to deliver an array of established and upcoming bands; from The Blackout, We Are The Ocean, Don Broco, and Bury Tomorrow all the way to emerging acts such as Natives, Marmozets, Gnarwolves, Decade, and Drive By Night, Radstock is set to kick off the UK festival period in a big way.
We recently caught up with one of the organisers behind Radstock, Jamie Otsa to discuss how the festival came together, what obstacles they've faced, how Radstock compares to other similar festivals and much more.
Already Heard: Hi Jamie, Can you tell us what your role is behind the scenes at Radstock and who are the other individuals involved?
Jamie Otsa: Radstock owned and run by myself, my business partner Sean Ryman and Pete Walker who both work for O2 Academy Liverpool. Me and Sean have been working together as promoters and artist managers for about five years now and are good friends with Pete who is Promotions Manager over at the Academy. We've all had a bit of a hand in everything from the concept of the festival through to the artwork and the line-up, but I've been handling national and online press and accreditation, guest list and will be stage managing the main stage on the day of the festival.
AH: This is very first Radstock Festival. How and when the idea come about to do the one-day festival?
Jamie: Like I say, me and Sean have been running shows in Liverpool for years and we've built up a great relationships with agents and bands of all sizes. There is a burgeoning alternative scene in Liverpool which we've been trying to nourish for years and we saw this as the perfect opportunity to put together an all-day festival that plugged a big gap in the market and brought something great to the city. Between the three of us we've run a lot of shows and club nights that have contributed to the Liverpool scene and it's nice for us to be able to put an event of this size on and feel confident that there is now a gig-going audience out there which we've helped to grow.
AH: How vital was Sean's and your experience as promoters when organising Radstock?
Jamie: I think it was pretty much fundamental really. There's no way we'd be able to put together an event of this size with a national marketing campaign without all of our previous experience and contacts, and we've been working together for so long that we have a good understanding of each other's strengths and weaknesses and who is best at what. Generally speaking, Sean does the numbers and I do the creative stuff.
AH: The lineup is stacked with UK talent. How important was it to have a the UK scene represented at Radstock?
Jamie: I think the UK music scene is probably the healthiest it's been for years. Me and Sean are in constant daily contact with upcoming UK artists and we see the talent emerging at a very early stage, which is how we started working with Marmozets, Decade and Tantrum To Blind on a management level. It's great for us to be able to ram out a line up with home grown bands and give them a platform to perform on and we're really keen on pushing UK talent.
AH: How important is it to have the right balance between familiar and emerging bands on the line-up?
Jamie: Like I said earlier, we are all about supporting new talent, but to be able to give these bands a platform to perform to an audience you do need to have the familiar, larger acts at the top of the bill to draw in the ticket payers. It would be a much taller order to sell out the event with a bill full of unknown names.
AH: There are a few up and coming bands playing this year. Are there any bands you're looking forward to seeing and would recommend people to see?
Jamie: Well I might be biased but all of our bands are bound to do a good job so I'm hoping I can catch a bit of their sets, but I'll be looking after the main stage all day – luckily their stage is opposite mine! I'd urge people to get there early and check out Gnarwolves, For Eyes, Light You Up and Rat Attack who are all awesome new bands that deserve a chance to be heard.
AH: With this year being the first year, have you had any obstacles in persuading bands or sponsors to take part in Radstock?
Jamie: Obviously it's not always easy convincing people when you have a new event but we've been really lucky to have the backing of the Academy as well as a tonne of great contacts which we've already made in our other lines of work. We've worked with Atticus and Orange before on other ventures and have known the Monster Energy team for a while so it's really nice to be able to work with them on an event. We're also really excited about having Hard Times and Big Deal Clothing on board to sponsor the other two stages. I think we've been lucky in that we've already got a good track record and have worked with a lot of people before, so we got a bit of a leg up. It always helps when you manage to confirm your headliner early, so we were really pleased that The Blackout wanted to come on board straight away.
AH: The festival is being held at the city's O2 Academy. What made you choose this venue compared to other venues like the Echo Arena?
Jamie: The ethos behind Radstock is that we want to keep it to a manageable and compact size and really condense down the event into a really quality day with no filler. The venue is in a great location right next to transport links and we've also got a great relationship with them already as we put a lot of shows in there. I think the Arena might be a bit ambitious for now!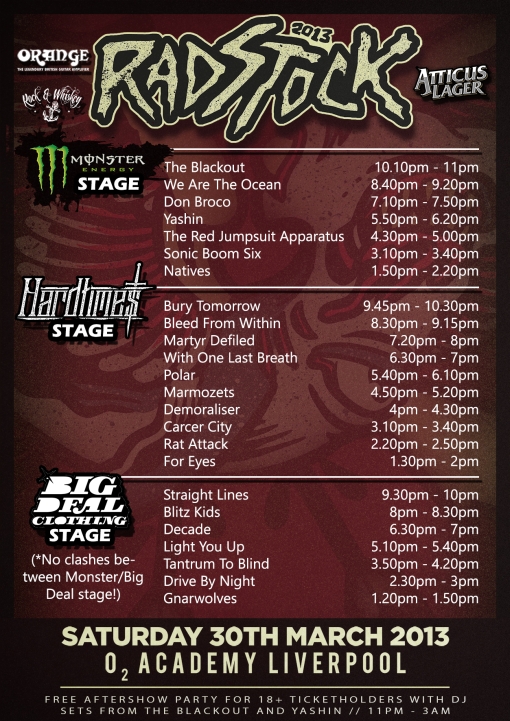 AH: Earlier you talked about the alternative scene in Liverpool. What is the current state of the scene in Liverpool? Has it suffered from the ongoing nationwide economic issues?
Jamie: Liverpool has always been a bit of a microcosm when it comes to the music scene. For a city steeped in musical heritage it's had a bit of a turbulent time with economic issues and trends coming and going – obviously there was the Merseybeat trend, then it was a big punk city in the 80s, then you had The La's, Cast, The Zutons, The Coral, now a lot of the LIPA bands are doing their alt-folk thing and getting some great attention – it's never really had a thriving "alternative" scene though. In the last 10 years that's definitely come on in leaps and bounds and our main aim is to make people realise that we can have these events happening in Liverpool and don't need to travel to Manchester or anywhere else to get our fix. In recent times we've seen a bit of a dip in attendance due to the economic climate but I think as an overall trend, attendance is up and the audience is growing all the time.
AH: Besides Radstock, I know you're involved in other areas of the music industry (managing, promoting, writing). How do you find time to organise an event like Radstock alongside everything else?
Jamie: I'm not really sure. I like to be busy, but I do have those moments where things are going wrong and I'm juggling a lot of different jobs and I think "why am I doing this to myself!?" The answer is probably because I just really love music – it's what I've always wanted to work in and around and I'm so interested in all the different areas that really, waking up every day and getting stuck in is an absolute pleasure. Well, 99% of the time. Also, I hate working for other people so the ability to be my own boss is a massive bonus for me!
AH: Over the coming months there are numerous festivals like Radstock with similar bands taking place up and down the country. Do you think with so much choice for fans, is the festival period becoming overcrowded?
Jamie: Before we started working on this I might have said yes, but we've been so pleased with the reaction that we've had to the event that I really do think there's enough market share for everyone at the moment. We're lucky in that we have a relatively low capacity for a festival so we don't need to shift thousands and thousands of tickets, and I think if you have a well put together event with a quality line up then you're going to be able to attract people – we've sold tickets all across the UK as well as in Europe, which is amazing, especially as it's our first year and we're still finding our feet.
AH: Do you think the intimacy and low ticket cost been a major factor in the overwhelming response?
Jamie: Yeah definitely, we were pretty adamant about keeping our ticket price below the £30 mark and making sure that we were offering the best value for money that we could, we actually ran our early bird tickets at £22.50 and the aftershow party is free entry for all 18+ ticketholders with cheap drinks prices and DJ sets from The Blackout and Harry Radford from Yashin. There aren't many places where you can see bands of this calibre in a venue of this size together on the same bill so I think that's been a definite attraction.
AH: Would you say its great for the British rock scene to be holding so many festivals?
Jamie: Yeah definitely – as long as the quality of the events is high I don't see the problem. It gives bands a great way to reach new audiences and seems to be becoming the holiday of choice for music fans now that overseas travel is a bit more expensive and everyone is watching their cash. There's always a danger of oversaturation but I think there's a growing audience nationally, especially in the alternative scene, that are really hungry to get out and go to gigs again.
AH: In comparison to those other festivals, what makes Radstock unique?
Jamie: We've been really keen to try and make Radstock an intimate affair. In the main room, you can watch bands like The Blackout and We Are The Ocean but we've also featured the Big Deal Clothing stage in there with a lot of the smaller bands like Straight Lines and Blitz Kids – introducing people to the new breed is what we're all about really and we're stoked to have some incredible up and comers on the bill. I think the size of the venue and the love for new bands that we've got will make Radstock feel a bit more like a family affair and we're hoping that people will make the effort to support the smaller bands on the bill as well as the headliners on each stage.
AH: Why do you think festivals like Radstock, Hit The Deck, Takedown and Slam Dunk have succeeded whilst larger festivals such as Sonisphere has suffered in recent years?
Jamie: I think the inflated ticket prices and sheer volume of artists and punters at a festival like Sonisphere turns some music fans off. I think Sonisphere just really judged the climate and their billing wrong last year, the headliners weren't strong enough for people to justify spending that amount of money on a ticket when times are tough. It's definitely something we've had to be more aware of when scheduling events and have tried to keep all of our ticket prices reasonable. If you want to go to a festival to actually see bands, attending a large event isn't always ideal – you're faced with long walks, big crowds, clashing timetables and the British weather!
At Radstock and the other indoor festivals you can get between stages easily, check out bands as you're walking through, the ticket price isn't going to break the bank and if, like us, the festival has been kind and scheduled two whole stages that have no clashes, you can see twice as many bands. What's not to like?
Radstock Festival 2013 takes place the O2 Academy in Liverpool on Saturday 30th March 2013.
Further information can be found at RadstockFestival.co.uk and on Facebook, Twitter and Tumblr.
Words by Sean Reid (@SeanReid86)