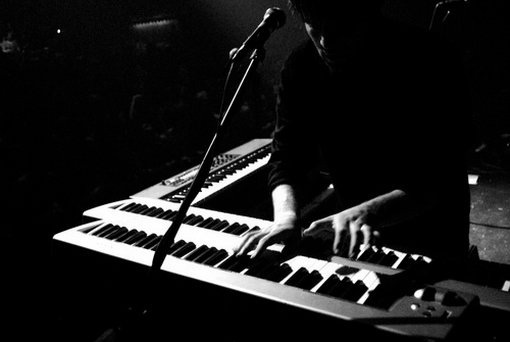 Recently James Dewees announced plans to relaunch his former solo project, Reggie & The Full Effect. With a new album in the works, Dewees has launched a Kickstarter page to fund the record titled 'No Country for Old Musicians.'
In addition having spent the past few years touring alongside the now defunct My Chemical Romance, James is now working on another project alongside MCR guitarist Frank Iero called Death Spells. He also recently finished a run of US shows alongside fellow Get Up Kids member Matt Pryor.
Already Heard recently spoke to James about relaunching Reggie & The Full Effect, using Kickstarter, his memories from touring with My Chemical Romance, Death Spells and more.
Already Heard: Hi James. How are you today?
James: I am wonderful!!! Weather is bad, but I am good!
AH: You've recently announced you're relaunching your solo project Reggie and The Full Effect. What made you decide to bring it back now?
James: A very close friend of mine sent me a message and said that he thinks the world needs Reggie back in it. As corny as it sounds, it is a nice day brightener for alot of people, and of course myself.
AH: For those who may not be familiar with Reggie and The Full Effect, can you sum up the project?
James: Fun to the max, not trying to look cool, make millions, or any of that nonsense. Just trying to have fun with all my friends.
AH: Alongside relaunching the project, you've announced plans for a new album called 'No Country for Old Musicians.' Where did the title come from?
James: Because I am 37 and in the indie scene thats pre-historic. It's like I should have a cane onstage to get to the microphone and watchout… cause I might pass out, I'm so old. Ha ha not really, it was just funny to me.
AH: You're using the Kickstarter service to raise funds for the record. Why did you decide to use Kickstarter and what are your thoughts on "crowdfunding" services like Kickstarter?
James: I chose Kickstarter because I can reconnect with the old fans and also begin to connect with new ones. It allows the fans to be a part of the record process which to me is very special, without them there is no industry.
AH: Did Matt Pryor have any influence on you using Kickstarter as he used it for his last record 'May Day'?
James: Actually no, I heard he did it, but it was Mindless Self Indulgence that caught my attention, then I saw Murder by Death's then Kevin Devine's. I think it is really catching on for indie bands who don't have a label.
AH: Since launching the Kickstarter project, how has the response been?
James: It's been fantastic, $30,000 in 11 days! I couldn't feel more proud that after all this time, there are so many people who want Reggie back!
AH: The album has already been written. What can we expect from the record?
James: You can expect to rock out and smile alot. I love writing music that makes people happy, when they are happy I am happy! When they are sad, I want to make them happy. I send songs to my friends all the time to cheer them up when they are down.
AH: On your Kickstarter page, you admit to being older so can we expect a change in sound on 'No Country…'?
James: I am older but the music is youthful and new, so expect lots of energy and synthesizers.
AH: In recent years you've toured with New Found Glory and My Chemical Romance and regrouped with The Get Up Kids. Has any of those experiences influenced the writing of the record?
James: Of course, I get all my inspiration from everyone, everything around me. The network of friends I have made in all my years as a musician blows my mind sometimes because they are all great, fantastic and extremely talented people. I am lucky to have them as my friends.
AH: You're also planning on touring the album. Can we expect to see you in the UK?
James: Oh yes, I love it in the UK, and Reggie didnt get to come but 2 times before so I plan on being there alot. I recently became friends with the Biffy Clyro guys. They are fucking amazing band and amazing people, I got to fill in for their keyboard player for 2 shows and I loved it so much. They asked when I was coming back over. So now I gotta go…
AH: Speaking of touring, you recently went out on the road with Matt Pryor. How were those shows?
James: They were great shows, just all around fun for us and the crowd! We play everything, so if you want to hear something people just shout it out and we can usually play it. Maybe poorly but still, ha ha.
AH: You've also been taking part in some of Matt's podcasting. Can you tell us a bit about 'Tuesdays With Reggie'?
James: It is just us talking like we do when we drink coffee and are catching up.
AH: Moving on, news recently emerged you're working with Frank Iero on an electronic-hardcore project called Death Spells. What else can you tell us about the project?
James: It is very heavy, and kinda nuts.
AH: Having work with Frank before with My Chemical Romance and Leathermouth, what has it been like working with Frank again?
James: Its awesome! We have become like brothers with all of our adventures together all over the world.
AH: The first Death Spells song recently appeared online. How has the response been to 'Where Are My Fucking Pills'?
James: I think its great, we knew it would have that "what the f is this?" quality to it. Not all the songs are that insane but they are all equally as intense.
AH: How do you plan on splitting your time between Reggie and Death Spells?
James: Its easy because when I'm home I do Reggie stuff, and when we get together we do Death Spells. Although sometimes we do Reggie together too. Frank was hanging with Robo Fonzie a week ago talking Italian stuff.
AH: For many the news of MCR's end was out of the blue. Having toured with the band all over the world. What are the fondest memories and what lessons have you learned from being round the band?
James: My fondest memories are all of us together on stage killing it every night and then after playing in front of 40,000 people, we just calmly go eat PB+J sandwiches. That was the beauty of the band. A musical powerhouse but behind it all just a great group of brothers sharing the craziest experiences of our lives together.
AH: How would you sum your time with My Chemical Romance?
James: Seven years of living on top of each other, next to each other, every up and every down. I don't think we ever had a truly bad show. Maybe some weird ones. I loved every minute of it. I will really miss it.
AH: With two other projects on the go and having toured with Matt recently, can we expect anything from The Get Up Kids?
James: We had kind of brought it up but everyone is so busy it hasn't really gone any further than that.
AH: Do you have any final words for the Already Heard readers?
James: Just a big thank you for your time and help promoting the new Reggie!!! Thanks for doing what you guys do in keeping the scene alive. Remember to pledge on Kickstarter so I can get this rolling. Stay positive and be excellent to each other.
Further info on James Dewees' Kickstarter project and 'No Country for Old Musicians' can be found here.
James Dewees links: Facebook|Twitter
Reggie & The Full Effect links: Official Website
Death Spells links: Official Website|Facebook|Twitter
Words by Sean Reid (@SeanReid86)