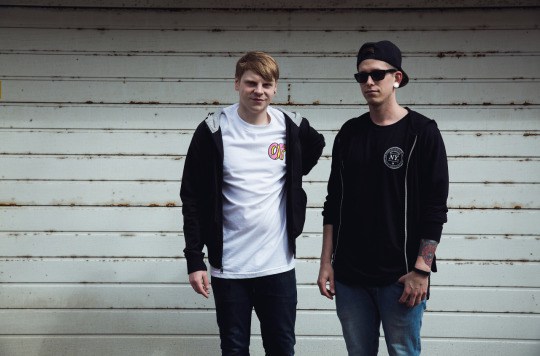 Throughout the UK, you will find places where the local music scene is prospering. One of those areas is the seaside resort town of Brighton. With the likes of Architects, Black Peaks, The Gospel Youth and As It Is being just some of the bands to emerge from the South Coast in recent years, it is clear there is something in the sea. Add to that, venues such as Concorde 2, The Hope, The Green Door Store and Sticky Mike's Frog Bar and you have a scene that offers plenty of opportunities for new, emerging talent.
One of those local bands that are on the rise is emo/pop-punk duo H_ngm_n (pronounced Hangman – obviously). Comprised of James Martin and Chris Childs, the self-proclaimed "dirty pop emo" released their debut EP, 'Lions, Tigers & Velociraptors', this past November providing three punchy, hook-filled tracks. Whilst lyrically the duo tackle familiar issues that anyone in their early 20s suffer; growing up, making bad decisions, dealing with change and trying to ignore the consequences.
Having received a positive response from 'Lions, Tigers & Velociraptors', Chris and James have been working on new material that embraces the stripped down element of just guitar and drums, allowing them to take a more easy-going approach compared to their debut.
As for vocalist Chris, not only does he play in one of Brighton's most encouraging prospects, he is also active in promoting and booking shows at Sticky Mike's and The Hope. Already Heard recently spoke to Chris about H_ngm_n, their forthcoming new material, his involvement in Brighton's music scene and more.
AH: Hi Chris. Let's start off with an easy one. Bring us up to date on the history of H_ngm_n? I understand you and James formed the band following the demise of your old band Echo Rain?
Chris: Yeah we did. Echo Rain played together for about 3 years, me & James & our mates Aaron & Caddy. We all met at uni and just started writing stuff & that went from there, but after we all graduated and had to get used the "real world", the band split. We're still really good mates with those guys, but they have their own things going on, so we basically came up with music that just us two could play together. It makes life so much easier just organising two people, and makes writing a lot more straight forward.
AH: I see you've described yourself as "dirty emo pop". Care to expand?
Chris: We listen to quite a lot of different stuff, but I don't think we're typically "pop punk" or "emo", it's kind of sad songs over but with pop hooks, a blend of the two genres I guess. The "dirty" part kind of refers to how we're just guitar & drums, so it's not super polished or anything, quite scrappy at times.
AH: Having heard 'Lions, Tigers & Velociraptors' I get the sense you mix up upbeat emo/pop punk with sad lyrics. Is that how you would sum the EP up?
Chris: Pretty much, yeah! We wanted the catchy fun sounds of bands like Say Anything or The Hotelier, with honest lyrics in the style of Motion City Soundtrack or The Front Bottoms. Songs are about being able to relate to something. I like to think that the problems I write about are common with a lot of people in their early 20s.
AH: I understand you've been working on new material since the release of that EP. Having heard two new tracks, it seems the new material is more laid back?
Chris: I don't think that was intentional, the newer stuff we've recorded is a bit more chilled out but I think it's just the order we decided to record them in. Writing stuff with just guitar and drums is a lot of fun because it means we have the freedom to come up with all kinds of stuff. It's not too far from what we do, just a little less "in your face" than our first EP.
AH: Having played shows since the release of 'Lions, Tigers & Velociraptors'. Do you think you and James have figured out your strengths and weaknesses?
Chris: Yeah I think having played together for a while we're pretty locked in with each other. The only difference for me is being a lot more exposed, so you don't have 2 guitars & bass & backing vocals like our old band. If either of us messes up, it's super obvious, so we've just had to work on not messing up.
AH: It seems the Brighton music scene is on the rise again. Why do you think it's been producing so many good bands lately?
Chris: I've been in Brighton 6 years, and there has always been a lot of bands, but in the last couple of years, good punk and emo bands seems to be coming thick and fast. I have no idea why. I think a place like Brighton offers so many opportunities for bands to play shows. There is so many great venues and good promoters, so maybe that's it.
AH: With Brighton having a busy scene, does it produce issues like people not attending shows and taking things for granted?
Chris: I actually promote shows myself, and I can definitely say the busy scene is often detrimental. It's great having loads of gigs to go to, but when you have at least 3 shows a night, there is a lot of competition and a lot of clashes. I'm often the guy pestering people to come to shows, whether it's H_ngm_n or a show that I'm putting on. My friends must get sick of me!
AH: In addition can it, at times, be competitive between bands and promoters?
Chris: Some bands and promoters get competitive, but I've noticed in this genre it seems that people are a bit more supportive than others. A lot of the bands we play with go to each others shows and always seem to watch support bands, even if they haven't heard of them. It doesn't happen with every genre.
[bandcamp width=100% height=120 album=1373652184 size=large bgcol=ffffff linkcol=0687f5 tracklist=false artwork=small]
AH: H_ngm_n are band who tend to keep it DIY. Does having venues like Sticky Mike's and The Hope in the area help?
Chris: Yep, definitely. I actually work at both venues, so it's massively useful for us. We filmed our first video at Sticky Mike's, played our first show there and have even practised there sometimes. Plus every show we've played at either venue has been great, the sound is insanely good. Obviously I'm biassed, but I'm pretty sure most bands that come through are happy with the sound.
AH: What advice would you give to anyone who's looking to book and promote shows in their local area?
Chris: I'd probably say it's really important in Brighton to know what else is going on. Don't tread on anyone's toes, and be aware that a lot of bands say yes to every show they're offered, so might end up with 3 or 4 Brighton shows in the space of a month. Also, always treat the band really well. The amount of horror story promoters I hear about make me really take pride with the shows that I put on. If you don't enjoy doing it, don't do it.
AH: Finally what bands from Brighton would you recommend?
Chris: There are loads we could suggest, just some to check out for sure are Water Canvas, Muskets, Glen Foye, Larkhill, Beach Tape and Last Heir.
H_ngm_n links: Bandcamp | Facebook | Twitter  |Instagram
Words by Sêan Reid (@SeanReid86)