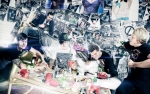 Late last month Swedish Pop Punk band Future Idiots caused stir after releasing their new album 'Neighborhoods & Morningwoods.' The reason for its "controversy" is the quartet decided to take Blink-182's latest album (2011's 'Neighborhoods') and cover it in full in the Pop Punk trio's former style. The response from 'Neighborhoods & Morningwoods' has to been mixed with some Blink-182 fans enjoying the release, whilst others have heavily criticised Future Idiots' decision to cover the album.
Already Heard recently caught up with the band to hear their side of the story. Mike Andersson (Vocals/Bass) and Marius Paxcow (Vocals/Guitar) discuss why they chose to cover 'Neighborhoods' in full, the feedback, the process of transforming the songs to Blink-182's "old sound" and Is it really Blink-182's worst album? 
Already Heard: Can you introduce yourself and tell us what you do in Future Idiots?
Paxcow: We are a Swedish Pop-Punk-Rock band that formed 2005. 
The band line-up is me (Marius Paxcow on vocals and guitar), Mike Andersson on vocals and bass, Jay-Tee on guitar, Big Mac on drums, and Lubomir on the flag.
AH: For some you're a relatively unknown band. Can you tell us a little bit about the bands history?
Paxcow: We formed during our time in school. Our teachers asked us what we wanted to do in life. We said we were gonna be rock stars.! They laughed and said we were idiots. And that's the story behind the bands name. Other than that, in the early years we struggled to find a drummer that wanted to play Punk Rock. It took us five years to find Mac, and that was when we started to get serious and signed to Pacific Ridge. 
AH: You've recently been getting a lot of attention from your latest release 'Neighborhoods & Morningwoods.' What made you want to cover Blink-182's 'Neighborhoods' album?
Future Idiots: After our fans heard our cover of 'Up All Night' they wanted us to create a whole album of Blink 182 songs in the fashion Blink would've done it 10 or 15 years ago. It was because of the fans that we made the album.
AH: As a band why didn't you like 'Neighborhoods'?
Mike: We did like Neighborhoods, we didn't love it though. We felt that their Self-titled album from 2003 was the sound they should've continued on with; it was a perfect blend of maturing Pop-Punk. 'Neighborhoods' was just all over the place with too many different influences mixed together. A lot of the songs sounded like three songs mashed together, instead of it sounding like three great musicians making one cohesive song. But there are some really great songs on the record. We didn't hate it, as some might think, far from it.
Paxcow: The statement that we didn't like 'Neighborhoods' is completely false. Neighborhoods has some really fine tunes. I didn't really expect it to be that inspired by Tom Delonge's Angels & Airwaves, but I love them. 'Ghost on the Dancefloor' is one of their (Blink-182) absolute best songs, that's why we didn't change it too much.
AH: The album has received a mixed response from blink-182 fans. Why do you think people like or hate it?
Paxcow: Because people are obviously incapable of reading. Some people read "widely considered to be their worst album" and turned it into "We think this is Blink 182's worst album." That is two completely different sentences. It's not our fault that it's considered by a large group of people to be their worst album. The reason why some people love N&M is because we kind of made it sound like Blink did in the good old days
AH: I understand there has been some very hard criticism from the album?
Paxcow: I would like to start with giving those bastards two middle fingers. Learn to read before releasing the hate. Half of those assholes probably haven't paid a nickel for Blinks music and sit there listening to them illegally.
There's a couple of hilarious comments we've received. One dude said: "I'm waiting for the day Blink 182 gets on stage and says "Now we're gonna do a Future Idiots song, the way it should have sounded" and believed that we would take that as an insult! Another dude wrote "I wish I had the money to fly to Sweden and smack the band Future Idiots in the fucking face!" It was hilarious! Really cracked me up!
Mike: The biggest criticism has been people who think we think we made the album the way it "should've sounded", but we never said that. We said the wa "could've sounded." We also never said that its blink-182's worst album, but once people start hating there's no turning back.
<a href="http://pacificridgerecords.bandcamp.com/album/neighborhoods-morningwoods" data-mce-href="http://pacificridgerecords.bandcamp.com/album/neighborhoods-morningwoods">Neighborhoods &amp; Morningwoods by Future Idiots</a>
AH: Taking someone else's song and re-working them can be a difficult task. What songs were difficult to alter for the record?
Paxcow: 'Heart's All Gone' was tough. It's one of the most popular songs from the original album. I had no clue what to do with the song. The drums are too much in my opinion, I like straight forward drumming. It was right after we got the studio up running again after it had been broken in to. The deadline was coming closer and I kind of lost (the reason) why we recorded the album in the first place. It sounds nothing like anything Blink 182's ever done. I still like how it turned out though.
Mike: We're pretty used to re-working songs, but when it came to Blink-182 we wanted to stay true to them and their legacy because they all mean so much to us, so it was a pretty hard task. "Fighting The Gravity" comes to mind because it's so different from what Blink-182 has previously done; "This Is Home" and "Love Is Dangerous" was also pretty hard to re-work.
AH: Which songs do you think came out best and transformed well from Blink-182's version?
Paxcow: 'Fighting the Gravity' is without any doubts better than Blink 182's version in my opinion. Mike did a terrific job with that song! 'Kaleidoscope', 'Wishing Well' and 'Love is Dangerous' also turned out great.
Mike: 'Wishing Well' has gotten a lot of good feedback along with 'Even If She Falls.' Personal favourites are probably 'Kaleidoscope' and 'Natives.'
AH: Have you had any direct feedback from the band themselves?
Paxcow:  We haven't heard from them yet, but considering how much attention this record is getting it might not be impossible.
AH: The album was released through Pacific Ridge Records. How did you hook up with the label?
Paxcow:  We noticed Pac Ridge released a couple of Blink 182 tribute albums and we were getting a good response from our Blink 182 medleys at that time, so we contacted them and asked if they planned to release another tribute album. Unfortunately they weren't interested in that, but on the other hand they were interested in our original song.
AH: Other than being a "Blink 182 cover band," what else should our readers know about Future Idiots?
Paxcow: We have a ton of our own material. We've released three albums so far. We record and produce everything ourselves in our home studio. We don't consider ourselves to be a "cover band." We just thought it would be a good way to get people to listen to our own music. If they find a cover by us and like what they hear, then that's great.
AH: After 'Neighborhoods & Morningwoods' what's next for Future Idiots?
Paxcow:  We are currently working on a Christmas EP with both covers and our own material, which will be released December 18th. Other than that, we are planning a European tour for the Spring of 2013. We're also writing original material for a new album for 2014, maybe 2013.
'Neighborhoods & Morningwoods' by Future Idiots is available now on Pacific Ridge Records.
Future Idiots links: Official Website|Facebook|Youtube|Bandcamp
Words by Sean Reid (@SeanReid86)