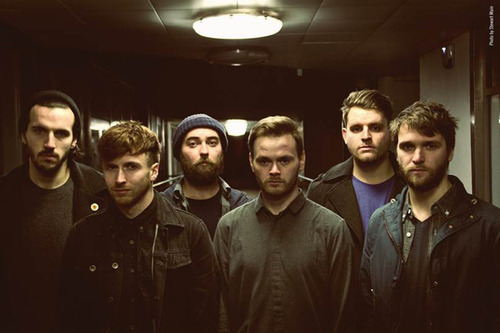 5 years ago Scotland sextet Flood of Red were on the cusp of great things. Having recorded their debut album with Brian McTernan (Senses Fail, Circa Survive, Thrice) and toured with the likes of Twin Atlantic and We Are The Ocean, Flood of Red were part of a group of UK bands taking rock back to the mainstream. Yet despite 'Leaving Everything Behind' being well received by critics and fans, the bands willingness to be independent backfired due to poor management.
Now having undergone a slight lineup change, and joined Superball Music (65daysofstatic, Maybeshewill, Oceansize), Flood of Red have returned with their second full-length – 'Throw'. A solid, condense record that builds upon the atmospheric elements of past releases and combines it with natural musical maturity.
To find out more about the record, we spoke to vocalist Jordan Spiers. He spoke about the gap between records, joining Superball Music and more.
Already Heard: First off, could you introduce yourself and tell is what you do in Flood of Red?
Jordan: Hello! I'm Jordan and I sing in Flood of Red.
AH: It seems like a long time since we last heard from Flood of Red. Now album number 2 ('Throw') is set to be released. Why has there been such a large gap inbetween records?
Jordan: It has been a very long time, thinking about it. We toured 'Leaving Everything Behind' for about two years after the release and started to write more songs around that period. We then released our self released EP 'They Must Be Building Something' and put that out in 2012. Not long after that, our friend Calum left the band and that stretched time out a little more. We were very fortunate that our good friend Ross Taggart stepped in to help us perform on tour. After a good few run of dates we started writing with Ross and it felt like a new beginning. We took our time with the songs and let them grow with us. We recorded 'Throw' in late 2013 and is now all set to be released on the 30th of June this year.
AH: I know the band has undergone a slight lineup change in recent years. How has the new line-up settled and how has it helped developed FOR as a band?
Jordan: The lineup is more stronger than ever, I reckon. Writing feels stranger than before. I think it's because it's what we were always meant to be doing now. With everything I think a little time goes a long way.
AH: Following the release 'Leaving Everything Behind,' you had some management issues which didn't end well. How did that experience effect the band, and did it cause a delay when it came to writing its follow up?
Jordan: We all have our doubts when things like this happen, you just have to push on. All that tension and anxiety made us come together more as a unit. We worked hard on this album and are all really proud of it, no matter what anyone thinks. We could have left things when we were really struggling but it's just not an option for us. It would take something a lot more heavy to smash through us.
AH: Did that experience change your perception of how the music industry works in any way?
Jordan: Definitely. I believe you have to be true to yourself and with music. This will be our legacy in a way so no matter what happens We will always have been a part of something special.
AH: This time round you're working with Superball Music. How important was it work with a label that you can trust, rather than going down the independent route like before?
Jordan: That's right. We feel very honoured to be working with Superball Music. They completely understand us and gave us that extra push I think we needed. We released our debut record on our own label and done exactly what we thought we should've been doing with very little knowledge of how the industry works. With Superball it just feels better and to have support from them along the way makes one hell of difference.
AH: What drew you to working with Superball?
Jordan: Superball approached us because they were liking the direction we were going with the band. After sharing ideas, it all just clicked and we knew it was the right label to go with. They also currently release records by a band we all collectively love called …And You Will Know Us By The Trail Of Dead. It's almost a perk to share something in common with a band I've been going to go see since I was young.
AH: Moving on to 'Throw' itself, it seems you've continued to expand your sound becoming more versatile and atmospheric. What was your initial approach when you began recording?
Jordan:
We honestly really didn't have an idea on how we wanted to record to sound. We were always making home demos of all the songs and each time we recorded them, more ideas were flowing. We already have more ideas for the songs on the album but now it's all set in stone, We're happy with how it all came together.
AH: From hearing 'Throw,' I get the impression that you set out to make a record that flowed as a whole, rather than just individual songs that people could jump to and from. Is that something you had set out to do?
Jordan: I think the long gap between the last record helped the flow of each song. We wanted this to sound like a real honest Flood Of Red record. We wrote a whole bunch of songs and discarded any that didn't fit the vibe of 'Throw'. Like I said above, we never knew what we were putting together at first but seemed to all gel together in the end.
AH: What impression do you hope people take away from hearing 'Throw'?
Jordan: If it has any impact in any way to anyone, then we're doing the right thing. We want people to take what they want from this record.
AH: Because of the lengthy gap between records, were you worried that you may forget who FOR were? Especially in this day and age when new bands pop up constantly and inactive ones seem to fade away quickly.

Jordan: We're very lucky to have people that have supported us from the very beginning stick by us. It's almost refreshing to see a strong support in the music scene. We may regain older supporters, lose them, gain new ones. To me it's pretty exciting. only time will tell.
AH: Last month you dusted off your touring boots and set off on the road again. How has it been to get back out there and play the new songs live? What has been the general reaction to the new songs by fans who have been waiting years for new material?
Jordan:
We played the first show of the year at the start of May, I was feeling everything all at once. Nerves is something that's never left, I thought it was something I might grow out of, being in a band performing, but it just doesn't. We did a run of dates up and down the country and the reaction to the new material was great. There were a few people on different occasions wanting us to play more new songs, which is very rare.
AH: Following the release of 'Throw,' what are Flood of Red's plans going forward? Can we expect to see you back out on the road a lot more or are you going to make up for lost time and write album number 3?
Jordan: We plan on touring this album, playing as much as we can, anywhere and everywhere. We're all, already excited about working on album number 3. It's just good to be back I guess.
'Throw' by Flood of Red is released on 30th June on Superball Music.
Flood of Red links: Website|Facebook|Twitter|Instagram
Words by Sean Reid (@seanreid86)