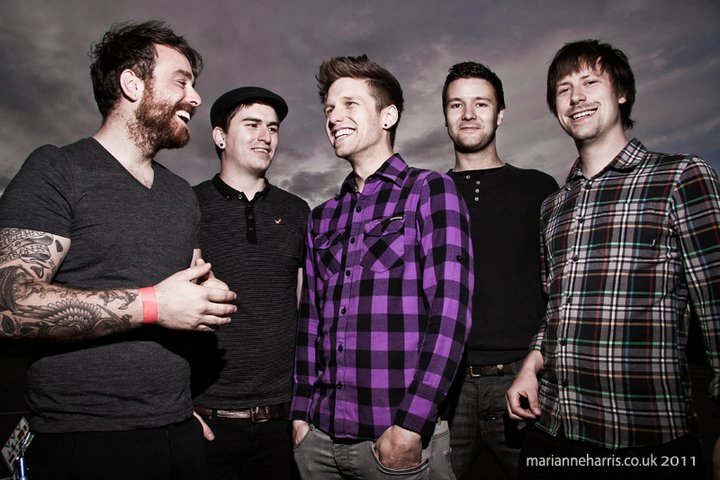 Based out of Preston, pop-rockers Failsafe have been making a name for themselves in their homeland over the past few years, with relentless touring up and down the UK and two full-length albums to their name.
Now in 2012, the quintet are set to take the next step forward with their new album 'Routines', and even more so the band recently joined up with Cardboard Empire, the record label owned by Ohio's Hawthorne Heights, who the band toured with in late 2011.
With the release of 'Routines' imminent, Already Heard caught up with Jim and Rob from Failsafe to discuss the album, signing with Cardboard Empire, working with producer Dave Eringa, that appearance on 'The InBetweeners' and more.
Already Heard: For the record, could you introduce yourself and your role in Failsafe?
Jim: Hi there! My name is Jim and I am the frontman/singer in Failsafe.
Rob: I'm Rob, Failsafe's drummer.
Already Heard: For new listeners, how would you describe Failsafe's sound?
Jim: Over the years this has been a bit of a tricky question to answer. Our latest record 'Routines' is primarily melodic rock music. There is a lot of melody in there, amongst other things. We grew up playing gigs with a lot of punk bands so our sound can be angular and aggressive sometimes, but interesting guitar parts and nice sounding melodies have always been a priority.
Rob: We should have this nailed by now as we get asked it alot, but it still seems difficult, but I'd say we are a rock band at heart that draws from many other influences, that sneak there way into our sound.
Already Heard: You recently signed to Cardboard Empire, the label owned by Hawthorne Heights. How did the deal come about?
Jim: Basically we hooked up with them on a tour in europe in December 2011. We were supporting Hawthorne Heights and Redjumpsuit Apparatus on a co-headline tour and we got on with Hawrhorne really well. After hanging out a lot and playing every night, they kept on mentioning that we should try and get to the USA to play some shows. A couple of months later, here we are, signed to their label! We're really grateful for the opportunity. They have been very supportive and have some really great ideas.
Rob: At the end of 2011 we toured around the the UK and Europe with Hawthorne Heights and Red Jumpsuit Apparatus and it all started from there really. We became good friends with the Hawthorne guys and gained a mutual respect for each others bands. We got talking about Cardboard Empire and the guys stayed true to their word, which brings us to 2012 and we are signed to their label.
Already Heard: What attracted you to the label compared to others?
Jim: From our own experience, coming very much from a DIY background, it's always better to work with people you know and trust. We have always surrounded ourselves with these sorts of people- people who are willing to see you as a band and not just a number. Being affiliated with Hawthorne is a great thing in our eyes, and everything they have offered to us and talked about so far has made complete sense.
Rob: At the risk of repeating myself, pretty much the reasons from the last question. There's nothing more attractive than doing a deal with people you know you can trust whole heartedly. We know we can trust the Hawthorne guys, They are really enthusiastic and supportive of our band and they know the American market like the back of their hand, the whole thing just screamed of a win win situation.
Already Heard: How does it feel to be the labels first signing?
Jim: It's a privledge! We feel like a new band! It's given us a real sense of purpose for this year. We have always wanted to tour America and signing to the label has meant that we could come one step closer to doing this. Having the record out in a country so far away from our own is also a brilliant and very humbling feeling.
Rob: It genuinely is an honour and it feels really exciting! Its Pretty cool that we are the labels first signing and this is our first release in America, both parties are kind of entering the unknown, but that just adds to the excitement and the freshness of it all. Its really humbling that Cardboard Empire have taken a punt on 5 guys from a small town in a small island when they could have played it safe with an up and coming US band, so yeah, as I said, its a real honour!
Already Heard: You're going to be releasing your third album, 'Routines' on May 7th. What can fans, both new and old, expect from the record?
Jim: The latest record has Failsafe sounding like we've never sounded before. You can expect a lot more anthemic sounding tracks, coupled with the energy and passion of Failsafe in the past. We are extremely proud of the album- the songs are a lot more simple in a way, in terms of structure, and they rock! We owe a lot to the fans too, who helped fund the recording of the album, and hope that they are as proud of 'Routines' as we are.
Rob: Old fans can expect a real progression from the older stuff they will know, Routines still sounds like a Failsafe record, Just bigger, catchier and more refined. New fans can expect a big sounding rock record that has riffs you want to play air guitar to, choruses you want to sing along to and lyrics you can relate to! hopefully anyway!
Already Heard: It is your first album in four years. How has the band changed and developed since 2008's 'The Truth Is…'?
Jim: Naturally I think that we have all grown up a lot since then. We have become more accomplished at writing songs and have 'served the song' a lot more in our writing, rather than self indulging. Getting older and wiser has meant that we can see the bigger picture a lot clearer than when we were kids.
Rob: Its frightening that its been 4 years!! It doesn't feel like it because we actually recorded Routines in June 2011, but the release has taken a bit of time. As I eluded to in another question, Routines definitely has the Failsafe stamp on it, but we always approach the writing process aiming not to just write the same record again! Between 'The Truth is…' and Routines we definitely matured and grew as song writers, our sound has got bigger and catchier but it hasn't come at the cost of our integrity. Matts beard length is always changing and developing aswell.
Already Heard: Is there a meaning or story behind the title 'Routines'?
Jim: Routines (the song) was one of the first songs we wrote for the album. Further down the line we thought that it was a catchy and memorable album title, so it stuck. The song is about the idea that maybe its good to break out from your routines, as you never know what you might find. It's also about the pressure of other people's opinions on your own life, and how these opinions can sometimes betray you.
Rob: Routines is also the title of one of the more hard hitting songs on the album, the song and the title are just a reminder that we are all surrounded by routine and its no bad thing to break away from it. Its important not to fear straying away from the norm! Thats my take on it anyway, you might get a different response if you asked one of the other guys, but thats the beauty of it.
Already Heard: You worked with producer Dave Eringa on the record. What made you want to work with him and what did he contribute to 'Routines'?
Jim: He is an inspirational guy to work with. He is larger than life. He struck us as a guy who was on the same wavelength and would understand what we wanted to do. We have all admired his work for a long time, especially his involvement with Idlewild and the Manics- bands that we have listened to since we were very young. We had such a good time making the album- everything about it felt right. He had some great ideas and suggestions about some of the songs and parts within them. I also feel as though he got the best out of each and every one of us in the short time we were with him. I think that he has managed to capture a great energy, and the production is very tasteful.
Rob: Working with Dave Eringa was a genuine dream come true. We are all huge fans of the band Idlewild and absolutely love the sound of their albums that were done with Dave. Our first 2 records were done with Pete Miles who is also awesome, we just felt it was important to try someone/something new with this record, and Dave Eringa was the one man we all wanted. He brought so much to the table, so many great ideas and techniques, but for me, the greatest thing was the atmosphere he created. It was so much fun and so relaxed which just gets the best from each performance, it was a genuine pleasure to be in the middle of nowhere in Wales for 2 weeks.
Already Heard: You're on tour in the UK in April. What is a normal Failsafe show like?
Jim: It's very straight to the point. We like to have a good time on stage, we like to rock and we love to play our songs. We are doing some UK dates at the start of April and no doubt they will be fun filled occasions with plenty of rocking dan sweating.
Rob: They are always 5 guys putting everything they have into 45 mins to an hour of rock and roll, pack down, a take away, a floor to sleep on and then doing it all again the next day. I wouldn't change it for the world 🙂
Already Heard: After that tour, what do you have lined up?
Jim: We have the USA tour in June as part of July which we are all looking forward to. After then, we will hopefully play some festivals in the summer and maybe head outta the mainland in the autumn. We also have plans for another video and single, so watch this space…
Rob: It's looking like a busy summer ahead of us but nothing I can confirm just yet I'm afraid, we will be announcing things very soon I promise! Essentially though, the rest of the year is all about promoting the new album as much as we can.
Already Heard: In 2010, you made an appearance on The Inbetweeners. How was the response to your appearance and did it prove to be valuable exposure for the band?
Jim: The response was immense. We were playing a show in Bristol the night that it was aired, and by the time we went on stage we were a trending topic on Twitter. People wanted to know if were a real band or not. People have come to see us just because of that programme, so you could say that it was a great thing for us. Things like that and being on NBA2k11 really helped the bands profile.
Rob: It was such an amazing experience, made all the better by the fact we are all big fans of the show. The exposure we got from it was unreal, felt big time for an hour while we were a trending topic on Twitter! We are still getting a good reaction from it now and our headline gigs definitely got a better response because of it, I just wish we got a pound for every time someone said, "oh my god, you're a real band!", we'd be very rich men!
Already Heard: Any final words to close the interview?
Jim: Not really, I guess I would say thank you, and if you haven't already checked us out, go and do it- you might even like us!
Rob: Pre-order 'Routines' now from cardboardempirerecords.com, or dont, but you definitely should! Thank you.
'Routines' by Failsafe is released on May 7th through Cardboard Empire.