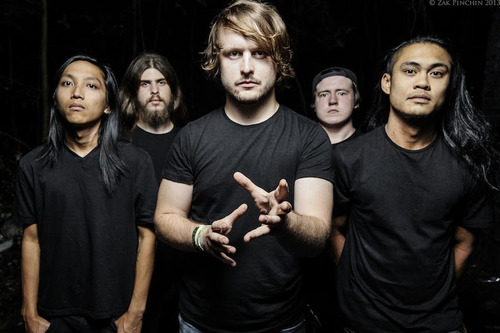 Having released one of the most impressive UK metal releases of the year so far in 'Darkness of an Age', London five piece Exist Immortal are riding a wave of momentum. With their mix of chugging riffs and soaring melodies, Exist Immortal recently made their return to UK Tech Fest; their third appearance in as many years.
After being one of the highlights of the weekend, we caught up with four-fifths of the band to discuss their return to Tech Fest, future plans and we find out what is on their van stereo playlist.
Already Heard: Can we get your names and role in band?
Tom: I'm Tom. I play guitar.
David: I'm David. I play bass.
Meyrick: I'm Meyrick and I sing.
Kurt: I'm Kurt and play guitar.
AH: It's your third time at Tech Fest. As "veterans" of the festival, how does it feel to back here again?
Meyrick: Yes we've got the hat-trick. It's amazing. We were only added to the bill a week and half ago.
Tom: But its cool to be added to this bill. I mean anytime you get to support The Ocean and Sikth. It's just cool to be back, and having seen the festival grow from strength to strength in size every year. It's a cool place to be.
AH: What do you like about Tech Fest most?
Tom: The vibe.
David: The community.
Kurt: You walk 5 minutes, and you bump into a friend.
Meyrick: There's no beef with anyone, and there's no divide between bands and crowd. You just wonder around seeing people you know. I like to call it "Hang Fest" haha.
AH: Have you been here all weekend?
Kurt: I only arrived here this morning due to work but the rest of the boys have been.
David: We've been here since Friday evening.
AH: Who have you seen so far?
Tom: Devil Sold His Soul, Acoda.
David: Jom Gomm was spectacular yesterday.
Meyrick: It was the chillest thing.
AH: So 'Darkness of an Age' recently came out. How has the response been so far?
Tom: Really good.
AH: We gave it a 4 out of 5 rating.
Meyrick: Thank you very much.
AH: Was the album quite awhile in the making?
Meyrick: Yes and no I guess because there are a couple of songs that are on there are old, like the ideas are old.
David: They've been around for a long time.
Meyrick: There was even a song that wasn't possibly going to be on our last record but it ended up getting completely reworked.
David: Yeah in terms of that, the ideas have been around for quite a while. The process of actually creating the album has been short.
Meyrick: We practically sat down and thought "we better make an album"" and we did.
David: It came together in about 2 months.
Kurt: We were always together.
David: And it was the middle of winter so there was no sunlight hence the title 'Darkness of an Age.' (all laugh)
AH: I remember we did an e-mail interview with Tom a few months back, and I recall you talking about you choosing the music in the van.
Tom: Not through any particular desire of mine, I normally ride shotgun.
AH: What's been on the playlist lately?
Meyrick: (laughs)
David: Baby Metal!
Tom: I can tell you exactly. We've had a bit of Baby Metal and Childish Gambino. We've had Sigur Ros, Steel Panther of course! Rick Ross. A bit of Opeth.
David: A bit of Kendrick Lamar.
Tom: A bit of Juicy J.
Meyrick: The Hell! The Hell have been good.
Tom: And Within Temptation. We tend to go something hip-hop and really fucking stupid. The stupid option goes from anyway like Closure In Moscow to power metal to Within Temptation.
Meyrick: We keep it very broad.
AH: Keep you guessing. Next up you have some UK dates. Looking forward to going back out on the road? 
David: Definitely.
Meyrick: We pratically live on the road. We're playing a bunch of places we normally find it quite difficult to hit, as they're either really far North or just not on the way to anywhere, so its kind of tying up loose ends tour.
Tom: Scotland expecially. It's really hard to get up there. The distance and cost is ridiculous. So it is nice to go North and just do it properly, then it's ticked off and we're not leaving anyone out. It's also quite pretty there at this time of year. (all laugh)
AH: For those who haven't seen you before and didn't see you today at Tech Fest, why should they come and see you on these dates?
Meyrick and Tom: We have awesome hair! (all laugh)
AH: It's all about the hair.
Meyrick: We're so gay.
David: The music is alright as well. (all laugh)
Meyrick: We go "wow" alot! No it's heavy, it's medlodic, it's epic.
Kurt: Melodic heavy groove.
Meyrick: It's kind of a soundscape live.
Kurt: Yeah.
Tom: We put in exactly we want to see from the crowd, so we're adjectively trying to up ourselves so we can only hope the crowd gets that.
AH: Following these dates, what else do you have in the works?
Meyrick: We've got a bunch of tours we can't talk about yeah.
David: A bunch of tours including some European shows. We're playing MammothFest in Brighton at the end of August.
Meyrick: A whole bunch of stuff. We're just waiting to announce it.
AH: Any word on the follow up to the album?
Kurt: We're writing as we go along.
Tom: We try and not to have a 2 month brain-melting session like we did with the first album. We're in a constant state of demoing stuff.
AH: Just getting ideas down?
Tom: Yeah exactly. You can't record stuff as it comes. The worst thing that could possibly happen is that one of us comes up with a really good riff, and we don't get round to recording it. So we just record as we're going and when we have an idea we'll put it down. At some point it might turn into a song. So we're always writing and recording.
AH: Do you write as a collective?
Meyrick: We do now.
Tom: Yeah.
David: Certainly the initial idea will come from someone, maybe one of us will have a riff or a melody and we'll come down to the studio and make it.
Tom: As far as the assembling goes, we finalise what makes that song that song, then it happens.
AH: Any final words you want to share with the Already Heard readers?
Meyrick: Check out our album. Come and see us on tour.
David: And bring some whisky as well.
Meyrick: Yes bring us whisky!
'Darkness of an Age' by Exist Immortal is out now.
Exist Immortal links: Facebook|Bandcamp|Twitter
View more of Already Heard's UK Tech Fest 2014 coverage here.
Words by Sean Reid (@SeanReid86)