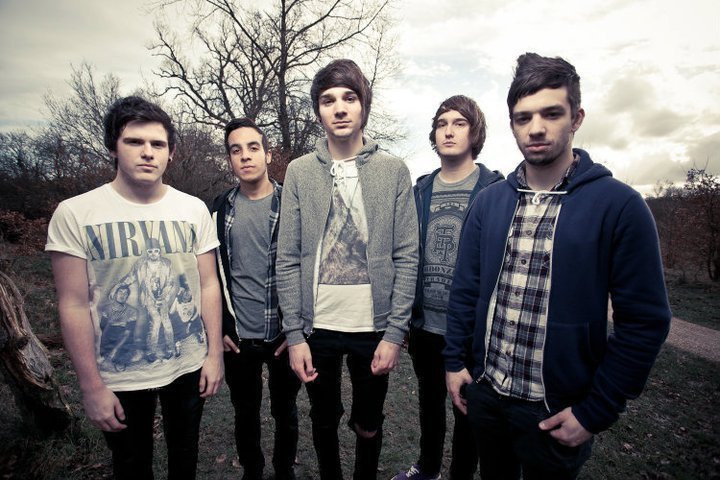 Welcome Bath's up-and-coming pop-punk quintet Decade, a band who have come a long way in the past year. Over the last twelve months, the band have toured alongside the likes of Forever the Sickest Kids and Glamour of the Kill. Whilst their recent self-titled EP has received overwhelming appreciation, leaving Decade's future is looking nothing but bright.
We caught up with vocalist Alex Sears and guitarist Joe Marriner on their recent UK tour. Sears and Marriner discussed their new EP, their musical influences, signing to Japanese label (Ice Grill$) and surreal festival experiences.
Already Heard: You've recently released your self-titled EP. How do you think you've progressed since the 'Lost At Sea' EP?
Alex (vocals): I think what we've done is that we've expanded the pop-punk sound we had before and just given it more of a British edge, the first one sounds pretty sort of American. We've just matured.
Already Heard: There's definitely a new sound coming from the new EP, how would you describe the new sound and which bands would you say influenced it?
Alex: I'd say bands like Man Overboard, Hundred Reasons, Reuben. The thing is, you can't hear a lot of the influences, we're influenced by it, and it's there.
Already Heard: What is your favourite track on the new EP and why?
Joe: 'Never Enough' surely?
Alex: Yeah because it's personal to me and out of the five tracks I think it's the most fresh.
Already Heard: This is your 8th day of tour, where has been your favourite place to play so far?
Joe: Manchester?
Alex: Yeah Manchester was really cool, but there are still more shows to play that could live up to it!
Already Heard: Is there anything you do as a band to psyche yourselves up before a show?
Alex: Well we do all of the normal shit like vocal warm-ups and stretches and stuff. We don't do any sort of rituals, but I'm sure that will come with time
Already Heard: What would new fans expect from a Decade show?
Alex: A fresh take on pop punk. If you like pop-punk then come see us because we don't sound like every other pop-punk band, more a bit of everything thrown in. A bit of hardcore, bit of British rock but its primarily pop punk.
Already Heard: Do you prefer playing the old or new songs live?
Alex: We're still kind of finding our feet with the new stuff, today is what, the 8th show so it's the 8th time we've played them live and you can tell they're getting there, but the old songs are more like second nature now and it will take time to get to that sort of point with the new ones.
Already Heard: You played some festivals last year, what would you say was your most memorable experience during the festival period?
Alex: Probably when we were backstage at Sonisphere, I was in the catering section and all of Slipknot were playing pool, throwing balls around and hitting each other with cues, nobody would say anything though because you wouldn't want to get beaten up by Slipknot! It was probably our favourite festival to play last year.
Already Heard: You've just been signed to a Japanese label (Ice Grill$), do you hope to get out there and tour at some point and have you had any reaction since the announcement?
Alex: Yeah I mean it's definitely a foot in the door, they do tours for the actual record label. We've actually had a couple of Japanese fans begin to follow us!
Already Heard: What's next in store for Decade then?
Alex: Couldn't possibly say! We'll be touring in May.
Joe: I think we're definitely going to aim to do three tours in the last six months of the year.
Alex: Maybe an album as well but that's not set in stone.
'Decade' by Decade is available now on Slam Dunk Records.
Decade will be part of the Slam Dunk UK Tour along with Hit The Lights, Transit and The Story So Far.
May
Wed 23rd Newcastle Trillians
Thu 24th Manchester Moho Fri 25th Liverpool Academy 2
Sat 26th Leeds Slam Dunk North Festival – Leeds Uni
Sun 27th London Slam Dunk South – Hatfield
Mon 28th Nottingham Rescue Rooms
Tue 29th Slam Dunk Scotland – Glasgow o2 ABC Wed 30th Birmingham Asylum
Thu 31st Portsmouth Wedgewood Rooms
June
Fri 1st Cardiff CF 10
Sat 2nd Kingston The Peel
Decade links: Official Website|Facebook|Twitter|Tumblr
Words by Hannah Gillicker (@HannahGillicker)