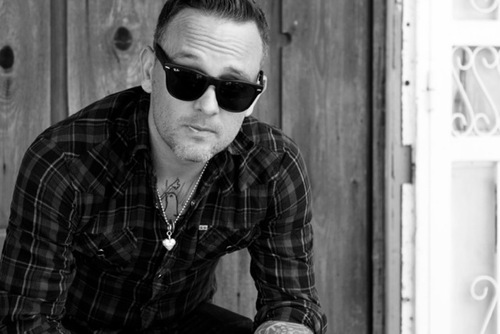 Having risen to fame as the lead singer/songwriter for various punk rock outfits including Paint It Black and The Loved Ones, Dave Hause was already well established before taking his first steps into the realms of being a solo artist. His first solo show was way back in 2009, as part of Chuck Ragan's folk and punk variety show The Revival Tour. However it wasn't until 2011 when he released his first solo effort, 'Resolutions' that Dave Hause's solo career began to snowball.
Now having toured with punk heavy weights such as Alkaline Trio, Gaslight Anthem and Social Distortion, he's back with second album 'Devour'. Released in October to positive reviews, 'Devour' is a biting criticism of the American Dream and the state of things today. As well as critical acclaim, demand for Hause has led to him playing (and selling out) bigger venues, and his current EU tour is his most monumental yet.
As said European tour draws to a close, we caught up with a slightly late and incredibly apologetic Dave Hause to discuss touring, signing to Rise Records, the new album and his picks of 2013 and 2014.
Already Heard: So for a start how's the EU tour going?
Dave Hause: It's been wild, really, really exciting to take some risks and play some rooms so that I didn't want play because I thought they were too big and then most of them sold out. It's been crazy. So it's interesting because you have to really think about what you're doing when people are paying for a ticket with your name on it. You have to plan your show and get sleep and water, and you just can't fuck off to the pub.
AH: Hence you have fruit…
Dave Hause: Yeah, Jameson's and wine too! It's been an interesting curve to learn what to do.
AH: So as you were saying, you've played some big shows and you've supported big bands like Gaslight and Alkaline Trio, and you've played your own sets which are more intimate – what do you prefer doing?
Dave: It's exciting to make the climb, I'll be honest it's really exciting to go from two minutes into your set no one knows who you are and at the end everyone's clapping; that's an exciting thing to pull off. But I think long term when you write songs and you try to make this your lifestyle you want your own audience and you want to cultivate that. So I think headlining I would prefer but I like the thrill of being thrown out at somebody's wolves and fend for yourself.
AH: Who are your favourite bands that you've toured with?
Dave: All the bands I've toured solo with have been amazing. I did stuff with Social D over here, I did stuff with Alkaline Trio, Gaslight, Revival Tour, some Hot Water Music stuff, it's been amazing. They're all my punk brethren, I feel fortunate to be able to play with any of those bands. I respect them all, I love all their songs, I listen to all different kinds of music but it's great to have the respect of your peers. It's a good feeling to know that people you respect also respect your work.
AH: You're constantly on tour, so how do you keep going? Aside from fruit and Jameson's?
Dave: It's like anything else; when you love what you do it doesn't feel much like work. Well it does feel like work sometimes, but it's exciting to try to turn all these little corners and see what's next. This is what I love to do so it makes the gruelling part a little a little less gruelling. At this point I've spent so many years touring that…
AH: It's kind of in your nature?
Dave Hause: Yeah, I feel lazy when I'm not doing it.
AH: So you signed to Rise Records at the start of this year, what prompted you to make the move?
Dave: It was a licensing scenario; labels, what they do is pretty different from what I usually do but they're huge music fans and they were fans of 'Resolutions'.
AH: Which you got to re-release, which is awesome.
Dave: Yeah, Xtra Mile looked after me well here in the UK and Europe but, what I've learned over the years is that the best thing to do is to work with people who are excited about what you're doing and [are trying to] cultivate the best singer/songwriter available. If they're not initially part of that conversation then it's not worth even chasing it and Rise came and they had a good deal and they were excited about all the things my team wanted to do, me and my manager and my booking agent and all that stuff, so we went with them and they're good people. I think that's the most important thing these days because really you just make your own thing, the days of being on a label that helps sculpt you are done, no one cares.
AH: 'Devour''s been met with a really good critical response, is that important? Does that matter to you?
Dave: It does, what I've discovered is that as you grow you get to work with better interviewers, better journalists, better publications and the meaning of that is not necessarily that they're valued more, because anybody who is interested is valuable, but people who know how to interview in a way that's compelling and they don't ask you questions about stuff you don't want to talk about or things that you've already gone over. There's so many times in the earlier days where, you could refer the entire interview to Wikipedia and that's not interesting so I think that is important that people who write for those different magazines and do those different things are big music fans and they've seen a lot go down, again it's nice to have the respect of your peers. At the end of the day though, the important thing is the fans and the people that want to come see you, that's what I'm most worried about.
AH: 'Devour' deals with a lot of weighty issues and a lot of it seems really confessional. Do you write a lot from experience or is it what you've observed generally?
Dave: On this record it's more about experience than it is observational but the important thing to keep in mind is that not every piece of information in the record is about me. The perspective might be changed or the tense, it's definitely stories from my generation, people who grew up in the 80's, it's definitely an American record. It's pretty confessional.
AH: You mention in it quite a lot about being your Father's Son, that seems like a reoccurring theme for the album, is that a generational or a personal concern?
Dave: It's a generational thing. My dad's a great guy, he's a wonderful person, he's not been up to the same bullshit that I've been up to. He's a family man and he's very reliable, he's a great musician who decided not to play rock 'n' roll and to raise a family. He's a kind of religion guy, but really that term is more of a poetic license thing, [meaning] can you change the person that you were born into? Can you shine light into the dark parts of who you are or are you stuck? And I think hopefully that for me, and for people my age, you keep trying and you keep that hope alive so that you can be better, despite all the broken hearts and rough parts of getting older; when you realised it's not going to work out the way that you were promised that you can cultivate something of your own.
AH: I've noticed that the album is in two parts almost, it starts off quite introspective, asking can you change? And it ends in a more uplifting way.
Dave Hause: That's intentional.
AH: Was it written that way or was it revealed to you as you went through the process?
Dave: No the first four songs on the record were the first four songs that I'd written, and then I wrote the next little batch, it's actually kind of in thirds. It's like where did I come from, how did I get this way, where am I at and then the last third is like where can we go? It was intentional, it was just hard to finish because I wanted to have a hopeful ending and sometimes it's hard to find the silver lining.
Already Heard: You find you're more of a 'glass half empty' kind of person?
Dave: I try to fight that. I do have that tendency and I think it's good because you can sift through a lot of bullshit but it can be depressing and I think the best people, just thinking about Nelson Mandela, are the people that keep hope alive for other human beings. If you have that stage, you have that sort of ability to have people interested in what you're doing then I think you have a responsibility to try and put something positive out there out into the world instead of letting blackness come out. It's interesting because two records that I thought about when I was two thirds of the way through writing 'Devour' were 'In Utero' and 'The Downward Spiral'. They're two of my favourite records but the problem with those is that I don't put those on and listen to them anymore because they're heavy, and I can't necessarily go down that road all the time. I wanted to make a record that had all that heavy stuff but also you could put it on and go down to the beach and not get bummed out.
AH: The song 'Autism Vaccine Blues' (the second single from 'Devour') is such a loaded title, what made you choose it?
Dave Hause: Yeah, 'Autism Vaccine Blues' is a loaded title; I think the question that I'm trying to figure out is, is anybody capable of dealing with modern life and everything that's coming at us? What I've observed with people who have autism is that there's a certain amount of their senses that are shut off and you wonder if that's actually them evolving so that they can cope. Because my phones buzzing and the stress of modern life is tough and I wonder if I was shut off to some of it if I wouldn't be a happier person.
AH: On a lighter note, because it's nearly the end of the year, what have been your albums of this year?
Dave Hause: There's been some great ones that came out! Patty Griffin made one called 'American Kid' that I love, Frightened Rabbit record 'Pedestrian Verse' I really love, and that Arcade Fire record is cool. I do like the Kanye West record; I think it's really brave and crazy and out there – it's a cool one. Northcote's record I love, it's a really great record just to hop in the car and enjoy. There's been a lot of them! Neko Case's record is awesome, Jason Isobel's record is a total song writing triumph. It's incredible, so yeah there's been some good records out this year.
AH: Who are you looking forward to in 2014? What albums should we be listening to?
Dave: I'm hoping Jenny Lewis makes some kind of record, either Rilo Kiley or her own or who knows what. Same thing with Conor Oberst, whatever he's going do. I'm really fired up on My Morning Jacket's upcoming record, they're in the studio now. I got to work with the keyboard player, he played on nearly every song on 'Devour'. He's a music genius and he's in a band full of musical geniuses so whatever they're cooking up is gonna be exciting.
AH: Any final thoughts?
Dave: No just thanks for the interview, thanks for waiting around, I'm sorry about the delay and enjoy the show. I appreciate it.
'Devour' by Dave Hause is out now on Rise Records.
Dave Hause links: Facebook|Twitter|Website
Words by Jay Sullivan.