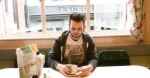 Way back in April, James Pepper aka Burn Daylight was the first band/artist to to be part of our "Recommends" feature. Now six months later, James is set to release the long-awaited 'Young Lions' EP, a collection of honest, introspective songs with a subtle Blues influence that has been neatly combined with a solid folk-punk sound.
In addition to the 'Young Lions' release, Pepper has begun playing with full-band shows with fellow "Recommends" alumni Slowyear serving as his "backing band."
In this interview with Already Heard, James discussed 'Young Lions,' the move to becoming a full band and how it has affected Burn Daylight, and more.
Already Heard: Hi James. First of all can you tell us what you've been up to since we last spoke in April?
Burn Daylight: I went and did got me a record!
AH: On October 8th you're releasing an EP titled 'Young Lions.' Last time we spoke you said the EP was about the moving back home and had an upbeat, country feel. Has 'Young Lions' changed in anyway since then or have any of the songs took another meaning?
Burn Daylight: I tried to make it as happy as possible, despite some people really latching onto the 'Winter Coats'/acoustic-emo side, I didn't want to come across as a moist, sappy, heartbroken songwriter. Even though the subject of this new record isn't inherently "positive", I took heed from bands who manage to put their emotions into a more solid context, bands like Bright Eyes and The Smiths, and on the UK side, Apologies, I Have None are a great example of that too.
AH: Is it a relief to finally get the EP out?
Burn Daylight: Hell yeah! This process has been very very long (over a year once we get to the release date) so it's a pleasure to finally get it out there.
AH: For readers who are unfamiliar with Burn Daylight. How would you summarise your sound?
Burn Daylight: The best a "singer/songwriter" can do is try and change things around as much as they can, but the running theme of the 3 records is the lyrical honesty that comes from a lot of modern emo and punk, steal Springsteen's guitar tone and sax parts and layer it over some 00's American Indie (Bright Eyes, Limbeck, The Lemonheads) and you're about there!
<a href="http://burndaylight.bandcamp.com/album/young-lions" data-mce-href="http://burndaylight.bandcamp.com/album/young-lions">Young Lions by Burn Daylight</a>
AH: You recently previewed 'Young Lions' online. How has the feedback been so far?
Burn Daylight: Yeah awesome. I'm not sure many people get bad reviews nowadays for fear of being offensive, so to say it's been "largely unignored" is a decent start!
AH: You worked with Rob Hales on the EP and Bob Cooper mixed it. How much input did they have into 'Young Lions'?
Burn Daylight: The Roberts helped an enormous amount! I spent some time sessioning with Rob Hales in an old band and he helped get me off the ground as my own songwriter after hearing some scrappy demos in 2010. The work rate and advice he gave helped shape the process a great deal, as well as knowing how to calm me down! Bob Cooper did an amazing job too, he brought the tracks to life and was a patient with me in the process (I'm not sure I'm an easy guy to work with!). If making music is about meeting awesome people then Bob is great testament to that. 
Despite all this, neither Robert was in the studio while the record was being tracked, the foundations were laid by a very modest engineer called Toby Campen who is largely one of the most important and supportive people during the entire time that I've been an active musician!
AH: You've also announced you're going to be playing some full band shows. Can you tell us who is in the live band?
Burn Daylight: Adam Banbridge, Hassan Afaneh and Jono Helsby are on guitar, bass and drums respectively. They are/were (don't ask me!) in a band called Slowyear, we did some shows in January and got on really well, it means A LOT of traveling from where I live in Essex up to North London but they are all incredibly good musicians for their age (18/19years old), way better than me anyway!
I should mention that the record is a largely different line-up, Rob (Hales) happens to be a sick bassist as well, then an amazing session drummer called Jamie Abela slayed the drum tracks on the EP in about 3 hours! 
AH: What was the reason behind playing live full band shows? Did 'Young Lions' influence this as all?
Burn Daylight: It was mainly to do with wanting to play the songs as I had visualised them on the record! Being solo has its plus points, you can travel easily and one of the greatest feelings is playing to a crowded room where you could hear a pin drop, So I guess the record did influence the move toward the full band side.
AH: Has having a full band changed any of the songs from 'Young Lions' or even 'Winter Coats, and Some Songs I Wrote'?
Burn Daylight: We've generally stuck to the script with playing "Young Lions" live, although its possibly a little faster and the tone of my voice has has gotten a little more gruff from all the sweaty summer hours we've been in the practice room! we are rocking a couple from the "Winter Coats…" record also though, which is very strange, hearing songs that weren't meant to sound the way they now do. 
AH: Is the new band going to be recording material at some point or will you be keeping it to live shows only?
Burn Daylight: Much like any new relationship, I think we're going to "take it slow and see how it goes", I love playing solo as well and wouldn't turn my nose up at any solo shows I'm offered. Although a full-band record should be on the cards sometime next year, there are lots of things tabled in 2013, I want to another solo EP (imagine 'Winter Coats' part 2) but hopefully we aren't back here in another year discussing another "long-awaited" release!
AH: Any final words to close the interview?
Burn Daylight: Young Lions is out on October 8th as a pay-what-you-want download, watch out for some release shows come November. 
Also thanks a lot to Sean, Mikey, Rosie and everyone else at Already Heard for being so supportive since the moment you've started. I appreciate it more than you know!
'Young Lions' by Burn Daylight is released independently on October 8th.
Burn Daylight links Facebook|Twitter|Tumblr|Soundcloud|Bandcamp
Words by Sean Reid (@SeanReid86).