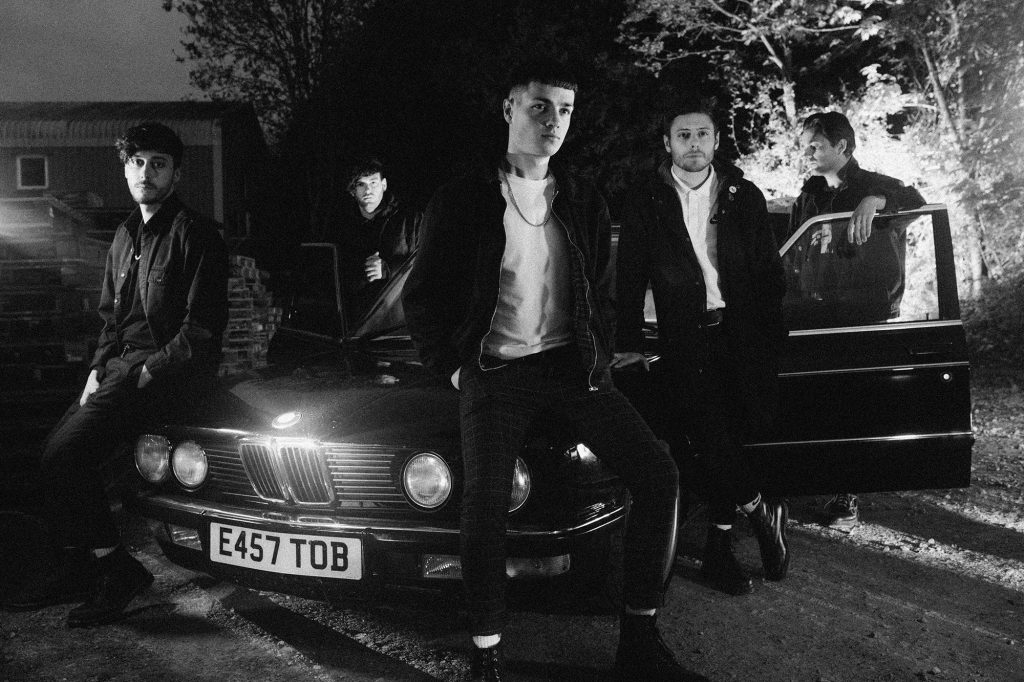 "I feel the people who love our band are Boston Manor fans. I think those people want a little more from their music"
With so much music to take in at a click of a button, people have an unfortunate tendency to label bands with a certain genre. However, as we have seen in recent years, bands have refused to be tied down by the sounds and styles some define them by. For Blackpool quintet Boston Manor, their formative years saw them aligned with the blossoming UK pop-punk scene that produced names such as Neck Deep, Trash Boat, Roam and several others. However, their association as part of that scene was never intended.
"We never really strived to be a pop-punk band. It naturally came out in a way. We did that so badly. It felt a little unnatural, where some of the other influences shined through," explains guitarist Mike Cunniff when discussing a comment made by vocalist Henry Cox earlier this year, where he somewhat dismissed their connection to pop-punk. "I just think people are really lazy. People love to pigeonhole a band. Pop-punk was massive. It bought us a lot of success in that area, but I feel the people who love our band are Boston Manor fans. I think those people want a little more from their music, they're a little bit smarter with what they listen to," Mike adds.
Since forming in 2013, Boston Manor's output has indeed become smarter. Their second full-length, 'Welcome to the Neighbourhood' emphasises that and thrives on the band's maturity, proving to be a thought-provoking take on their hometown.
"It's kind of funny because it's cliché of a pop-punk band to write songs about their hometown, but we did it in a way where we paint Blackpool as a fascinating town," Cunniff tells us. "We wanted to show people where we were from, how weird that fucking place can be and show it off in a way people aren't used to seeing. It can be a very dark, bleak and depressing town but it can also be a very beautiful place in a dystopian sort of way."


Undoubtedly 'Welcome to the Neighbourhood' sees the five-piece, completed by bassist Dan Cunniff, guitarist Ash Wilson and drummer Jordan Pugh, paint an unpleasant image of Blackpool. Unemployment, drug addiction and blaming past generations are amongst the themes Cox touches on.
Much like their 2016 debut full-length, 'Be Nothing.', '…Neighbourhood' once again sees them moving away from the pop-punk links that have continuously anchored the band down from progressing further. "Some of the reviews we got from that record, I guess people didn't really care. They took as 'oh it's another one these pop-punk records' but we've had people who have really listened to it and got so much out of that record," reflects Mike when discussing 'Be Nothing.' Even though the guitarist appreciates the opportunities that record provided the band, Mike considers its followup "a big step up".
For a record that is lyrically and musically bold, Boston Manor headed Stateside to work with producer Mike Sapone. Known for his work with Taking Back Sunday, Mayday Parade, The Xcerts, Crime In Stereo and more, Cunniff speaks highly of the New Jersey-based producer. "It was an absolute blessing working with him. He's fucking awesome. He's really become part of the Boston Manor family now. He's a really good friend of ours and he just bought out the best out of our band.
"We always had this joke that he's like a mad conductor. When we did pre-production with him, we were all in the live rooms and he was conducting like 'do this!' or 'rearrange this'. It was fucking awesome working with him."
Cunniff goes on to describe Sapone as "a positive force", encouraging and pushing the band beyond their creative limits. While a shared interest in movies between the band and Sapone, benefitted the album as he would play films in the background to inspire the band. "I think that almost sculptured the soundscape of the new record," says a reflective Cuniff. "He just wants to make a good record. There's no agenda or anything, he's all about the art of making music, in the least pretentious way possible."


Throughout '…Neighbourhood', Boston Manor display a grittier, expansive sound that is more in line with their collective musical interests. "We all listen to different music outside of the [pop-punk/emo] scene anyway," Cunniff tells us. "We were dying to experiment with that sound. We even bought in a lot of synths and electronic music. I guess some hip-hop, some nu-metal, and a lot of indie music too. It's a big culmination of our influences."
From the distant synth swells on 'Tunnel Vision' to the chugging bounce of 'Flowers In Your Dustbin' to the hallucinating tones of 'England's Dreaming' and 'Bad Machine', Boston Manor's sound pallet has become deep and varied. It makes 'Welcome to the Neighbourhood' an intriguing, even fascinating, listen.
"It's very dark and brooding. Sometimes it's really sinister, but also at times, light-hearted. It's very poppy with big soundscapes," considers Mike. "It sounds really big in places but also really small and fragile in other places, which is really cool."
"We're a big fan of albums and album bands. It has to tell a story and it has to have a flow to it"
Structurally, '…Neighbourhood' ebbs and flows seamlessly, creating a compelling narrative from its execution and lyrics. While some bands in their field are focused on getting a key playlist spot by putting out their strongest song immediately, Boston Manor's mindset was firmly on delivering a record that keeps listeners engaged.
"We're a big fan of albums and album bands. It has to tell a story and it has to have a flow to it," Mike explains. "Every song we have done on this record, I feel is strong enough to be a single. We had a really tough time picking the singles. The flow of it and the songs on it are really, really great."
All being well, those genre links that have considerably hindered their career so far will disappear with the release of 'Welcome to the Neighbourhood'. Both on record and on stage, Boston Manor have proved their wealth as a credible band.
Their upcoming headline run follows a summer of favourable festival appearances, including a main stage spot at Download. The late September run has allowed them to expose fans to three bands they admire; Microwave ("they're such sweet people and make really great music"), Drug Church ("we've loved them for a while") and Wallflower ("they're the best UK band").
Ultimately, Boston Manor have all the right ingredients to step out of the confines and fulfil the breakout potential that has continuously grown with every release.
'Welcome to the Neighbourhood' by Boston Manor is released on 7th September on Pure Noise Records.
'Welcome To The Neighbourhood' Album release events:
September
7th The Church, Sheffield (Full band set at 7:00pm)
8th HMV Live, Manchester (in-store & Signing at 5:30pm)
9th HMV Live, Leeds (in-store & Signing at 2:00pm)
10th HMV Live, Birmingham (in-store & Signing at 5:30pm)
11th HMV Broadmead, Bristol (Live in-store & Signing at 5:30pm)
12th Banquet Records, Kingston (Acoustic set & Signing at 6:00pm)
12th Bacchus w/ Banquet, Kingston (Full band New Noise clubnight show)
'Welcome To The Neighbourhood' UK Tour (w/ support from Microwave, Drug Church & Wallflower):
September
21st Thekla, Bristol
22nd Electric Ballroom, London
23rd Mama Roux's, Birmingham (SOLD OUT)
24th Rescue Rooms, Nottingham
26th Hangar 34, Liverpool
27th SWG3, Glasgow
28th Key Club, Leeds (SOLD OUT)
29th Gorilla, Manchester
Boston Manor links: Website | Facebook | Twitter | Instagram
Words by Sêan Reid (@SeanReid86)