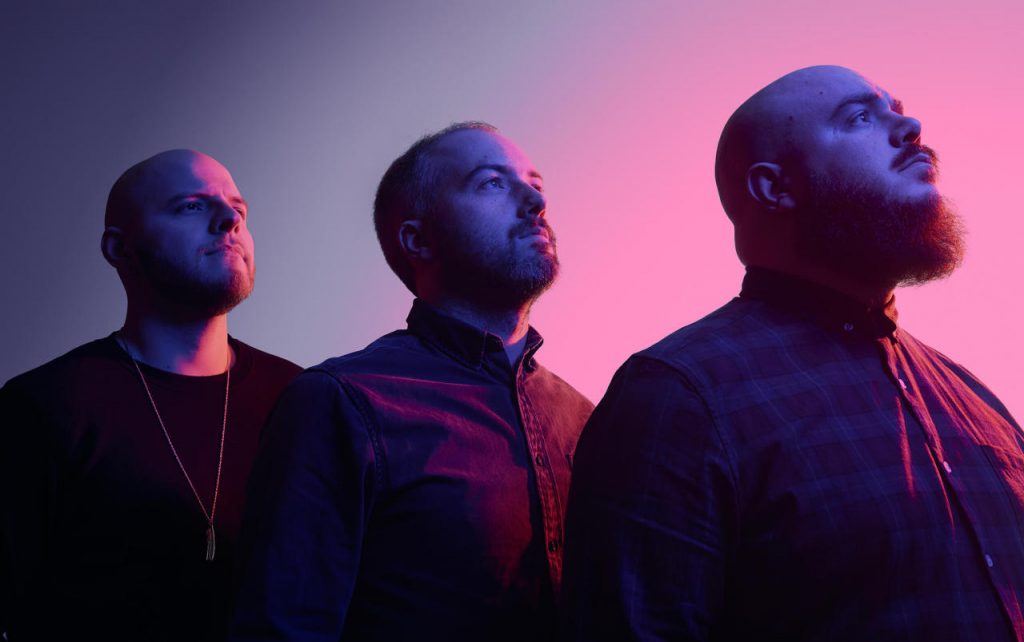 "I'd rather be a band that polarises a little bit, rather than being a band where everyone says 'they're alright'"
Over the past few years, the name Bad Sign has been bubbling underneath. Formed in the South London borough of Croydon in 2012, the trio consisting of frontman Joe Appleford, guitarist Jonathan Harris and drummer Kevin Miller, have been biding their time through a combination of EP's, singles and a mixed bag of support slots and festival appearances. Nevertheless, for the best part of a year, their focus has been on their long-anticipated debut full-length – 'Live & Learn'.
For most bands, a debut album is a significant point in their career so it's understandable why Bad Sign took their time making the record. "We also didn't want to half-arse it. We were recording the album in stages because of finances and the usual stuff [a band] at our stage goes through," explains vocalist/bassist Joe Appleford at the recent 2000 Trees Festival. He continues by saying, "we finished at the end of October last year, then we were quite careful about who mastered it. We ended up going with a guy called Robin Schmidt (The 1975). We wanted quite a poppy master. We didn't want to stick with the conventional masters out there that people use."
On face value, 'Live & Learn' is what you'd hope from a promising British rock band in 2017; partly heavy, partly melodic and delivered with an abundance of energy and passion. Yet beyond that, Bad Sign show versatility and an identity, something that many bands in today's underground scene struggle to capture. "We sound like a lot of different things but we don't really sound like anyone," says Appleford. "I think it's going to be something people are going to have to give a chance. It's not something where you go 'oh it sounds like this band'.
"I'd rather be a band that polarises a little bit, rather than being a band where everyone says 'they're alright'. We've got a strong identity. I don't think there's anyone like us, and that's important to us. We're our own band."
With their past releases, Appleford and company developed a solid foundation of alt-rock that 'Live & Learn' builds on. Songs such as 'Covenant' and 'Square One' are dominated by pounding rawness with underpinned melody. While 'Closure' carries itself with an anthemic quality before 'Attrition' and 'Certitude' shows a heavy-but-dynamic attribute. Ultimately, Bad Sign have made a record that is true to themselves and doesn't conform to expectations.
"There are some tracks on there that first time round people will be unsure about," admits Joe. "There's a track called 'October' which is a complete shift on the record, it's a softer track. We've done that on purpose. We like all different types of music, so we wanted to make a record that showed all the things that we like. We tried to write more succinctly, try and get to the point of our songs – a bit more urgency. There will be some stuff people won't like but that's the way it is. We can't make a record for everyone."
While they don't aim to have made a record for the masses, their long-term goal is to grow and break through the so-called glass ceiling. However, Bad Sign are realistic and know success rarely comes easy for bands of their ilk. Hard work is required, and they have shown a willingness to step outside of their comfort and play with bands they may not be associated with. From recent tour buddies, prog-metallers The Contortionist, to album chart-conquering metalcore front runners While She Sleeps and more, Bad Sign have put in the hours to fine-tune their craft. Their hunger to play shows and grow stylistically has the potential to lead to bigger and better opportunities. "What I love about what we're doing is and the way things are moving is that we can pretty much play on any bill. We can cater our set for different things. We seem to go down well on any bill, which is really pleasing for us. We want to be that type of band," says Appleford.
It's no doubt that 'Live & Learn' is the culmination of a long journey for Bad Sign (their last 'proper' release was 2014's 'Destroy' EP). For an emerging band, a three-year gap between releases isn't ideal. Thankfully, they have remained in the public consciousness, and are now looking to the future, even beyond 'Live & Learn'.
"We're already writing ahead of time. We want to release new music every year," Appleford assures us. "It might not be an album, it might be an EP or something, but we will be releasing new music every single year from now on. We're ahead of the curve now. We've got eight songs written for whatever we do next year. We don't want to be out of the gaze for any amount of time."
With the milestone of a debut album behind them and new material already in the works, there looks to be no rest for Bad Sign. The promise of more touring in the coming months, alongside a strong record, should deservedly grow the band's profile. They are not a band subtly tied down by the confines of genre borders, yet do have aspirations as Joe closes by saying, "we want to appeal as many people as possible. We're not the finished product by any stretch, but we don't hide our ambition."
'Live & Learn' by Bad Sign is released on 14th July on Basick Records.
Bad Sign links: Facebook|Twitter|Instagram
View more of Already Heard's coverage from 2000 Trees Festival 2017 here.
Words by Sêan Reid (@SeanReid86)