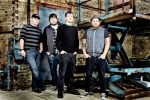 Back in 2004, Chicago Punk band August Premier went on an hiatus but now after an eight year break, they're back together and with a new record in the form of 'Happy Miserable'.
With their hometown roots firmly in place, 'Happy Miserable' sees the quartet taking an introspective approach and combining it with a upbeat punk rock sound. Tracks 'Trenches' and 'Foo Figgity' thrive off the bands energy yet have lyrical sentiment as they look towards the future but not forgetting the past.
Already Heard caught up with drummer Mickey Molinari to discuss a variety of topics. From 'Happy Miserable' to getting back together to Chicago's influential music scene and more.
Hi Mickey. How are you today?
Mickey: I am doing just fine and dandy.
Let's start with something simple. This past year you released 'Happy Miserable,' your first record since 2003's 'Fireworks & Alcohol'. For new listeners how would summarise August Premier's sound especially on this new record?
Mickey: It's always a weird question to ask a band to describe their sound, because bands think they sound completely different from what listeners think. My best answer would be that I think we sound like August Premier. Sure there will be elements of bands we grew up listening too like Alkaline Trio, Screeching Weasel, NOFX etc but I think we'll always sound like August Premier because that's who are are. On 'Happy Miserable' I feel it's what we were trying to go for on 'Fireworks & Alcohol', but didn't know how to.
AH: This is the first record following a eight year hiatus. How and why did the band get back together?
Mickey: I think we got back together, because no matter what band any of us were in, people would always talk to us about August Premier. I believe the other guys had all talked about it and decided to do the band again. They weren't sure if I would do it because I was pretty busy with Danger is My Middle Name, but Chris (Rogner – vocalist) called me and asked me if I wanted to do August Premier again. I called Danger's manager and told him I was leaving the band to rejoin August Premier, and that was that.
<a href="http://pacificridgerecords.bandcamp.com/album/happy-miserable-2" data-mce-href="http://pacificridgerecords.bandcamp.com/album/happy-miserable-2">Happy Miserable by August Premier</a>
AH: What did you do during that eight year period?
Mickey: This could take a while, ha. At first me and Danny (Halminiak) started a band didn't last very long, Chris (Rogner) finished college and Mark (Halminiak) got himself a full time job. Then those three ended up starting a band called One Black Tooth. I went and played with some smaller local bands, did some studio drumming, filled in for some shows for friends. There wasn't much time I wasn't doing something musically.
AH: Did the hiatus influence 'Happy Miserable' in any way?
Mickey: I think the hiatus gave us a chance to grow drastically as musicians. So when we got back together, it gave us a lot more to work with when it came to writing. We could pull off parts and songs we never could have done when we did 'Fireworks'.
AH: Compared to previous releases, how does 'Happy Miserable' differ?
Mickey: 'Happy Miserable' to me was the record we were always intended to make, but never could. We recorded 'Happy Miserable' with Matt Allison (producer of Alkaline Trio) who we've always wanted to work with since we started August Premier. He brought us back to that mindset that music should have feeling and life. We tracked live without a click track. All the drums on the record are single takes no edits. We didn't rely on Auto-tune or extra production tricks. The record just has that 4 guys in a room playing music. What you hear is what we sound like at practice and live. I think that makes it differ from the older records and most records out today.
AH: Over eight years fans music tastes can change. Having been away for such a long period of time, how has it been getting the attention of old and new fans?
Mickey: At first it wasn't too hard getting old fans back into it, over the years a lot of them had bugged us about getting back together. Now we face the same struggle as every other band. Music now just isn't enough to keep the attention of fans today. Our main focus is having fun and being best band we can be. If people dig it or not, that's up to them. (I hope they do).
AH: How has the feedback been to 'Happy Miserable'?
Mickey: I was really shocked that we got as many good reviews as we did. Made me feel like we did something right.
AH: The album was released through Pacific Ridge Records. How did you two join together?
Mickey: I met Wayne (Stadler – Pacific Ridge Records) right after August Premier ended in 2003. He was looking for us to do a song for the Blink-182 tribute (Danny and my band at the time, Shoot Out At The Arcade, did a cover of 'Man Overboard'). I always kept in touch with him and he put out the Showoff EP when I was playing with them, so when August Premier got back together I knew he was a fan and I love working with him, so I approached him about doing a record and he was into it. Pretty straight forward.
AH: Your hometown of Chicago has a long successful history of producing punk bands. Why do you think this?
Mickey: Back in the day before all the Chicago bands got signed there was no scene for pop punk. It was all the older bands we looked up to, and none of us thought we would reach their level. So we all just played shows together, never worried about getting signed because none of us truly thought it would ever happen. It was a great time Chicago for music with bands like Fall Out Boy, Spitalfield, Plain White T's, Knockout and Much the Same. We all fed off each other and had a blast, which is what I think pulled the focus back to Chicago as a place for labels to find bands. Especially considering most of us got signed to indie labels within the same 6 months or so.
AH: I understand you've been part of the Chicago music scene for a long time. What is the current state of the city's music scene?
Mickey: I think it's kinda of a mess. We had Fireside Bowl which was the home of Chicago punk music and a KOC hall in the North-West burbs which were the two places to play. When both stopped doing shows it kinda left a void in Chicago. Now we have 4-5 (if not more) venue's all competing for kids on the same night, spreading out fans. I think the internet has made bands too lazy. Getting out to shows and passing out demo's and flyers was our life blood. You don't see bands out there much anymore. I feel everywhere is going through the same thing.
AH: Are there any new bands from the area you're exciting to hear more from?
Mickey: Gunner's Daughter, The Young Distractions and The Run Around are a couple I enjoy. Having two kids makes it hard to get out and see bands, I do my best though.
AH: You're set to play a show with Allister in March where they will play 'Last Stop Suburbia' in full. How influential has Allister and that album been to you?
Mickey: Allister has been a HUGE influence on our band, Tim (Rogner – Allister vocalist) is Chris's big brother so we were lucky enough to have them to go to for any advice and help we needed. They took us on our first tour, and championed us to everyone they knew. Let us borrow gear to record our first EP. To this day they are some of our biggest supporters. Hell we wrote 'Happy Miserable' in Tim's garage. Really, if it wasn't for them being there for us we wouldn't be the band we are today. It's a huge honour to play the 'Last Stop Suburbia' show with them.
AH: Am I right saying you're longtime friends with them? Any stories to share?
Mickey: There was this one time on our first tour with Allister, after a show in Nebraska. The show was outside at one of those picnic area's in a forest preserve. Anyway, we got invited to a party. We drove through a corn field to an opening where there was a cabin. People were everywhere. There was even a little river/stream behind it where they had a big bonfire with people hanging out everywhere. Pretty good set up for a party. None of us really knew anyone, so we stuck together. It wasn't long before we saw someone naked just walking around. Soon after the first nude sighting, more and more people seemed to be getting naked. Before we knew it we seemed to be the only people with clothes still on. We then heard stories of the orgy at the last party. What a weird place. No worries though, we all kept our clothes on. I will always remember our bass play Mark waking up in the morning to the sight of a random guys balls in his line of view. We left as soon as we could after that.
AH: Do you have anything else you'd like to say to close the interview?
Mickey: Go buy Happy Miserable so Wayne can eat dinner tonight.
'Happy Miserable by August Premier is available now on Pacific Ridge Records.
August Premier links: Facebook|Bandcamp
Words by Sean Reid (@SeanReid86)