"I think we're ready to take that risk. With us, it's always been a case of 'go hard or go home,'"
"It's very much the same as the first EP – that it's ok to be fucked up," explains As Sirens Fall vocalist Mikey Lord when asked to define the message of his band's recently released 'Where Lost Things Go' EP. Since forming in the West Yorkshire town of Keighley nearly four years ago, the personal trials and tribulations of Lord's mental health have weaved in and out of As Sirens Fall's brand of alt-rock.
While 2016's debut outing, 'The Hospital Party', was masked by lyrical tropes with stylistic "new grave" links, 'Where Lost Things Go' sees Lord being more clear-cut when singing about mental health. "Our first EP was much more centred around it, but I think this one has less metaphor going on. This time we're a lot more honest," says Mikey. "I don't think it's totally centred around mental health. It's more centred around experiences that I've had. Our first EP was kind of a snapshot of me aged 18 to 21. Whereas this one is everything since then."
It's clear in the years following the release of 'The Hospital Party', Lord along with guitarists Adam Doveston and Richard Hadley, bassist Jason Doveston and drummer Jarlath McCaughery, have organically grown with 'Where Lost Things Go' showcasing a more concise set of songs that play to their strengths. 'Lily', 'My Only Ghost' and 'She Runs With the Wolves' thrive off anthemic, soaring choruses and energetic instrumentation while 'Getaway' ideally pulls at the heartstrings with balladic tone.
"I think we had been together two years when we put it ('The Hospital Party') out and it was a collection of the five best songs we had written up to that point. We didn't set out to write an EP," Mikey states. "Whereas this time we did. It was a different way of attacking it but I think we are better versed in songwriting now. We've got a better critical reflection on what we are doing and were able to work out what's good and what's bad reflectively easy."
Although As Sirens Fall are riding a wave of confidence, Mikey admits they are far from the finished product. "I don't think any band ever truly works out all the kinks. It's part of the attraction to an artist, the wrenches that get thrown in the works. For us, I think it was a matter of working out more kinks then we worked out on the first EP. Figuring out what works for us."
Like most bands and artists, As Sirens Fall had to be patient with 'Where Lost Things Go'. Recorded in early 2017, their aim was to give it a summer release yet two factors prevented that from happening. Alongside personal issues, the band wanted to give the EP the live experience it deserved.
"We were so happy and proud of it and put so much into making it happen. We just wanted to partner it up with the best shows we could in order to give it, what we felt, it deserved in terms of a tour, a promotion and fan experience. We didn't have that at the time, so we thought we'd push pause," Mikey clarifies. "We've got the EP, we can release it whenever let's focus on booking the best tour we can, and we've done that and now the EP is out. It's taken awhile."
Even though its arrival has been longer than planned, As Sirens Fall are gradually receiving the fruits of their labour. With a smattering of imminent UK shows being complemented by their first European dates, the Yorkshire quintet has plenty of opportunities to give the "live experience" 'Where Lost Things Go' deserves. "We're going over to France, Germany and Belgium, which is super exciting and I can't believe it's happening. I can't wait to get out on it regardless of how many people turn up to the shows, I know that there are a few UK fans travelling to Europe to come to the gigs, which is mad." an enthusiastic Mikey says.
Nevertheless, as a band that is unsigned and considerably unknown in some circles, you have to question the financial risk of touring overseas. "I think we're ready to take that risk. With us, it's always been a case of 'go hard or go home,'" Mikey responds before expanding. "The vast majority of the time, unless you're super clever, you'll make a loss on touring when you're starting out. You've got to see it as an investment as opposed to a money making scheme because that isn't what it is, and it won't be for awhile.
"You tour for a reason and that is to play shows and meet new people and to spread the music and the art. It's not to make money, well not at the minute. I supposed the financial risk goes out the window, just as long as we're not living out of cardboard boxes, I think we'll keep going for as long as we can."
While As Sirens Fall's future looks bright, the issue of mental health is sure to remain in whatever they do going forward. On stage, the quintet's "uniform" is connected Mikey's sketch of a water lily. "It resembles survival. The water lily, in particular, grows from the bottom of a body of water, defeats everything mother nature can throw at it, and then eventually reaches the surface and blooms. I just think that's a beautiful metaphor for surviving mental illness," he explains. "It definitely defines what As Sirens Fall are as a band. It's our main backbone. That's our message – it's just about survival, love and the pursuit of happiness."
"There will always be stigma and ignorance but it's about minimising it."
Away from the band and due to the unfortunate delay with the EP, Mikey put his efforts into setting up a non-profit organisation called We Are Not Dead Yet (WANDY). Similar to the aforementioned message of the band, WANDY's aim is to promote mental health understanding rather than awareness. "I think everyone is aware of it but there's a difference between hearing and listening, awareness and understanding. I think the more people talk about it, the less stigma will be," says Lord.
Having lived with mental illness, specifically depression and Generalised Anxiety Disorder, during his late teenage years, Mikey knows first hand the struggle and suffering those diagnosed go through. In some circles, the issue of mental illness is still disregarded and even misunderstood. "There will always be stigma and ignorance but it's about minimising it. I think it has gotten better recently but the problem is still there and it's still quite severe," states Mikey.
"I think people are afraid to talk about it both on the side of suffering from it and on the side that the fact it exists. It's been classically swept under the carpet. It's been that way for many, many years because it's scary because we don't understand it.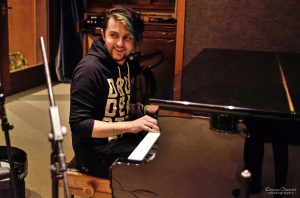 "For me, the scariest part is that you can say someone has depression but they have a set of symptoms that tick boxes. There's no blood test for depression. There's no litmus test for depression. You have a set of symptoms that you describe to someone in your own words, and they then diagnose you after answering a series of questions. That can be completely different in every single person, and that's quite scary. That means there is no concrete thing you can look at."
As someone who has been upfront with his mental health, we wondered how Mikey coped with being out front of a crowd and performing on stage. "I used to handle it by getting myself good and angry. It used to feel like I was playing a character. It didn't feel like it was me," he responds. "When I was 17-18 years old, I was active in drama and theatre. If I hadn't gone into music, I would have pursued theatre.
"When it came to being a frontman, it was very much a case of playing a character on stage. I think if it was me up on stage doing public speaking without four other people playing very loud instruments near me, it would be the worse experience of my life. It would terrify me but because I'm playing a role.
"I think over the last few years, I've gotten used to 'the job' and genuinely enjoy it. I love it now more than anything. It feels like a great way to get out of my system."
With 'Where Lost Things Go' being favourably received, UK and European shows taking place shortly and "some cool stuff planned" further ahead, As Sirens Fall's perseverance is paying off and is building momentum.

'Where Lost Things Go' EP by As Sirens Fall is out now.
As Sirens Fall links: Website | Facebook | Twitter | Instagram | YouTube
Words by Sêan Reid (@SeanReid86)