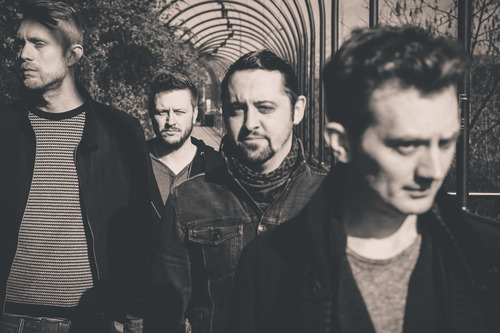 For Sheffield instrumental/experimental noise four-piece 65daysofstatic, the metal and hard rock hybrid that is the Sonisphere Festival may not ideally be their type of event, nevertheless, having made an overwhelming appearance 4 years ago, they returned once more to close out the opening night.
The past 12 months has been a busy time for 65daysofstatic, from the release of their fifth full-length 'Wild Light' last September to touring the UK and Europe to celebrating the 10th anniversary of their debut record – 'The Fall of Math'.
However with more UK/European festivals lined up, we spoke to Paul Wolinski before their late night set at Sonisphere to discuss 10 years of 'The Fall of Math', making music for record and live purposes, using coding to create music and more.
AH: Can we get your name and role in the band?
Paul: I'm Paul. I do guitar, piano and electronic things.
AH: How has your Sonisphere experience been so far?
Paul: Its ok. I've seen a lot of carparks, a lot of portakabins. I've not had chance to see any bands yet but I'm hoping that will change. Just as long as I see Atari Teenage Riot.
AH: Any other bands you're wanting to see?
Paul: There is loads of stuff on the other days but we're only here for the day. Therapy? are doing 'Infernal Love' from start to finish. That album meant a lot to me when I was growing up. Deftones tomorrow and Prodigy tonight as as well.
AH: You're playing a late night set after The Prodigy have finished on the main stage.
Paul: Yeah after they play everything stops its just us.
AH: And the wrestling.
Paul: Oh yeah, and the wrestling. So yeah it's going to be interesting.
AH: Because you're an instrumental band are you used to being the odd band out when it comes to festivals like Sonisphere?
Paul: Yes! No matter what festival we get invited to, we're always a little bit to the left, and that's fine. I really like how we can do this type of show and go inbetween different places.
AH: Do you think it also gives you the opportunity to reach new fans?
Paul: I think so. All festivals are good for that. It will be interesting to see how tonight goes. The first time we played here was 4 years ago and it was a great show. It did feel like there was a lot of new people, and it took a little while to win them over. Maybe see our name, a long multi- syllable name, they expect ISIS-style post-rock and we're really nothing like that at all, but halfway through the set it was wonderful. It will be interesting to start again or people from before come back and see us again.
AH: I went on your Facebook page the other day, and you've posted a track created entirely by code. Is that something you do regularly or is it one-off?
Paul: That is the first time we ever done that. We're always looking for new forms. We love touring and we will always do that, and we love making records and we will always do that but it feels a bit limited to having those 2 big disiciplines. There should be room for other things. We started doing some sound installations and things like that. As for the coding, someone pointed us in the direction of that language, and we were like, "Well lets see what happens".
AH: You recently celebrated 10 years of 'The Fall of Math'. How was it revisiting those songs after 10 years?
Paul: It was pretty strange to tell you the truth. Half of that record we still regularly play live, and that has evolved with us. They have been well suited to live show, and they've stuck around. The other songs, we still like them but they fell away for a reason. Either they were quite strange or we couldn't replicate them in a satisfying way that made them more sense on the record. So it was good. We were a bit apprehensive about it, and as a live show, it didn't feel like it flowed as good as our regular shows but as a special occasion, it was really good.
AH: If there is anything you would change from that record, what would it be?
Paul: So many things. We had that conversation a lot going into it. We have the ability to change it now but to change them too much would of defeated the object of what we were doing.
AH: It wouldn't of made them sound like the orignals. Make them something entirely different I guess?
Paul: There were a few moments where after 10 years of hindsight, we couldn't live with, so we changed them a little bit. For most of it, better or worse, that was the record we made.
AH: Are there any plans to other album shows?
Paul: I don't think so. We discovered 'Wild Light', our new one, flows alot better as a live show. We didn't intend that specifically to happen, but that does flow really well as a live show as well as a record, so I can see how that might make sense. With the other albums, that is not the way we build them. 'The Fall of Math' thing was great but that was our first record.
AH: Going back to saying how you create music for a record and create music for a live setting, it seems you create some songs for record and some for live purposes?
Paul: Well that was the mistake we made on our 3rd record, 'The Destruction of Small Ideas', it was all about the record and we didn't think about the live show. We didn't even consider it, and that was a deliberate decision, but then when we had to tour that record, it was really hard to make it work. Then with our 4th album ('We Were Exploding Anyway') we flicked it round entirely and it was all about the live show. Then when we were performing it, it was rather than catching one definitive version of the song, it was kind of a record version and a live version. They're not quite the same, but because we don't have a singer we can do that quite easily.
AH: I see you've got a whole bunch of UK and European shows lined up. Any shows or places you're especially looking forward to?
Paul: Well this is going to be good. We're doing something crazy in a festival in Romania, which is inside a museum but in a kind of courtyard. I've never heard of any of the bands we're playing with. Its one of those things where even though a lot of the time we fall through the gap, sometimes we end up doing mysterious stuff like that. Being on tour in general is pretty great.
AH: What are your post-summer plans?
Paul: I suspect we will be doing other things and not touring. We've got a handful of really exciting things that we can't quite talk about just yet, but if it all works out then that is the rest of our taken up. If not, I imagine we will start writing a new record. So either way, we will calm down for a while.
AH: Will the new record have more coding?
Paul: (laughs) Who knows, maybe.
AH: Any final words you want to share with our readers?
Paul: Thanks for taking the time to read this and for checking us out.
'Wild Light' by 65daysofstatic is out now on Superball Music.
'The Fall of Math' (10th Anniversary Deluxe Edition) by 65daysofstatic is out now on Monotreme Records.
65daysofstatic links: Website|Facebook|Twitter
Words by Sean Reid (@SeanReid86)