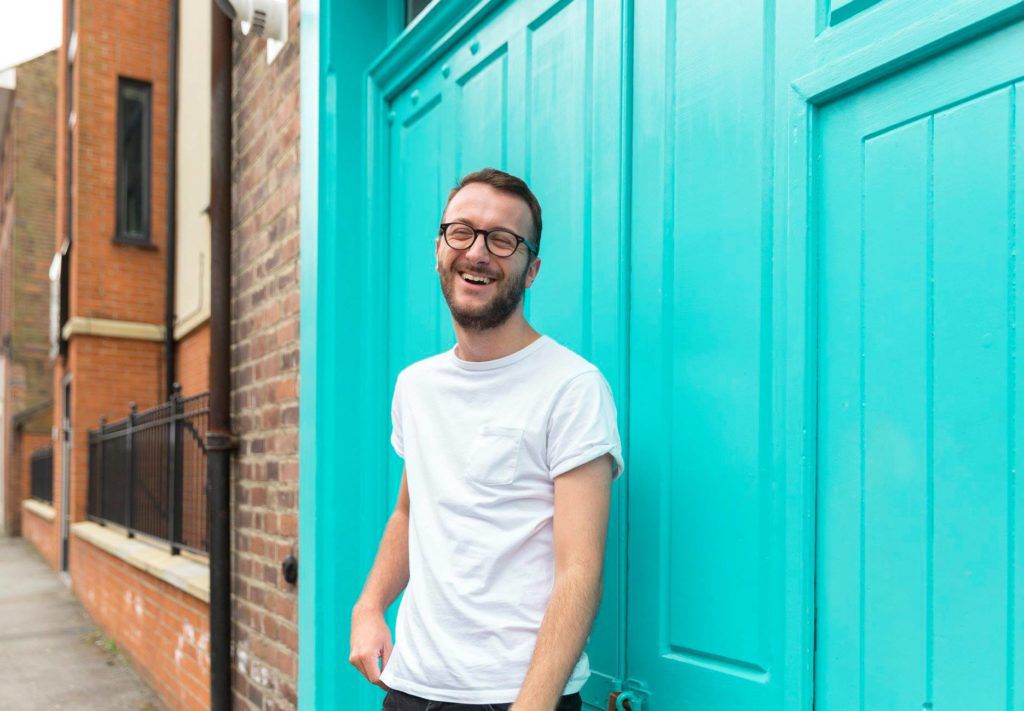 For the best part of a decade, Nottingham native George Gadd has been performing, both as a solo artist and in various bands, up and down the country. And like many DIY musicians, he's been doing while trying to balance it out along with other full-time commitments. In recent years, Gadd has found his feet as a solo act with 2017's 'Better Shape' EP and last year's stand-alone single, 'Shake A Ghost', being part of a burgeoning arsenal of songs.
This week sees George back on the road as he joins Ducking Punches and Harker for a run of stripped down shows culminating with a hometown show for Gadd. Before packing his bag and jumping in the van, George has curated a playlist of songs and bands that have inspired throughout his time as a musician.
Alkaline Trio – '97
Alkaline Trio and Blink-182 were my gateway bands into getting into punk. As a teenager, I would stay up late downloading songs on Limewire and discovering new bands through message boards and that's how I got into bands like Taking Back Sunday, Jawbreaker and Jimmy Eat World.
I was a huge fan of Alkaline Trio and for Christmas, my Dad signed me up for their fan club 'The Blood Pact'. I got to attend a soundcheck when they played Rock City where they did 'Madame Me' and it blew my mind. '97' feels like a pop song that never happened but it showcases Matt Skiba's morbid lyrics perfectly.
The Gaslight Anthem – Stay Lucky
The Gaslight Anthem are huge for me. 'The '59 Sound' combined what I already loved from bands like Alkaline Trio/Hot Water Music but also helped me discover a wealth of music including The Replacements, Tom Petty, R&B and Soul. Brian Fallon's lyrics paint the scene of the real American dream in Jersey.
Phoebe Bridgers – Smoke Signals
Phoebe Bridgers is an incredibly unique singer to me where I feel like a lot of her personality shines through in her lyrics and music. 'Smoke Signals' is stacked full of Twin Peak/Bowie and Lemmy references. David Bowie's death was the first 'celebrity death' that really affected me and I feel as if Phoebe captured exactly how I felt in that moment in this song.
Frightened Rabbit – Old Old Fashioned
'The Midnight Organ Fight' was a record i'd find a lot of solace in immediately after discovering it. This song is a perfect example of how a simple four chord song can be so poignant. Scott Hutchison is easily one of the best lyricists of our generation.
Johnny Foreigner – Salt, Peppa and Spinderella
I was living in Birmingham for university and personally, I felt a lot of disillusion towards the city in terms of music taste. In my first few years, I was going to Gatecrasher and chart music nights a lot with friends but honestly not really enjoying the music. Johnny Foreigner (alongside my mate Hartie) helped me discover the DIY scene. 2014 was like my "emo-revival awakening" period because there was so much good music coming out. That was the year I discovered Modern Baseball, The Hotelier and Johnny Foreigner's 'You Can Do Better' also came out which in my opinion, is their best.
'Salt, Peppa and Spinderella' is a perfect example of blending electronic instrumentation alongside a real band and that was something I wanted to replicate on my song 'Shake A Ghost'.
Bruce Springsteen
There's not much that can be said about Bruce that hasn't been said already. He's the boss! I saw him live a couple of years ago and it felt like a perfect congregation.
Kate Bush
Kate Bush is still one of the most overlooked musicians in British history and 'Running Up That Hill' is such a simple concept. She wants to make a deal with God to swap places with her partner so they can better understand each other. How romantic is that? She also produced this song!
Los Campesinos
I was a bit late properly getting into this band. I dug a few songs off 'Romance Is Boring' but 'No Blues' got me through a very difficult break-up/mental health low point.
Lorde – Swingin' Party (Replacements cover)
Combining two here. I think that Lorde opens up a lot more depth in this Replacements song. She has a very unique sound and pushes a lot of boundaries in pop music.
The Cure
They have so many great singles but recently i've been getting swept up in the textures of 'Disintegration'. They are one of those bands that can create infectious pop music and also brooding, dark goth. It's difficult to pick just one Cure song but 'Untitled' is a recent favourite. I'd absolutely love to see them live.
George Gadd will be playing the following shows with Ducking Punches and Harker
February
19th The Monarch, London:
20th Paradiddles, Worcester (sold out)
21st Gringos, Norwich (tickets)
22nd Alleykat, Lincoln (tickets)
23rd City Arts, Nottingham (sold out)