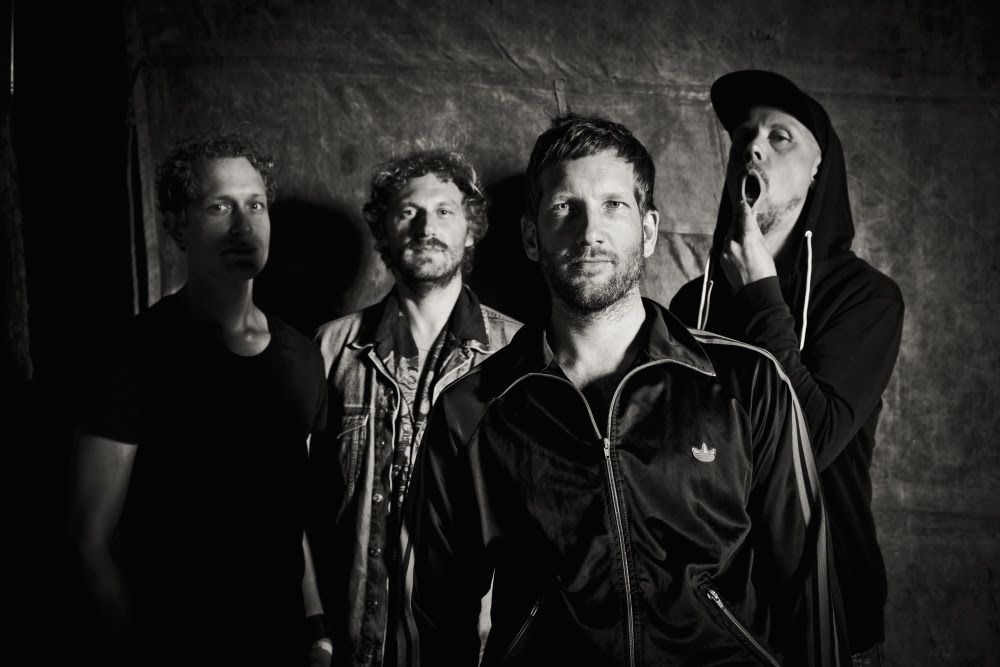 From hearing the opening seconds of their latest record, 'JOY', Bitch Hawk delivers a relentless and vigorous display of metal taking in thrash, punk and hardcore along the way. "'JOY' is for the oppressed, the beaten, smashed, abused and neglected. But also wankers, idiots, losers and primitive humans will surely find something compelling here," state the Swedish four-piece.
On songs such as 'Baby Love', 'EDM' and 'Slime', the Stockholm-based band offer brutal blast after blast of adrenaline-filled noise. While on the surface Bitch Hawk follow a lineage of heavy Swedish bands, but dig a little deeper and you'll discover the quartet have a diverse background.
Bass player Patrik Berger (no, not the retired Czech footballer) is known for his songwriting prowess, having penned songs for Lana Del Rey and Charli XCX. Remember 'I Love It' by Icona Pop a few years ago? Well, Patrik had his hand in writing it. Whereas Andreas Hourdakis is a well known Swedish jazz guitarist, Henrik Holmlund has played drums for a host of rock and ska bands, and vocalist Fred Burman fronts punk rock n' rollers Satan Takes A Holiday.
Through a wealth of experience, we were intrigued to find out who Bitch Hawk consider as their influences. It was no surprise when they told us about 11 records that includes 60's garage rock, no wave, avant-garde jazz, experimental rock, German krautrock, and psychedelic pop. It's probably our most unique "Influences" feature yet.

The Shaggs – Philosophy of the world
This is a truly amazing album on so many levels. The three sisters' father had a vision of them being a really successful band fulfil his vision, he prevented the girls from going to school, kept them from making friends outside the family and forced them to rehearse day and night. He also wouldn't allow them to listen to music. On a first listen, it might just sound bad. But the more you dig into it, you'll find a whole new world of strange and really trippy melodies.
Captain Beefheart – Dichotomy
This is a compilation of various outtakes and bootlegs from 1966 to the late 70's. The sound quality is pure heaven if you're into lo-fi stuff. This is an insight into the creative world of a truly mind-bending genius
Los Microwaves – Life After Breakfast
This a band from the early 80's No Wave Scene. I think the whole point of this album was to completely break out of genres. To make something that you couldn't put a label on. Therefore a bit ironic to name it "no wave". Anyway, it's a fantastic album; cold synths mixed with drums and percussion from another planet! Really fun lyrics as well.
Daniel Johnston – Retired Boxer
Daniel recorded a lot of his early demos down in his parents' basement in West Virginia. Apparently, he didn't know how to copy his recordings so he made unique recordings every time he wanted a new tape to hand out to the local labels. The music is like the Beatles deranged cousin. Beautiful and awkward. Daniel has been struggling with mental illness throughout his life.
James Chance – Buy Contortions
The No Wave Pioneer show some off-kilter funk, insane saxophones, and possessed screaming on this classic album. It's like James Brown but without the discipline. Chance had this thing of always getting in to fist-fights with the audience. It only adds to the absurdity of this band.
TV Personalities – And Don't the Kids Just Love It
It's hard to find an album with this many great songs one after the other, perfect pop music. Some say they could have been the biggest band in the world, but due to mental health issues and drug addiction, they never reached a very large audience.
Roland Young – Hearsay I-land
Roland Young comes from the early 80's avant-garde jazz scene. These songs were recorded in his bedroom in Kips Bay, New York using some simple drum machines and Casio keyboards. All his Avant-garde friends hated it and the album was never very popular. But the sound of this record sound so modern, it could have been recorded today. Really woozy and trippy stuff
Basil Kirchin – Dr Fibes
The man behind the experimental concept "worlds within worlds", he used to collect ambient sounds, animal noises and the voices of autistic children. With different tape manipulation, he came up with a whole new soundscape. Kirchin went to India and spent five months in the Ramakrishna Temple. His bags were unloaded from the ship, a strap broke and everything, including his recordings of the Kirchin band, was lost beneath the sea. This loss would trouble him for the rest of his life.
Amon Düül II – Yeti
One of the first German krautrock bands. An Anarchistic and psychedelic commune called Amon Düül.
They split up when they were offered an opportunity to record, which was boycotted by the more musically proficient members of the commune (who went on to form Amon Düül II). As Amon Düül II grew and personnel changed, they still remained a commune, living together as a band
The Space Lady – Greatest Hits
Susan Dietrich Schneider started out as a street musician in San Francisco. With a cheap Casio keyboard through a phaser pedal and her vocals through an echo unit, a helmet with blinking lights, she turned pretty straightforward rock classics into something magical!
The Slits – Cut
The pioneers of post-punk. Made up by 14-year-old Ari Up, Palmolive Romero and Kate Korris. On this record, they teamed up with reggae producer Dennis Bovell. Later on, the band had members like Prince Hammer and trumpeter Don Cherry (father of Neneh Cherry).
[bandcamp width=100% height=120 album=3135929052 size=large bgcol=ffffff linkcol=0687f5 tracklist=false artwork=small]
'JOY' by Bitch Hawk is out now on Adrian Recordings.