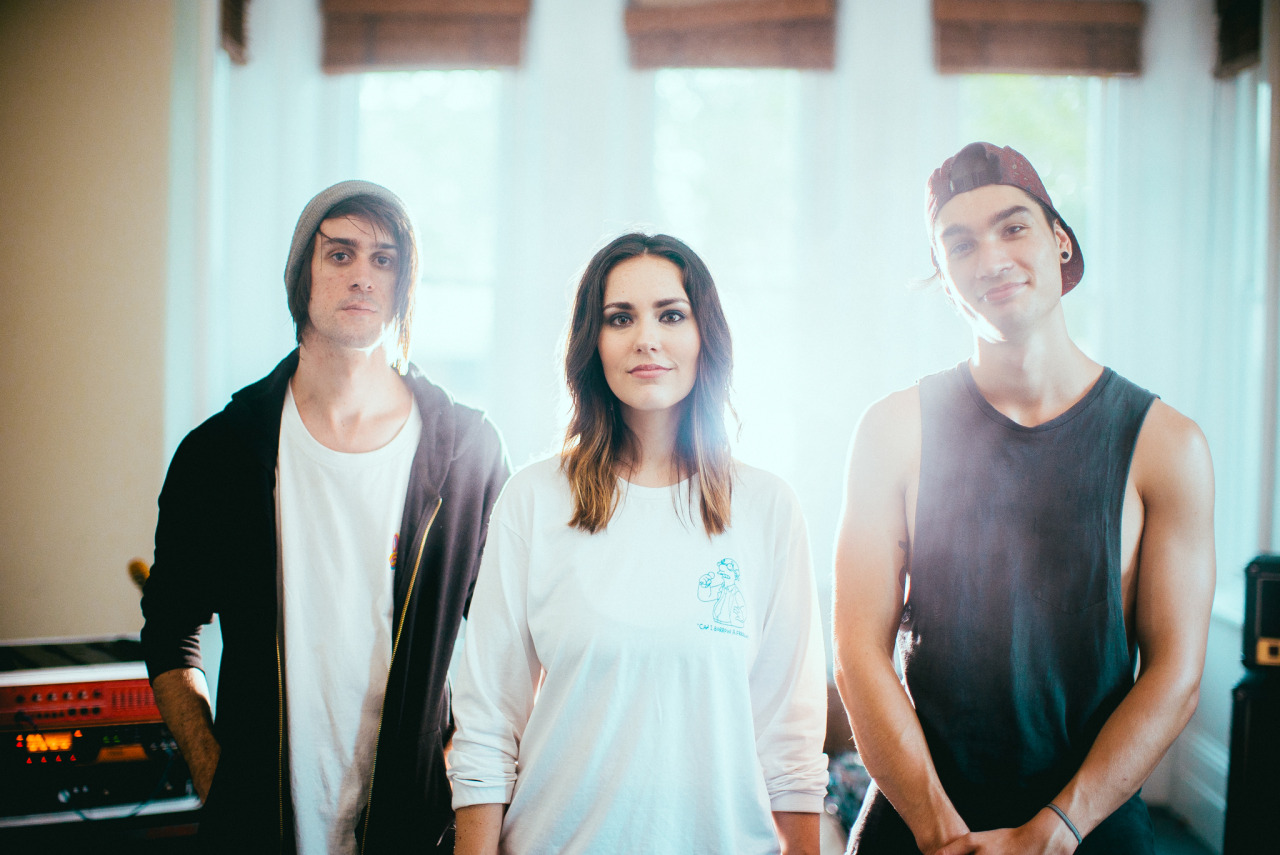 Emerging from the increasingly musical hotbed that is Australia comes Stand Atlantic. The Sydney trio look set to join a whole host of compatriots by breaking out from the Aussie scene. Their new EP, 'Sidewinder', is an energetic, infectious offering that thrives on huge hooks and lyrical depth. Ultimately, songs such as 'Sidewinder', 'Mess I Made' and 'Push' show they're certainly heading in the right direction.
Fresh off a run supporting New Found Glory Down Under, we asked the three-piece, vocalist/guitarist Bonnie Fraser, bassist David Potter and drummer Jonno Panichi, to tell us about five influential albums. With three individual choices and two collective picks, Stand Atlantic show their admiration for modern pop-punk, lyrical rap geniuses, and alternative Australian bands.
Follow us on Spotify for more playlists.
Karnivool – Sound Awake
David Potter (bass): 'Sound Awake' was one of the first albums I ever listened to that really changed the way I thought about song writing and still stands out to me as one of the best Australian albums ever written. There's so much creativity and originality on display throughout the album, from the bass playing and the drumming to how they structure songs and the album as a whole. This album stands out as a benchmark for really polished production, while also still sounding raw, aggressive and not over produced. It also has the fattest bass tone ever put to record on the track 'Goliath'.
Silverchair – Diorama
Jonno Panichi (drums): Silverchair was the first "rock band" I ever properly got into. Before that I had been listening to pop boy bands like Nsync, Human Nature etc, but Silverchair was my first proper taste of rock bands that I began listening to on my own accord. To this day I still listen to 'Diorama' on repeat. It's such an amazing album and to think Daniel Johns (Silverchair frontman) was 23 years old when he wrote it still blows my mind.
Eminem – Curtain Call
Bonnie Fraser (vocals & guitar): This was one of very first albums I ever bought. It's funny looking back now, I was so young and would just listen to this highly inappropriate album on repeat. I don't know why my mum never said anything?? I'm glad she didn't though. 'Curtain Call' taught me so much about writing lyrics and appreciating rhyme and vocal rhythm. This album was probably one of the first things that inspired me to write my own stuff, not even songs necessarily, just creative writing and poems.
The Story So Far – Under Soil & Dirt
Stand Atlantic: Fairly certain that almost anyone in a pop-punk band these days can agree how solid this album is. It was such a fresh take on the genre at the time sonically, the songs are crafted so nicely. There's melodic hooks vocally and instrumentally across the whole album and on top of that, the production is just gold. Collectively, we all really love this album and it definitely was a huge influence in wanting to pursue writing and playing music.
The 1975 – The 1975
Stand Atlantic: There is not a bad song on this album. Collectively, it really inspired us in terms of groove, snappy melodies and simple lyrics. The album, as a whole. definitely makes you feel like you're a few decades in the past, but still has a little something that brings you back to the present day. At the time of its release, it was a hugely influential album for us in terms of songwriting. It's hard not to appreciate the fact they have such accessibility in their sound while still remaining a little out of the box.
'Sidewinder' EP by Stand Atlantic is released on 15th September on Rude Records.