With the clocks going forward, it's clear Spring has begun. And while the always hectic festival season hasn't just quite started, there is a wealth of musical goodness to be excited about this month.
April sees a host established and emerging names releasing new material, and as always, we've picked out a selection of essential releases you can't afford to miss over the coming weeks. Amongst them is the return of "supergroup The Damned Things, and new albums from Canadian scamps PUP, homegrown indie-punks Martha and more.
Read on to find out about the seven must-hear releases this month.
---

Follow us on Spotify for more playlists.
---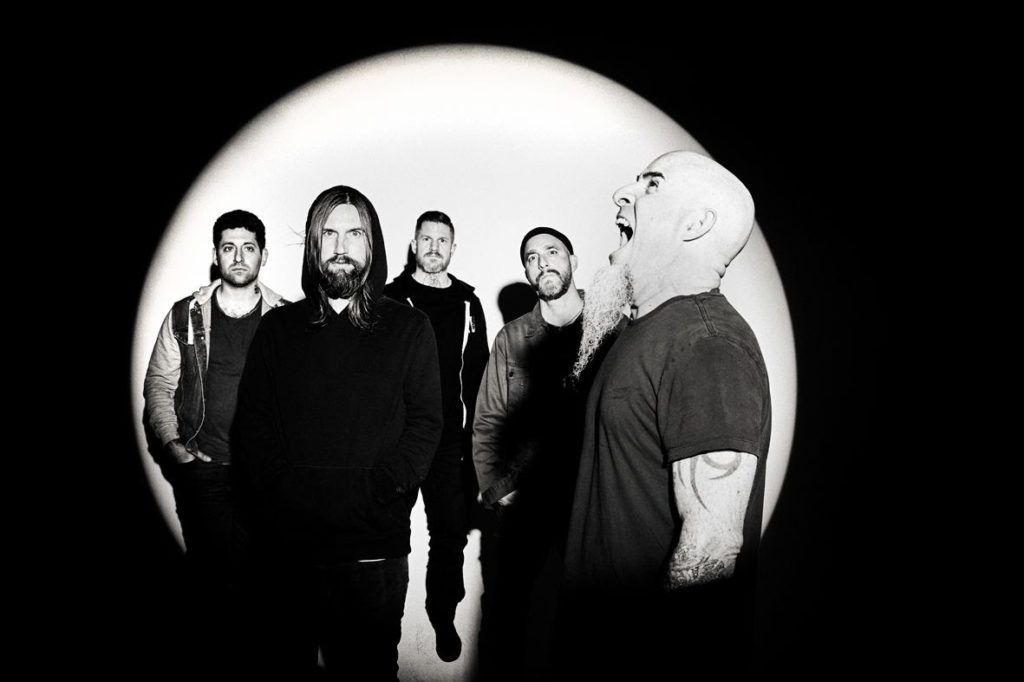 The Damned Things – High Crimes
Rejoice! It's the Second Coming. The Damned Things are back! Formed during Fall Out Boy's hiatus by guitarist Joe Trohman and drummer Andy Hurley, they enlisted friends including Anthrax's lead guitarists and Every Time I Die's Keith Buckley on vocals, resulting in 'Ironiclast', the 2010 debut album, a hugely fun mixture of riffs and swagger. After a year touring they returned to their original bands, the band became dormant, leaving fan crossing their fingers for more. Finally, the supergroup has reunited, announcing new album, 'High Crimes'.
This time they've had a little switch up, dropping Robert Caggiano and Josh Newton from the line-up and bringing in Alkaline Trio's Dan Andriano on bass, but all signs are they're firing on all cylinders.
Lead single, 'Cells' showcases a slightly harder edge, but the thoroughly modern hard-rock sound remains intact with plenty of riffs, lead lines and a bucketload of attitude. When they're having this much fun, it's no surprise the project has been resurrected, and it's worth watching the music video for just a glimpse of their chemistry. With no guarantee they would ever play together again it's great to have The Damned Things playing together and with a handful of tour dates booked, hopefully, you'll be seeing plenty more of them. (IK)
'High Crimes' by The Damned Things is released on 26th April on Nuclear Blast Records.
The Damned Things links: Website | Facebook | Twitter | Instagram
---
PUP – Morbid Stuff
For all the wonderful gifts that Canada has given the world, PUP deserves the highest of accolades, not least continuing to survive their tenacious tour cycles and dangerously fun live shows. Moving from Rise Records over from SideOneDummy for their third album, 'Morbid Stuff' once again is set to be a comically cynical emo record with bigger gang vocals, and more face-melting guitar licks than ever before.
For all their wonderfully produced and charming music videos over the years, 'Free At Last' features a sample of the 250 fan song interpretations of their single, before it was actually released. Even Stranger Things' Finn Wolfhard returns to the screen for his own delightful cover!
With 'Kids' delivering a further insight into frontman Stefan Babcock's existential mid-20's dread and the jaunty campfire vibes of 'Scorpion Hill', it's going to be tough shouting song requests at shows when PUP can seemingly do no wrong. (AB)
'Morbid Stuff' by PUP is released on 5th April on Rise Records.
PUP links: Website | Facebook | Twitter | Instagram
---
Trade Wind – Creative Freedoms
It's been while. Trade Wind is the side project of Stray From the Path guitarist Thomas Williams, but it's hard to imagine how the two bands could sound more different. In 2014 they released their hugely impressive debut EP 'Suffer Just To Believe', which mixed atmospheric alt-rock with a delicacy Radiohead would be jealous of.
Songs such as 'Fixed Blade' really buried under your skin with their power and lyrical honesty. An album, 'You Make Everything Disappear' followed in 2016 but struggled to live up to their debut, leaning more heavily on the Coldplay elements of their sound, yet the different approach still managed to be both anthemic and heart-wrenching.
Having found time in their busy schedules to be a band again, Trade Wind return with new record 'Certain Freedoms'. 'No King But Me' takes the warm atmospheric swirls that made their debut so beautiful and adds a slightly more abrasive edge, indicating they are once again pushing their boundaries and building something magical and unique. (IK)
'Certain Freedoms' by Trade Wind is released on 26th April on Other People Records / The End Records.
Trade Wind links: Website | Facebook | Twitter | Instagram
---
Martha – Love Keeps Kicking
Oh, Martha. Once we got my ears tuned into 'The Void', it reminded us why these County Durham indie-punks are so fearlessly adored. Uplifting, fun and poignant; this outfit are a healthy reminder as to why you can't label an entire genre as 'deceased'.
Having announced that they are new additions to Big Scary Monsters, 'Love Keeps Kicking' has been teased with the same humour that makes Martha so brilliant. Their previous LP's are loud, fuzzy yet so intricately cleaver. Amongst the cheerful vocals, Martha have managed to progress on the foundations of their DIY punk routes, whilst becoming more expressive with each release.
In true Martha style, the album looks set to take the heavy subject matter of an emotional breakup, and turn it into a riotous cause for celebration. After all, love keeps kicking. (FRJ)
'Love Keeps Kicking' by Martha is released on 5th April on Big Scary Monsters.
Martha links: Website | Facebook | Twitter | Instagram | Bandcamp
---
JAWS – The Ceiling
The announcement of the return of dream-pop/indie boys JAWS came with a flurry of excitement. After just under three years of silence, the 'Cameron' creators are back with a work which has been longingly anticipated. 'The Ceiling' is the Birmingham outfit's third full-length album, where they have so far garnered a reputation of producing shoegaze delights which have captured the hearts of the community.
We've seen a hattrick of singles released so far. Where 'Do You Remember' and 'Fear' have set the tone of more matured works whilst retaining their hooky structures of songwriting. Their latest single, 'Please Be Kind', is a romantic ode to when you can't get that someone out of your head. From what we can gather, this upcoming album is a fitting listen for those who are enraged with the current state of affairs in this country, but underpinning it all is their expansive tones and trickling riffs.
With a succession of hugely loved indie-rock bands who sprung into success during 2014, seemingly breaking up thick and fast, we can't wait to hear what the band have been working on. (FRJ)
'The Ceiling' by JAWS is released on 5th April.
JAWS links: Website | Facebook | Twitter | Instagram
---
Blood Command – Return Of The Arsonist EP
Blood Command have long been one of Norway's best-kept secrets. With a sound blending syncopated guitars, vocal hooks and powerful screeches, their records have all been unique and excellent. After a quiet spell resulting from a few line-up changes, they released the stellar 'Cult Drugs' in 2017. By adding synths and dialling up the attitude of their previous works, it was something of a masterpiece. From what we've heard so far the new EP, 'Return Of the Arsonist' not only builds on this sound but can only continue their upward trajectory.
'Afraid of Water' features everything their previous music thrived on and more. Its huge twisty riffs, driving bass and a barrage of 'Woahs' border on pop-punk, making it one of their most accessible songs but without surrendering their bite. Second single '720dp.HDTVx265' is more relaxed but is about ten times catchier than anything you've heard recently. You really won't want to miss this. (IK)
'Return of the Arsonist' EP by Blood Command is released on 12th April on Fysisk Format.
Blood Command links: Website | Facebook | Twitter | Instagram | Bandcamp
---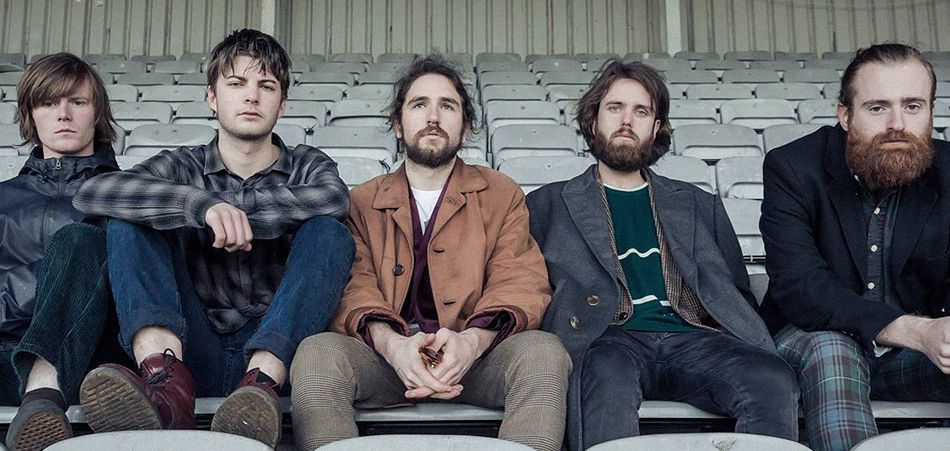 Fontaines D.C. – Dogrel
Fontaines D.C. are a band who, almost as if from nowhere, have completely blown up. The demand for these guys has been pretty phenomenal so far, where their debut full length 'Dogrel' certainly has a huge hype surrounding it.
Dripping with Dublin twangs and poetic lyricism, the outfit are a raucous product who nod to past punk-rock eras. Their colossal sound is mixed with musings of hometown woes. 'Too Real' in particular triumphs on executing their ambition with grit.
The group are a similar flavour as Shame and IDLES (who have become touring buddies), whereafter the release of 'Dogrel' to the world, it won't be long until they're packing out larger venues as deserving headliners. (FRJ)
'Dogrel' by Fontaines D.C. is released on 19th April on Partisan Records.
Fontaines D.C. links: Website | Facebook | Twitter | Instagram
---
Words by Ian Kenworthy (IK), Ffion Riordan-Jones (FRJ), and Ashwin Bhandari (AB)
If you have enjoyed reading this article and would like to help us produce more content and promote more great new music, please consider donating to our Patreon page.