Every weekend Already Heard gives you a rundown of what you have missed in the music world in the past seven days. 'In Case You Missed It' is your go-to source to find out all the latest tour news and music and video releases.
Don't forget to "Like Us" on Facebook for regular news updates.
New Music
Albums/EPs
Pijn – Loss
The Wonder Years, Have Mercy, Oso Oso and Shortly – Tour Split EP
[hoot_toggle title="New Songs"][hoot_one_half]AFI – Get Dark
Deaf Havana – Nacissus
Laura Jane Grace & the Devouring Mothers – Reality Bites
Stand Atlantic – Skinny Dipping
Citizen – Open Your Heart
Will Haven – Brain Damage/Eclipse (Pink Floyd cover)
Sick Of It All – Wake The Sleeping Dragon
Catch Fire – Fault Line
YONAKA – Creature
I Don't Know How But They Found Me – Bleed Magic
Lapyear – Stay Warm
The Yacht Club – Heigham Park
Super Unison – The Birthday Gift
Meat Wave – That's Alright
Gardenside – Bear On
Lotus Eater – The Fear[/hoot_one_half][hoot_one_half last="yes"]Crooked Teeth – You and Me (Whatever)
Capsize – Blind
The Wild Things – Better Off Alone
Pretty Vicious – Are You Entertained?
Soilwork – Full Moon Shoals
Witherfall – Shadows
FRCTRD – Negative
Karg – Heimat Bist Du Tiefster Winter
AlithiA – The Sun
Crevassian – Firmament
Write Home – Ambrosial
Neurotic Fiction – Loose End
One Big Fuse – Swimming Pool
A Crash Republic – Last September
City Of Tyrants – Astral Projection
As A Rival – Coup De Main
Tomorrow Is Lost – The Shadowman[/hoot_one_half][/hoot_toggle]
[hoot_toggle title="New Videos"][hoot_one_half]Bring Me The Horizon – wonderful life ft. Dani Filth
Good Charlotte – Self Help
The Menzingers – The Freaks
Gerard Way – Baby You're A Haunted House
Circa Survive – Flesh and Bone
John Nolan – Over Before It Begins
Casey – The Funeral
OHHMS – Shambles
This Will Destroy You – Clubs
Can't Swim – Sometimes You Meet The Right People At The Wrong Times
Oxygen Thief – Lost In The Post
Glamour Of The Kill – Fire Fight
This Life – Hello Youth
Lizzy Farrall – Make Up Sex
Radar State – Strays
InVisions – Good For Nothing [/hoot_one_half][hoot_one_half last="yes"]Telethon – Modern Abrasive
CHTHONIC – Flames upon the Weeping Winds
Ithaca – The Language of Injury
Selfish Things – Flood
Dangers of Love – Dangers of Love
Castlefield – Best Laid Plans
Novelists – Eyes Wide Shut
Imminence – Paralyzed
Serpents – The Sunset and The Silhouette
The Intersphere – Antitype
Neon Saturdays – Gravity
The End Of The Ocean – bravado
Backroads – A House For Casey
Dancing With Dakota – Fires
Bleak – Breathe
Vattica – Criminal[/hoot_one_half][/hoot_toggle]
[hoot_toggle title="Tour News"][hoot_one_half]Jimmy Eat World
January
23rd Rock City, Nottingham
30th O2 Academy, Newcastle
Mastodon with Kvelertak and Mutoid Man
January
14th Ulster Hall, Belfast
15th Olympia, Dublin
17th Guildhall, Southampton
18th O2 Academy Newcastle, Newcastle
19th Academy, Glasgow
21st O2 Academy Leeds, Leeds
22nd O2 Academy Birmingham, Birmingham
24th UEA, Norwich
25th O2 Academy Brixton, London
26th O2 Academy Bristol, Bristol
The Hold Steady
March
8th Electric Ballroom, London
9th Electric Ballroom, London
10th Oslo Hackney, London
Lonely The Brave
January
10th The Deaf Institute, Manchester
11th Exchange, Bristol
Hot Water Music
November 2019
16th O2 Ritz, Manchester (performing 'Caution' in full)
17th The Underworld, London (performing 'Caution' in full)
18th The Underworld, London (performing 'No Division' in full)
Cave In and Old Man Gloom with Bossk (A celebration of the Life and Art of Caleb Scofield)
April
12th Electric Ballroom, London[/hoot_one_half][hoot_one_half last="yes"]Drug Church
January
31st Sunflower Lounge, Birmingham
February
1st Key Club, Leeds
2nd Garage Attic, Glasgow
3rd Star And Garter, Manchester
4th The Cookie, Leicester
6th Exchange, Bristol
7th Joiners, Southampton
8th Boston Music Room, London
Broken Hands
December
1st The Garage (The Attic), Glasgow
2nd Hare & Hounds, Birmingham
3rd Eagle, Manchester
6th Boston Music Room, London
The Joy Formidable
February
10th Arts Centre, Norwich
11th The Key Club, Leeds
12th King Tut's Wah Wah Hut, Glasgow
14th Think Tank, Newcastle
15th Gorilla, Manchester
16th Rescue Rooms, Nottingham
18th Wedgewood Rooms, Portsmouth
19th The Fleece, Bristol
20th Sin City, Swansea
21st O2 Institute 3, Birmingham
22nd The Garage, London
Incendia Music Christmas Party (Brutai, As Everything Unfolds, The Five Hundred, Temples on Mars)
December
7th 229 Venue, London[/hoot_one_half][/hoot_toggle]
In The News
mewithoutYou have shared a documentary about their longstanding collaboration with visual artist Vasily Kafanov.
Canadian band Selfish Things have signed to Weekday Records/Red Music.
Album/EP Releases
November:
2nd:
Dave Hause – September Haze EP
1. Steady Now
2. Shaky Jesus (Acoustic)
3. Lemon Hill
4. Hold out Your Hand
5. Mother's Day
9th:
Telethon – Modern Abrasive EP (Halloween Records)
1. Number 45 Sunblock
2. Modern Abrasive
3. Great America
4. The House on Hyde Street
5. Ur Schedule
6. Plactus (State of the Union)
7. Palo Santo
8. Sleep, or Lack Thereof
16th:
Neurotic Fiction – Pulp Music (Specialist Subject)
December:
7th:
AFI – The Missing Man EP (Ex Noctem Nacimur)
Authority Zero – Persona Non Grata
Tomorrow Is Lost – The Shadowman EP
Crevassian – Crevassian
1. Tempest
2. Firmament
3. Those Forever Ghost
4. Summit
14th:
Volbeat – Let's Boogie! Live From Telia Parken (Universal Music Group)
1. The Devil's Bleeding Crown
2. Heaven Nor Hell
3. Radio Girl
4. Lola Montez
5. Let It Burn (feat. Mia Maja)
6. Doc Holiday
7. Sad Man's Tongue
8. 16 Dollars
9. 7 Shots (feat. Mille Petrozza and Rod Sinclair)
10. Fallen
11. Slaytan
12. Dead But Rising
13. Goodbye Forever
14. Maybellene I Hofteholder
15. The Everlasting
16. For Evigt (feat. Johan Olsen, Mia Maja and Rod Sinclair)
17. Evelyn (feat. Mark "Barney" Greenway)
18. Lonesome Rider
19. Seal The Deal
20. The Garden's Tale (feat. Johan Olsen)
21. Guitar Gangsters and Cadillac Blood (feat. Lars Ulrich)
22. Enter Sandman (feat. Lars Ulrich)
23. A Warrior's Call (feat. Mikkel Kessler)
24. Black Rose (feat. Danko Jones)
25. Pool Of Booze, Booze, Booza
26. Still Counting
January:
11th:
Soilwork – Verkligheten (Nuclear Blast)
Radar State – Strays (Wiretap Records)
25th:
Breathe Atlantis – Soulmade (Arising Empire)
1. My Supernova
2. Cold
3. Don't Need You Now
4. Fall
5. Spirit
6. I Think It Isn't Fair
7. Soulmade
8. Savage
9. At Night
10. Addiction To The Worst
11. Everyone Else
The Yacht Club – The Last Words That You Said To Me Have Kept Me Here And Safe (Beth Shalom Records)
February:
1st:
Ithaca – The Language of Injury (Holy Roar Records)
1. New Covenant
2. Impulse Crush
3. Secretspace
4. Slow Negative Order
5. (No Translation)
6. The Language of Injury
7. CLSR.
8. Youth Vs Wisdom
9. Gilt
10. Better Abuse
Festival News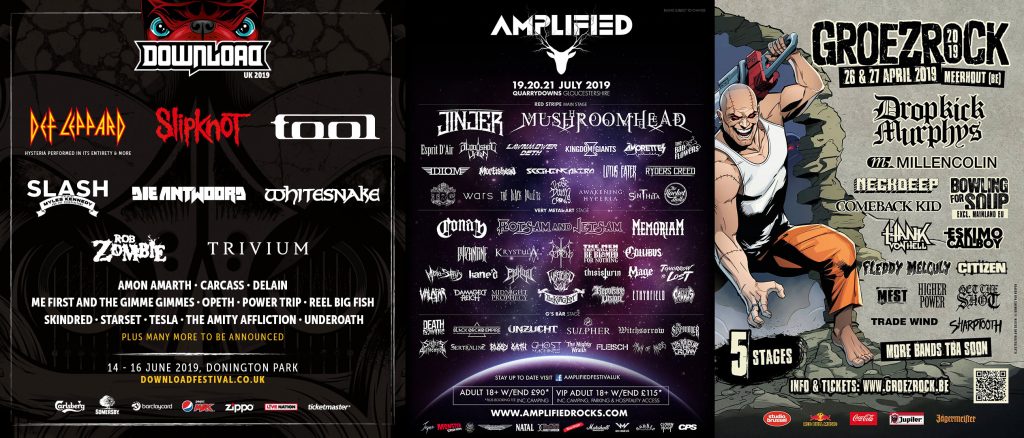 The first names for Download Festival 2019 have been announced. It will be headlined by Slipknot, Def Leppard and Tool.
Other names announced so far: Slash Featuring Myles Kennedy and The Conspirators, Whitesnake, Rob Zombie, Trivium, Amon Amarth, Carcass, Delain, Die Antwoord, Me First And The Gimme Gimmes, Opeth, Power Trip, Reel Big Fish, Skindred, Starset, Tesla, The Amity Affliction, and Underoath
Groezrock will be making a full return in 2019.
Dropkick Murphys, Millencolin, Neck Deep, Bowling For Soup, Comeback Kid, Citizen, Hank Von Hell, Eskimo Callboy, Higher Power, Trade Wind, Sharptooth, Get The Shot, and Fleddy Melculy are the first names to be announced.
Jinjer, Wars, Flotsam & Jetsam, The Sixpounder, Sin Theta, The Amorettes, Kingdom of Giants, Conan and Memoriam have been added to the Amplified Rocks Festival.