Every weekend Already Heard gives you a rundown of what you have missed in the music world in the past seven days. 'In Case You Missed It' is your go-to source to find out all the latest tour news and music and video releases.
Don't forget to "Like Us" on Facebook for regular news updates.
New Music
Albums/EPs

Spotify | Apple Music | YouTube | Deezer
Songs
[hoot_one_half]Panic! At The Disco – High Hopes
Good Charlotte – Actual Pain
State Champs – Mine Is Gold
The Fever 333 – Trigger
Zeal & Ardor – Built On Ashes
Therapy? – Callow
Self Defense Family – The Supremacy of Pure Artistic Feeling
Street Dogs – Other Ones[/hoot_one_half][hoot_one_half last="yes"]Tancred – Something Else
badXchannels – The Spine
badXchannels – Sad, Ecstatic
Ness Lake – Bed Like A Grave
Pllush – Big Train
T-Shirt Weather – My Dad's Blue Motion
Henriette B – Bravery
SIGNALS – The New American Religion
Serene – Stay Awake[/hoot_one_half]
New Videos
[hoot_one_half]Enter Shikari – Undercover Agents
Asking Alexandria – Alone in a Room
While She Sleeps – Silence Speaks (Alternative Version – Live at St Pancras Church)
Motionless In White – Voices
The Get Up Kids – Better This Way
Dance Gavin Dance – Care
Devin Townsend Project – Truth (Live in Plovdiv 2017)
Goldfinger – A Million Miles
Milestones – Once Upon A Time
Lydia – Sunlight
Punchline – Friend From The Future
Between You & Me – Dakota
Gatherers – Infinity & Gloom
Holy Pinto – Gold Leaf
Smother – Disgrace
Luke Rainsford – Looking For Your Ghost
The Stayawakes – Inevitable Truth
tricot – potage
Pretty Pistol – Hurricane[/hoot_one_half][hoot_one_half last="yes"]Pagan – Death Before Disco
OXBLOODS – Minefield
Inklings – Deep Down
Fools of Love – The Evergreens
Poly-math – Alchemy
Avatar – The King Welcomes You To Avatar Country
Dividium – Satisfaction Guaranteed
Like A Storm – The Devil Inside
Elevant – Rounding Error
GRAVVES – This Is Bliss
Gazpacho – Hypomania
The Zealots – Tangerine Dreams
Venues – We Are One
As Everything Unfolds – 17:10
Odd Palace – Liar's Attire
Captain Kaiser – Tsunami
The Colour You – Set Me Free
Bobby Mahoney and the Seventh Son – Called it Quits
June Divided – I Didn't Mind
Hightown Parade – Silhouette
Well Hung Heart – Obey[/hoot_one_half]
Tour News
Good Charlotte
February
20th Alexandra Palace, London
Knuckle Puck with Tiny Moving Parts and Movements
October
3rd Fleece, Bristol
4th 1865, Southampton
5th Electric Ballroom, London
6th Key Club, Leeds
7th Rescue Rooms, Nottingham
9th SWG3, Glasgow
10th Riverside, Newcastle
11th Club Academy, Manchester
State Champs with Seaway, Stand Atlantic and WOES
October
22nd Academy, Dublin
23rd O2 ABC, Glasgow
24th Northumbria Institute, Newcastle
26th Academy 1, Manchester
27th Roundhouse, London
29th UEA, Norwich
30th O2 Academy, Leeds
31st O2 Institute, Birmingham
November
1st O2 Academy, Bristol
'Fireball – Fuelling The Fire' 2018 with Flogging Molly + Face To Face + Lost In Stereo + Very Special Guests TBA
December
2nd O2 Shepherds Bush Empire, London
3rd O2 Shepherds Bush Empire, London
5th 02 Academy, Glasgow
6th O2 Academy, Newcastle
7th O2 Academy, Bristol
9th O2 Ritz, Manchester
10th O2 Academy, Sheffield
12th O2 Academy, Birmingham
13th O2 Academy, Oxford
14th O2 Academy, Bournemouth
Palaye Royale
October
2nd King Tuts, Glasgow
3rd Academy3, Manchester
5th KOKO, London
Crown the Empire with Volumes and Coldrain
September
18th The Haunt, Brighton
19th Talking Heads, Southampton
20th The Fleece, Bristol
21st 02 Islington Academy, London
22nd Asylum, Birmingham
24th Green Room, Dublin
25th Oh Yeah Centre, Belfast
27th Classic Grand, Glasgow
28th Riverside, Newcastle
29th Academy 2, Manchester
30th Waterfront, Norwich
The Young Hearts & Pushing Daisies
September
13th Atomic, Wrexham
14th The Alma Inn, Bolton
15th Temple Of Boom, Leeds
16th Mothers Ruin, Bristol
Holy Pinto
June
21 Sticky Mike's Frog Bar, Brighton
22 UCA Bar, Canterbury
23 TBC, London
24 The Alexandra, Southampton
26 Night People, Manchester
27 Bloc, Glasgow
29 TBC, Newcastle
30 Wharf Chambers, Leeds
In The News
Fit For A King have re-signed with Solid State Records. The band recently finished up in the studio recording with Drew Fulk (The Plot In You, I Prevail, Memphis May Fire) for their new album, which will be released this year
Canadian emo punk-rock band Living With Lions have joined No Sleep Records. A new album is expected to be released later this year.
Bridge Nine have welcomed punk/hardcore band Beach Rats, which includes Brian Baker (Minor Threat, Dag Nasty, Bad Religion), Ari Katz (Lifetime), plus members from The Bouncing Souls and more.
Album/EP Releases
June:
15th:
The Gaslight Anthem – The '59 Sound Sessions (SideOneDummy)
1. The '59 Sound
2. God's Gonna Cut You Down
3. Patient Ferris Wheel
4. Miles Davis & The Cool
5. Placeholder
6. High Lonesome
7. Great Expectations
8. Our Father's Sons
9. Film Noir
22nd:
Holy Pinto – Tales from the Travelling T-shirt Salesman EP (Halloween Records)
Side A
1. Gold Leaf
2. Salt
3. Bitter Enemies
Side B
1. Very Adult
2. King
29th:
Fangclub – True Love EP
1. Knife
2. Heart Is A Landmine
3. Smother
4. Sweater Forever
5. High
July:
6th:
Pagan – Black Wash (Hassle Records)
1. Il Malocchio Si Apre
2. Death Before Disco
3. Silver
4. Imitate Me
5. Holy Water
6. Blood Moon
7. Year of the Dog
8. The Greatest Love Songs
9. Wine and Lace
10. Fluorescent Snakes
11. Il Malocchio Si Chiude
13th:
Between The Buried & Me – Automata II (Sumerian Records)
1. The Proverbial Bellow (13:16)
2. Glide (2:13)
3. Voice of Trespass (7:58)
4. The Grid (9:45)
Between You & Me – Everything Is Temporary (Hopeless Records)
1. Twice Shy
2. Move On
3. Dakota
4. Broken
5. Friends From '96
6. Good Intentions
7. Floral Glass
8. I Can't Help It…
9. Catch A Break
10. Everything Is Temporary
Like A Storm – Catacombs (Century Media Records)
1. The Devil Inside
2. Out Of Control
3. Catacombs
4. Complicated (Stitches & Scars)
5. Solitary
6. The Bitterness
7. Until The Day I Die
8. Hole In My Heart
9. Bullet In The Head
10. These Are The Bridges You Burned Down
11. Pure Evil
Save Face – Merci (Epitaph Records)
1. Merci
2. Bad
3. Blues
4. Heartache
5. Weak
6. Jonesin'
7. Pour
8. Mercy
9. Plans
10. Nothin'
11. Reds
12. Love
13. Rien
14. Yours
20th:
T-Shirt Weather – Dinner and a Show (Everything Sucks Music)
1. 30 Teeth
2. Scratches
3. Blue Inhaler
4. Valentine's Day 2015
5. Durham City Dreaming
6. Beak of a Bird
7. Ill
8. Loneliest Bronco at the Rodeo
9. My Dad's Blue Motion
10. Remind Me Before I Forget
27th:
Beach Rats – Wasted Time EP (Bridge Nine)
August:
September:
14th:
Good Charlotte – Generation Rx (BMG / MDDN)
Festival News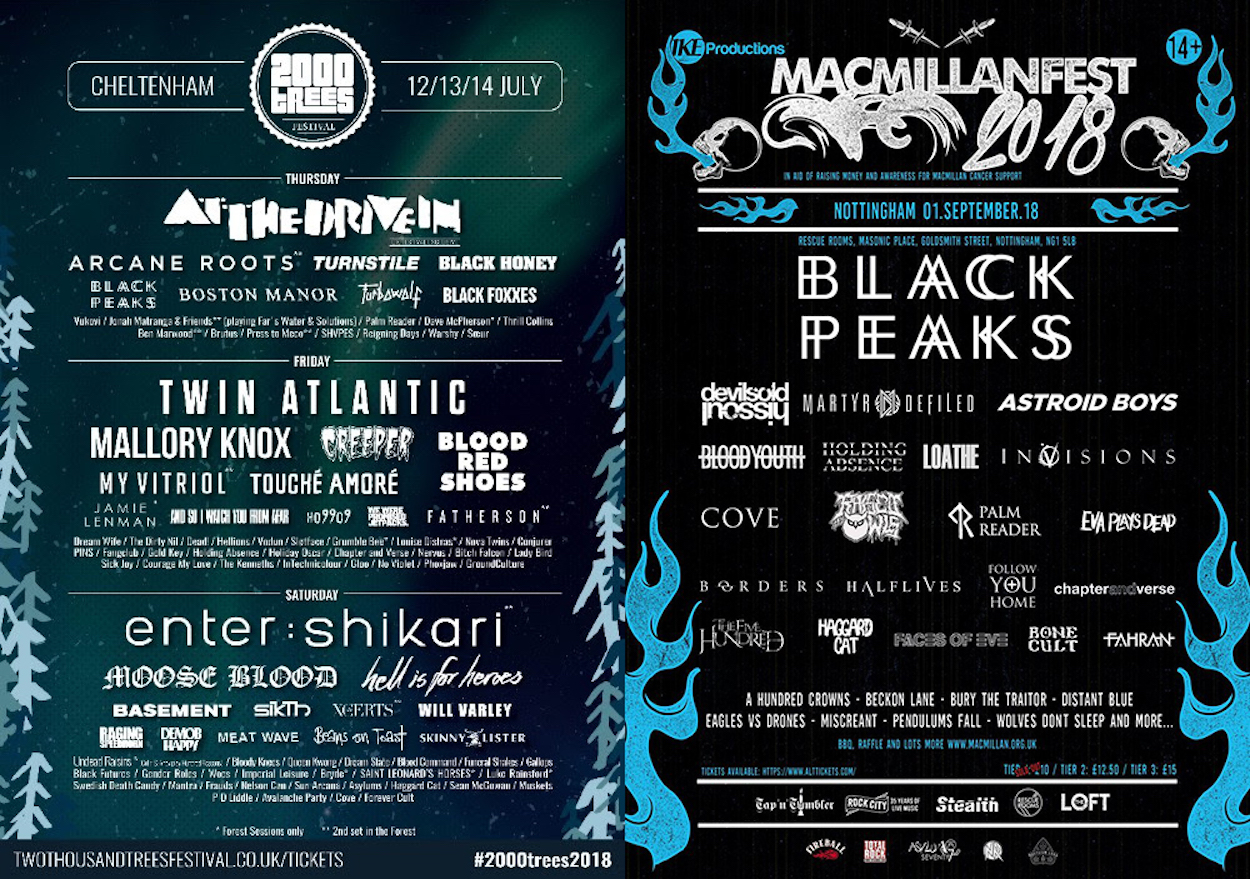 The sixth and final 2000 Trees Festival 2018 band announcement has been made. It sees the full Forest stage (acoustic) line-up being announced alongside new additions on the other stages.
The Forest stage will see appearances from festival headliners Enter Shikari along with
My Vitriol, Arcane Roots, Fatherson, The Xcerts, Jamie Lenman, Jonah Matranga, Dave McPherson, Press to MECO, Rob Lynch, Grumble Bee, Louise Distras, Bryde, Jack Louis Cooper, Saint Leonard's Horses, Luke Rainsford – plus Richard Pitt from BBC Music Introducing.
Elsewhere, Mallory Knox, Skinny Lister, Dream Wife, Will Varley, Beans on Toast, Raging Speedhorn, Demob Happy, Vodun, Imperial Leisure, Asylums, and Sick Joy have joined the stacked line-up.
MacMillan Fest Nottingham have announced a host of additions for the event on September 1st:
Devil Sold His Soul, Martyr Defiled, Astroid Boys, Blood Youth, Holding Absence, Loathe, InVisions, COVE, Raised By Owls, Palm Reader, Eva Plays Dead, Borders, Halflives, Follow You Home, Chapter and Verse, The Five Hundred, Haggard Cat, Faces Of Eve, UK Bone Cult, Fahran, A Hundred Crowns, Beckon Lane, Bury The Traitor, Distant Blue, Eagles Vs Drones, Miscreant, Pendulums, Fall Wolves, and Don't Sleep
Bloodstock have added the following names to the New Blood stage:
Pelugion, A Ritual Spirit, Aonia, Negative Thought Process, Oracle, This Place Hell, Sellsword, Obzidian, The Heretic Order, Sinosence, Voodoo Sioux, Abduction and Gemma Fox.