Every weekend Already Heard gives you a rundown of what you have missed in the music world in the past seven days. 'In Case You Missed It' is your go-to source to find out all the latest tour news and music and video releases.
Don't forget to "Like Us" on Facebook for regular news updates.
New Music
Albums/EPs
The Mountain Goats – In League with Dragons
The Dirty Nil – You're Welcome I EP
Volumes – Coming Clean EP
Thin Lips – Carrot Milk EP
Dangers of Love – Dangers of Love EP
Tour News
Deafheaven and Touché Amoré with Portrayal of Guilt
September
29th SWX, Bristol
30th Riverside, Newcastle
October
1st Garage, Glasgow
2nd Academy 2, Manchester
3rd Electric Ballroom, London
BabyMetal wuth Amaranthe and Sleep Token
July
2nd O2 Academy Brixton, London
Taking Back Sunday (performing 'Tell All Your Friends' in full) with The Frights and Geoff Rickly
June
13th O2 Institute, Birmingham
14th Barrowlands, Glasgow
15th Limelight, Belfast
16th Vicar Street, Dublin
18th Troxy, London
19th Academy, Manchester
20th O2 Academy, Bristol
Ice Nine Kills
September
20th Waterfront, Norwich
21st Rescue Rooms, Nottingham
22nd Key Club, Leeds
23rd G2, Glasgow
25th Rebellion, Manchester
26th Thekla, Bristol
27th O2 Academy Islington, London
Duff McKagen
August
29th ​​Islington Assembly Hall, London
Mallory Knox
May
15th Borderline, London
Slingshot Dakota with Fresh
July
11th The Lexington, London
12th The Moon, Cardiff
13th 2000 Trees, Cheltenham (without Fresh)
15th JT Soar, Nottingham
16th Gullivers, Manchester
17th Banshee Labyrinth, Edinburgh
18th Bloc, Glasgow
19th Brudenell Social Club, Leeds
20th The Flapper, Birmingham
21st Exchange, Bristol
Spielbergs
September
18th Thnk Tank? Underground, Newcastle
19th The Poetry Club SWG3, Glasgow
21st The Flapper, Birmingham
22nd Yes (Basement), Manchester
23rd Picture House Social, Sheffield
24th Oporto, Leeds
26th Louisiana, Bristol
27th Oslo, London
Buckcherry
November
1st Tivoli, Buckley
2nd Engine Rooms, Southampton
3rd Sub 89, Reading
5th O2 Academy Islington, London
6th Waterloo Music Bar, Blackpool
8th Hard Rock Hell Festival, Great Yarmouth
9th Robin 2, Bilston
10th Tramshed, Cardiff
Dude Trips
June
8th Tunnels, Aberdeen (Album Release)
July
6th Broadcast, Glasgow
7th Outpost, Liverpool
11th East Street Tap, Brighton
13th Temple Of Boom, Leeds
In The News
Arizona's Doll Skin have joined Hopeless Records.
Boston, MA's Future Teens have signed with Triple Crown. A new album will be released later this year alongside Take This To Heart Records.
Boston group Somos have rejoined Tiny Engines.
Hard rock/metal outfit Crossing Rubicon have signed to Imminence Records.
Album/EP Releases
May:
10th:
Noise Brigade – Find What You Love and Let It Consume You EP (Manic Kat Records)
1. Sure Thing
2. Cognizant
3. Color In
4. Splitting Poles
5. Kokiri
25th:
At My Mercy – Balance | Symmetry
31st:
Dude Trips – Through Love & Death, You're All I Have Left
Stuck Out Here – Until We're Each Someone Else (Get Party! Records/Must Be Nice Records)
June:
14th:
DeWolff – Live & Outta Sight II (Mascot Records)
1. Big Talk
2. Sugar Moon
3. Medicine
4. Tombstone Child
5. California Burning
6. Deceit & Woo
7. Share The Ride
8. Tired Of Loving You
9. Outta Step & Ill At Ease
10. Double Crossing Man
11. Love Dimension
The Ocean Cure – RE: Discover EP
Thank You Scientist – Terraformer
21st:
Mannequin Pussy – Patience (Epitaph Records)
1. Patience
2. Drunk ll
3. Cream
4. Fear/+/Desire
5. Drunk l
6. High Horse
7. Who Are You
8. Clams
9. F.U.C.A.W.
10.In Love Again
28th:
Doll Skin – Love Is Dead And We Killed Her (Hopeless Records)
Prince Daddy & the Hyena – Cosmic Thrill Seekers (Big Scary Monsters)
ACT I
The Heart / Passenger
1. I Lost My Life
2. Lauren (Track 2)
3. Fuckin' A
4. Dialogue
5. Cosmic Thrill Seeking Forever
ACT II
The Brain / Driver
6. Slip
7. The Prototype of the Ultimate Lifeform
8. Breather
9. Ursula Merger
ACT III
The Roar / Random Passerby
10. Dream Nails
11. C'Mon & Smoke Me Up
12. Trying Times
13. Klonopin
14. Wacky Misadventures of The Passenger
Horse Jumper of Love – So Divine (Run For Cover)
1. Airport
2. Volcano
3. Cops
4. Alien
5. Poison
6. Twist Cone
7. Ur Real Life Dress
8. John Song
9. Stray Dog
10. Nature
11. Heaven
July:
12th:
Sunsleeper – You Can Miss Something & Not Want It Back (Rude Records)
1. Feel The Same
2. Soften Up
3. I Hope You're Okay
4. Souvenir
5. No Cure
6. Fading
7. Casual Mistakes
8. You Can't Please Everyone
9. Better Now
10. Home
Auras – Binary Garden (Entertainment One / Good Fight Music)
1. Momenta
2. Pseudo Intellect
3. Erode
4. Another Place
5. Whiteout
6. Disenchant
7. The Last Canary
8. The Demoness
9. Essence
10. Abyss
19th:
Sum 41 – Order In Decline (Hopeless Records)
1. Turning Away
2. Out For Blood
3. The New Sensation
4. A Death In The Family
5. Heads Will Roll
6. 45 (A Matter Of Time)
7. Never There
8. Eat You Alive
9. The People Vs…
10. Catching Fire
Valis Ablaze – Render (Long Branch Records)
1. Neon Dreaming
2. Hollow Heart
3. The Convincer
4. Keyframes
5. Ascent (feat. Sam Bell)
6. Saturation
7. Proxy
8. States Of Decay
9. Infinite World
10. Elevation (feat. White Dove)
26th:
Thy Art Is Murder – Human Target (Nuclear Blast)
1. Human Target
2. New Gods
3. Death Squad Anthem
4. Make America Hate Again
5. Eternal Suffering
6. Welcome Oblivion
7. Atonement
8. Voyeurs Into Death
9. Eye For An Eye
10. Chemical Christ
Festival News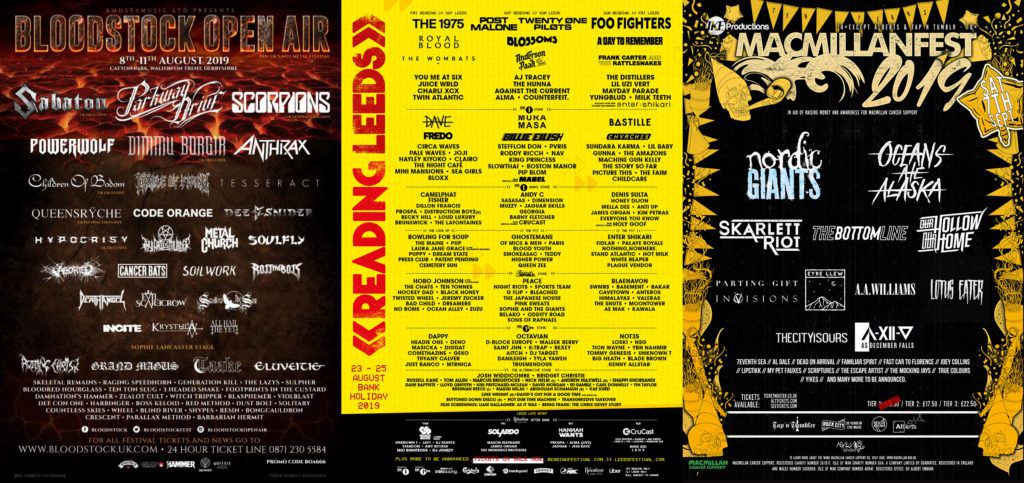 Download Festival have announced the introduction of a full mindfulness programme for this summers festival. It will be hosting hour-long classes under the roof of The Doghouse which will transform into Mind The Dog by day, offering FREE mindfulness gatherings. The sessions will include music-driven meditation, conscious breath work, and more. Further details along with other site changes can be found here.
Wheel, Solitary, Violblast, Crescent, Blood Red Hourglass, and The Parallax Method are the latest names to be announced for the Bloodstock Open Air Festival.
The full line-up for the Ladyfuzz Festival has been confirmed. The festival showcases creative women, non-binary and gender non-conforming, and will take place at The Green Door Store, Brighton on 3rd and 4th May. The line-up consists of:
Petrol Girls, Big Joanie, Dream Nails, Slow Crush, Witching Waves, Fresh, Kermes, Flirting, Molar, Sit Down, Currls, Good Guy Clarence, Rosehip Teahouse, and Instant Bin.
The first round of bands for the Nottingham leg of this year's MacMillan Fest have been revealed. The festival, which is celebrating its 10th anniversary, will takeover six stages (Rock City Beta, Rescue Rooms Main Stage, Red Rooms & Acoustic bar stage, Alberts and the Tap N' Tumbler) on Saturday, September 7th. Announced so far:
Nordic Giants, Oceans Ate Alaska, Skarlett Riot, The Bottom Line, Our Hollow Our Home, Parting Gift, Invisions, Eyre Llew, A. A. Williams, Lotus Eater, The City Is Ours, As December Falls, 7eventh Sea, Al Dale, Dead On Arrival, Familiar Spirit, Fast Car To Florence, Joey Collins, Lipstikk, My Pet Fauxes, Scriptures, The Escape Artist, The Mocking Jays, True Colours, and Y!kes.
The latest additions for the Reading and Leeds Festival includes Laura Jane Grace and the Devouring Mothers, Palaye Royale, Plague Vendor, Queen Zee, Bleached and The LaFontaines. Further details can be found here.