Every weekend Already Heard gives you a rundown of what you have missed in the music world in the past seven days. 'In Case You Missed It' is your go-to source to find out all the latest tour news and music and video releases.
Don't forget to "Like Us" on Facebook for regular news updates.
New Music

Spotify | YouTube | Deezer
[hoot_toggle title="Albums/EP"]Fall Out Boy – Lake Effect Kid EP
Jesus Piece – Only Self
Only on Weekends – Another Wasted Night[/hoot_toggle][hoot_toggle title="New Songs"][hoot_one_half]You Me At Six – Back Again
The Story So Far – Take Me As You Please
The Story So Far – Upside Down
Ghost – Dance Macabre (Carpenter Brut Remix)
Andy Black – My Way
Atreyu – Anger Left Behind
Sylar – No Way
The Dirty Nil – I Don't Want That Phone Call
Skyharbor – Sunshine Dust
I Don't Know How But They Found Me – Do It All The Time
I Don't Know How But They Found Me – Choke
Boygenius – Stay Down
Boygenius – Me & My Down
Boygenius – Bite The Hand
J Mascis – See You At The Movies
Vennart – Spider Bones
The Frights – Over It[/hoot_one_half][hoot_one_half last="yes"]
Rise of the Northstar – This Is Crossover
Korpiklaani – Aallon Alla
Super Unison – Falcon
Attan – SoMe Riefenstahl
Mantar – Taurus
Hardcore Superstar – AD/HD
Fit For A King – Oblivion
Shining – Animal
Cheer Up – Big Hugs
New Junk City – Stay Asleep
Everyone and Anyone – Rainy Days (I'll Never Forget)
Bloodtruth – The Last Prophet
Japanese Television – Country Joe
Vaureen – Stare Into The Sun
Feva – Uneasy
Fates Warning – Point Of View
Aree And The Pure Heart – Gasoline Heart[/hoot_one_half][/hoot_toggle][hoot_toggle title="New Videos"][hoot_one_half]Bring Me The Horizon – Mantra
Fall Out Boy – City in a Garden
Alter Bridge – The End Is Here (Live At The Royal Albert Hall)
Clutch – In Walks Barbarella
Stone Sour – Knievel Has Landed
The Fever 333 – Made An America
Atreyu – In Our Wake
Fatherson – Charm School
Waterparks – Peach (Lobotomy)
Counterparts – Selfishly I Sink
Blood Youth – Starve
Acres – Medicine
Man With A Misson – Hey Now
Normandie – White Flag
Columbus – Cut It Out
We Were Promised Jetpacks – Repeating Patterns
Hop Along – Somewhere A Judge
Fresh – Nighttime
Bearings – Aforementioned
Coast To Coast – Be Kind
Actor Observer – The Devil You Know
Down By Law – Rebrand It[/hoot_one_half][hoot_one_half last="yes"]Landmvrks – Blistering
Thin Lips – A Song For Those Who Miss You All The Time
Black Orchid Empire – Burn
God Complex – Breeding Filth
Annisokay – Sea of Trees
Art Brut – Wham! Bang! Pow! Let's Rock Out!
Battalions – Forever Marching Backwards
Commonweather – Ebro
Real Talk – Bury Me Easy
Spirit Houses – Death Was A Naked Sword
Nosound – Shelter
Hail The Sun – The Stranger in Our Pictures
Dayshifter – Serpent Eyes
Dead Friends – Paimon (What You Omen)
Divided Heaven – Home For The Summer
Darker Days – Worry Lines
Northward – While Love Died
Minetta – &
Just About Done – Strain
Lifeblood – Expand
Once Human – Davidian (Machine Head cover)
Crashing Atlas – Eastside (Benny Blanco, Khalid, Halsey cover)[/hoot_one_half][/hoot_toggle]
Tour News
[hoot_toggle title="Tour News"][hoot_one_half]Bring Me The Horizon
November
23rd Arena, Birmingham
24th First Direct Arena, Leeds
25th SSE Hydro, Glasgow
27th Motorpoint Arena, Cardiff
29th Alexandra Palace, London
30th Alexandra Palace, London
Panic! At The Disco
March
24th SSE Hydro, Glasgow
25th Motorpoint Arena, Cardiff
26th Birmingham Arena Birmingham
28th The O2, London
30th Arena, Manchester
Haken
February
15th Academy 3, Manchester
16th St Luke's, Glasgow
17th The Fleece, Bristol
March
16th Islington Assembly Hall, London
Dinosaur Pile-Up with Hockey Dad and Gender Roles
November
23rd Church, Leeds
24th Cathouse, Glasgow
27th Rescue Rooms, Nottingham
28th Globe, Cardiff
29th Fleece, Bristol
30th Academy 3, Manchester
December
1st Electric Ballroom, London
[/hoot_one_half][hoot_one_half last="yes"]Drones, Haggard Cat, InTechnicolour, and Bitch Falcon (rotating headline)
October
31st Undertone, Cardiff
November
1st The Mothers Ruin, Bristol
2nd Brighton Electric, Brighton
3rd Boston Music Rooms, London
4th The Horn, St. Albans
5th Bodega, Nottingham
7th Craufurd Arms, Milton Keynes
8th The Platform, Lincoln
9th Temple of Boom (Room 3), Leeds
10th Firebug, Leicester
11th Live Rooms, Chester
13th Night People, Manchester
14th The Garage (Attic), Glasgow
16th The Bowery, Dublin
Okilly Dokilly
October
2nd Rescue Rooms, Nottingham
3rd Waterfront, Norwich
4th Lemon Grove, Exeter
5th Cobblestones, Bridgewater
6th Thekla, Bristol
8th Borderline, London
9th Corporation, Sheffield
Coast To Coast
October
22nd The Old England, Bristol
23rd Sound Basement, Liverpool
24th Satans Hollow, Manchester
25th Key Club, Leeds
26th Atomic, Wrexham
27th Asylum 2, Birmingham
28th The Old Blue Last, London[/hoot_one_half][/hoot_toggle]
In The News
Vocalist and keyboardist Kyle Pavone from We Came As Romans has died.
While She Sleeps, Architects, Metallica, and Gojira were amongst the winners at the Heavy Music Awards 2018.
Blessthefall drummer Matt Traynor has announced that he is leaving the band.
Fearless Records have signed I Don't Know How But They Found Me.
Antarctigo Vespucci (Chris Farren and Jeff Rosenstock) have signed to Big Scary Monsters (UK) and Polyvinyl (US). New music is expected to be released later this year.
Portland, Oregon metallers Lord Dying have joined eOne.
Atlanta, GA quartet New Junk City have signed with Real Ghost Records.
Album/EP Releases
September:
7th:
The Faim – Summer Is A Curse EP
Japanese Television – Japanese Television EP (Tip Top Recordings)
14th:
Everyone and Anyone – Anything Worth Having EP
1. History
2. Rainy Days (I'll Never Forget)
3. Setbacks
4. Nothing to my Name
5. Pushing Daisies
21st:
Cheer Up – Sleep Debt (Take This To Heart Records)
1. Whiskey Diction
2. Big Hugs
3. Comatose
4. Emma Stoned
5. Ronin
6. Unglued
7. Staircase Wit
8. Elan Vital
9. Follow And Lead Her
10. Curse These Metal Hands
October:
12th:
Atreyu – In Our Wake (Search & Destroy / Spinefarm Records)
Bearings – Blue In The Dark (Pure Noise Records)
1. Where You Are
2. Aforementioned
3. Eyes Closed
4. Beautiful Places
5. Blue In The Dark
6. Stuck In A Doorframe
7. Careless Clarity
8. Hear Me Say
9. Goodbye (To All of Our Friends)
10. Tide
11. Love and Decay
Lee Corey Oswald – Darkness, Together (A-F Records)
1. Asbury Waters
2. Neighborhood
3. Ferris Wheel
4. Mistaken
5. Right Or Happy
6. Desperate
7. Curse Words
8. Free Stuff
9. Cooler If Dead
10. Head Over Heels
11. Seussical
12. Darkness, Together
New Junk City – Same Places (Real Ghost Records)
19th:
Just About Done – I Am Getting By EP
Internal Bleeding – Corrupting Influence (Unique Leader Records)
1. Compelled to Consume
2. Corrupting Influence
3. Fatal Dependency
4. Focus
5. Surrounded from the Inside
6. Unreality
7. Litany of Insincerity
8. Final Justice
9. The Supreme Sacrifice
Northward – Northward (Nuclear Blast)
1. While Love Died
2. Get What You Give
3. Storm In A Glass
4. Drifting Islands
5. Paragon
6. Let Me Out
7. Big Boy
8. Timebomb
9. Bridle Passion
10. I Need
11. Northward
26th:
Coast To Coast – The World Doesn't Work EP (Fox Records)
Cognitive – Matricide (Unique Leader Records)
1. Omnicide
2. Architect of Misery
3. Matricide
4. False Profit
5. With Reckless Abandon
6. Clouds of Rust
7. Fragmented Perception
8. Vessel of Violence
9. Torn From The Void
10. Denouement
Spirit Houses – Two Passing Ships EP (Darkshore Music Group)
November:
9th:
Boygenius – Boygenius EP (Matador Records)
1. Bite The Hand
2. Me & My Dog
3. Souvenir
4. Stay Down
5. Salt In The Wound
6. Ketchum, ID
J Mascis – Elastic Days (Sub Pop)
1. See You at the Movies
2. Web So Dense
3. I Went Dust
4. Sky Is All We Had
5. Picking Out the Seeds
6. Give It Off
7. Drop Me
8. Cut Stranger
9. Elastic Days
10. Sometimes
11. Wanted You Around
12. Everything She Said
Deathrite – Nightmares Reign (Century Media Records)
1. When Nightmares Reign
2. Appetite For Murder
3. Invoke Nocturnal Light
4. Demon Soul
5. Devils Poison
6. Bloodlust
7. Obscure Shades
8. Temptation Calls
16th:
Novacrow – Criminal Mastermind
30th:
Battalions – Forever Marching Backwards (APF Records)
1. Forever Marching Backwards
2. Cities of Ruin
3. Goat Feeder
4. Vaseline (G)Love
5. Tyskie Vampire
6. Infinite Void
7. Brick Hole
8. Devil's Footsteps
January:
11th:
Bring Me The Horizon – amo (RCA/Sony)
Festival News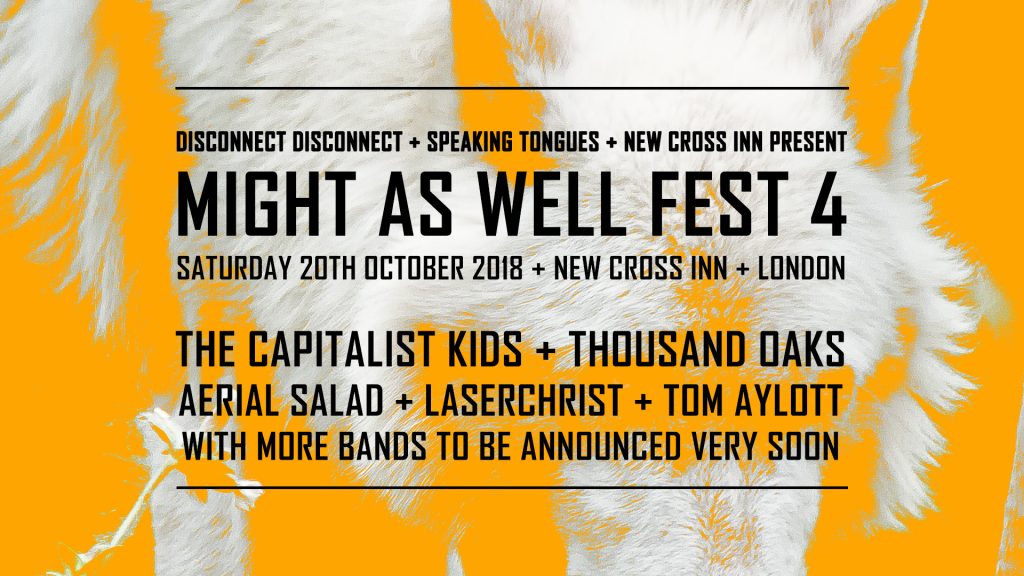 The fourth Might As Well Fest will take place on October 20th at New Cross Inn in London. The Capitalist Kids, Thousand Oaks, Aerial Salad, Laserchrist and Tom Aylott are the first names announced.
More bands and the charity selected for this year's event will be announced very soon.
Tickets can be purchased here. Further details can be found on Facebook.