Every weekend Already Heard gives you a run down of what you have missed in the music world in the past seven days. 'In Case You Missed It' is your go-to source to find out all the latest tour news and music and video releases.
Don't forget to "Like Us" on Facebook for regular news updates.
New Music
Albums/EPs

Turnstile – Time & Space
Camp Cope – How To Socialise & Make Friends
Household – Everything a River Should Be
Templeton Pek – Watching The World Come Undone
Vundabar – Smell Smoke
Rockstar Records – Free Compilation Spring 2018

Songs

Frank Turner – Be More Kind
Code Orange – only1(the hard way)
Sorority Noise – Chelsea Hotel No. 2
Anti-Flag – Mr. Motherfucker
Hop Along – Not Abel
Hot Snakes – Death Camp Fantasy
WOAHNOWS – Nothing Good
The Republic Of Wolves – Colored Out
Barely Civil – Super 8//Marathon
Charmer – Topanga Lawrence
Forever Cult – Usurper
Remember Sports – Up From Below
War On Women – YDTMHTL
Greyhaven – Blemish
The Weekend Classic – Mutual Interest
Happy. – Don't Overdose and Drive
Gulfer – Baseball
Light The Torch – Calm Before The Storm
Man Mountain – Illumination Rings
Midas Fall – Soveraine
HALFNOISE – Flowerss
Earthless – Black Heaven
June Divided – Body Wars
Brooders – Lie
Stay Inside – Reconstruction

New Videos

Mallory Knox – Black Holes
Underoath – On My Teeth
PVRIS – Heaven (Stripped)
Hot Water Music – Bury Your Idols
Can't Swim – In Between
The Winter Passing – Like Flowers Ache For Spring
Decade – Human Being
Woes – Real World
I The Mighty – Degenerates
Drawstring – In Between
The Kenneths – Favourite Ex
Pushing Daisies – Picture Frame
Halo Tora – Always the Last to Know
SEASONS – Getaway
Food Court – I've Been Wrong
Settle Your Scores – Keep Your Chin Up and Your Expectations Down
Queen of Jeans – More to Love
illuminati hotties – (You're Better) Than Ever
Crossing The Limits – Won't Settle
Dominic Benjamin – Wrong or Right
Bad Wolves – Zombie
Sink The Ship – Domestic Dispute Feat. Bert Poncet
Come The Spring – For What It's Worth
Rough Hands – Neuroplasticity
From Sorrow To Serenity – Supremac
Black Label Society – A Love Unreal
Hardcore Superstar – Bring The House Down
Black Moth – Sisters Of The Stone
Skarlett Riot – Affliction
Grave Lines – The Nihilist Engine
Trove – Massive
Arms Like Anchors – Slaves
The Dali Thundering Concept – Ink (feat. Adam Warren from Oceano)
Hemingway – I'm Not The One For You
Forever Unclean – Waves
Write Home – Overgrown
Horcrux – Live Through Me
Written by Wolves – Follow Me
Capital North – Glass Houses
RXPTRS – Bound
Preception – Defy Dismay
Veins – Blood On My Hands
Bad Llama – Crooked Empire

Tour News
Every Time I Die have announced that they will be playing an intimate one-off show at The Garage, London on the 29th May.
Baltimore indie post-hardcore band Pianos Become the Teeth have announced a co-headline tour with St. Louis' Foxing.
August
9th Bush Hall, London
10th Bush Hall, London
11th The Haunt, Brighton
12th Rebellion, Manchester
13th Whelan's, Dublin
14th Stereo, Glasgow
15th The Cluny, Newcastle
16th ArcTanGent Festival
Twin Atlantic have announced four headline shows around their appearance at this year's Slam Dunk Festival.
May
24 Riverside, Newcastle
30 The Waterfront, Norwich
June
02 Engine Rooms, Southampton
03 The Tramshed, Cardiff
Milestones have announced details of a UK headline tour. They'll be joined by Better Days.
March
15 Think Tank, Newcastle
16 Café Totem, Sheffield
17 Asylum, Birmingham
21 Sound Basement, Liverpool
22 The Forum, Tunbridge Wells
23 The Anvil, Bournemouth
Decade have announced they will be playing a headline show at Borderline in London on May 30th.
WOES will be heading out on a short headline run in May.
May
2nd Flapper, Birmingham
3rd Clwb Ifor Bach, Cardiff
5th Sound Basement, Liverpool
6th Waterfront Studio, Norwich
7th Jumpin Jacks, Newcastle
Ministry have announced a run of UK and Ireland tour dates for July. Support comes from Chelsea Wolfe.
July
17 Rock City, Nottingham
18 O2 ABC, Glasgow
20 Albert Hall, Manchester
21 The Forum, London
23 Limelight, Belfast
24 Tivoli, Dublin
25 SWX, Bristol
In The News
Underoath have have announced they will be releasing a new album called 'Erase Me' through Fearless Records on April 6th.
1. It Has To Start Somewhere
2. Rapture
3. On My Teeth
4. Wake Me
5. Bloodlust
6. Sink With You
7. Ihateit
8. Hold Your Breath
9. No Frame
10. In Motion
11. I Gave Up
Sorority Noise have announced they will be releasing 'YNA_AYT', an acoustic reimagining of last year's 'You're Not As ____ As You Think' LP. It's due to be released through Big Scary Monsters (UK) / Triple Crown Records (US) on March 2nd.
1. No Halo (Rearranged 2018)
2. A Portrait Of (Rearranged 2018)
3. First Letter From St. Sean (Rearranged 2018)
4. A Better Sun (Rearranged 2018)
5. Disappeared (Rearranged 2018)
6. Car (Rearranged 2018)
7. Chelsea Hotel No. 2
8. Second Letter From St. Julien (Rearranged 2018)
9. Leave The Fan On (Rearranged 2018)
10. Windowwww
Behemoth have announced that they will be releasing a brand new live DVD/Blu-Ray entitled 'Messe Noire' on April 13th.
TRACKLIST – DVD/Blu-Ray
Live Satanist (Warsaw 2016)
01. Blow Your Trumpets Gabriel
02. Furor Divinus
03. Messe Noire
04. Ora Pro Nobis Lucifer
05. Amen
06. The Satanist
07. Ben Sahar
08. In The Absence Ov Light
09. O Father O Satan O Sun!
10. Ov Fire And The Void
11. Conquer All
12. Pure Evil And Hate
13. At The Left Hand Ov God
14. Slaves Shall Serve
15. Chant For Ezkaton 2000
Live Assault (Brutal Assault 2016):
16. Blow Your Trumpets Gabriel
17. Furor Divinus
18. Messe Noire
19. Ora Pro Nobis Lucifer
20. Amen
21. The Satanist
22. Ben Sahar
23. In The Absence Ov Light
24. O Father O Satan O Sun!
25. Ov Fire And The Void
26. Conquer All
27. Chant For Ezkaton 2000
The Satanist cinematic archive:
28. Blow Your Trumpets Gabriel
29. Messe Noire
30. Ora Pro Nobis Lucifer
31. The Satanist
32. Ben Sahar
33. O Father O Satan O Sun!
London-based metal band Shields have confirmed their new album, 'Life In Exile', on April 20th via Long Branch Records.
SharpTone Records have welcomed Cleveland quartet Sink the Ship.
Scottish technical metalcore group From Sorrow To Serenity have joined Long Branch Records.
Michigan emo-rock band Charmer will release their debut, self-titled album on April 20th via No Sleep Records.
1. Bummer Summer
2. Roy's Our Boy
3. Nurse Joy
4. Floral
5. Death By Red Eye
6. Topanga Lawrence
7. Starship Tina
8. Pretty Over College
9. Split Plate
10. Garden State, Like The Zach Braff Movie
Illuminati Hotties, the creative outlet of Los Angeles producer and engineer Sarah Tudzin, has joined Tiny Engines. A debut album, 'Kiss Yr Frenemies', is due for release on May 11th.
London punk trio, The Kenneths, will return with a new EP called 'Ex' on April 20th.
1. Favourite Ex
2. Model Man
3. Emulsion
4. Answer Machine
5. I Don't Wanna Go Out With You
Philadelphia's Remember Sports (FKA Sports) will release their third full-length album, 'Slow Buzz' on May 18th via Father/Daughter Records.
1. Otherwise
2. Up From Below
3. You Can Have Alonetime When You're Dead
4. Dripping
5. Calling Out
6. Nothing's Coming Out
7. The 1 Bad Man
8. Temporary Tattoo
9. Pull Through
10. No Going Back
11. Making It Right
12. Unwell
Heavy pop-punk up-and-comers Settle Your Scores have joined SharpTone Records. The Ohio-based band will release their new album, 'Better Luck Tomorrow', on April 13th.
Brighton band Come The Spring will be releasing an album titled 'Echoes' on March 9th Engineer Records.
1. Thirteen Months
2. Better Now
3. SJO
4. For What Its Worth
5. Brighton And The Blues
6. Echoes
7. Boys Of Summer
London cinematic metal quintet The Ever Living have announced the release of debut album. 'Herephemine' is scheduled to be released on May 4th via Chromism Records.
1. The Great Defeatist
2. New Mutiny
3. Prismatic Dissonance
4. Incandescent Array
5. Apex Minor
6. Fifty Metres Deep
7. Spectral Dissonance
8. Foreboding Epiphany
9. Nocturnal Itch
10. Funereal Waltz
11. Interrotron
12. Departure Board
Osaka melodic punk trio waterweed's new album, 'Brightest', is set to be released in the UK through Lockjaw Records on April 6th.
1. Red Eyes
2. Beyond The Ocean
3. Four Of Force
4. Boring Talk
5. Frozen Time
6. Brightest
7. Rust
8. July 31
9. Life
10. Sign
11. Will
12. M.S.T.B.N
French progressive metal quintet, The Dali Thundering Concept, will be releasing a "dystopian concept album" called 'Savages' on April 13th via Apathia Records.
Revival Recordings has announced that they have signed Philadelphia indie rock band, June Divided.
Vancouver pop-punk five-piece Chief State has signed with Mutant League Records.
Festival News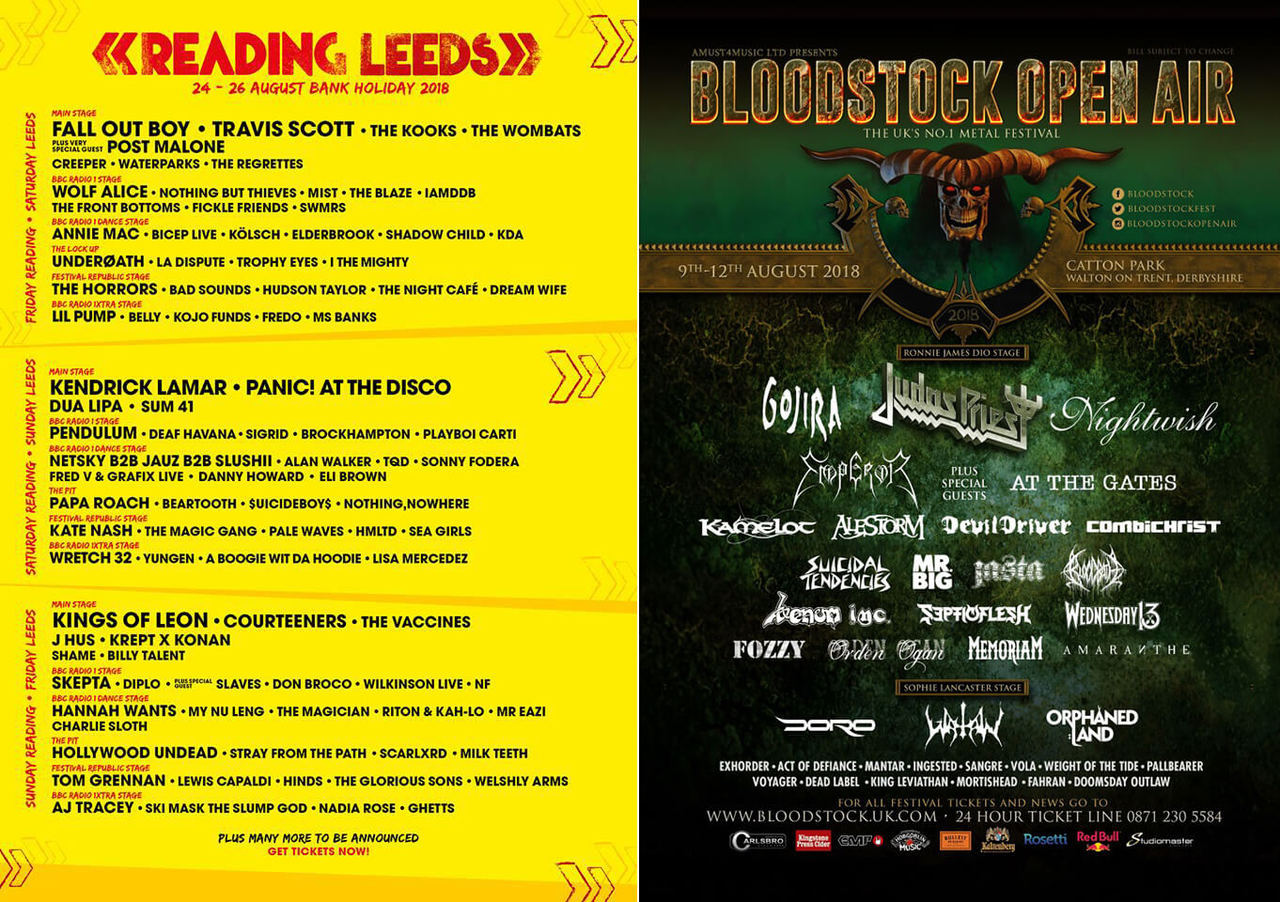 40 names have been added to this year's Reading and Leeds Festival. The second round of additions include Billy Talent, Deaf Havana, Milk Teeth, The Front Bottoms, SWMRS, La Dispute, Trophy Eyes, and I, The Mighty.
Alestorm, Pallbearer, Fahran and Doomsday Outlaw are the latest names to be announced for the Bloodstock Open Air Festival.