Every weekend Already Heard gives you a rundown of what you have missed in the music world in the past seven days. 'In Case You Missed It' is your go-to source to find out all the latest tour news and music and video releases.
Don't forget to "Like Us" on Facebook for regular news updates.
New Music
Albums/EPs
No Suits in Miami – Plain Sight EP
Songs
New Videos
Tour News
Camp Cope with Caves
August
28 The Hope & Ruin, Brighton
29 Clwb Ifor Bach, Cardiff
30 Exchange, Bristol
31 Soup Kitchen, Manchester
September
01 Little Buildings, Newcastle
02 Kinning Park Complex, Glasgow
03 Rough Trade, Nottingham
04 Boston Music Room, London
Pallbearer
July
16 Islington Assembly Hall, London
17 Stereo, Glasgow
18 Brudenell Social Club, Leeds
19 The Fleece, Bristol
The Contortionist
June
23rd The Booking Hall, Dover
July
6th UK Tech-Metal Fest, Newark
7th Cathouse, Glasgow
8th Deaf Institute, Manchester
9th Asylum, Birmingham
10th Green Door Store, Brighton
11th Underworld, London
The Struts
June
19th Koko, London
20th Gorilla, Manchester
Titus Andronicus
August
30th CCA, Glasgow
31st Head of Steam, Newcastle
September
1st Bodega, Nottingham
2nd End of the Road Festival, Dorset
3rd Soup Kitchen, Manchester
4th Belgrave Music Hall, Leeds
6th St. Pancras Old Church, London
7th St. Pancras Old Church, London
9th Whelan's, Dublin
Boy Jumps Ship
October
25th Key Club, Leeds
26th Mash House, Edinburgh
27th O2 Academy 2, Newcastle
November
1st Black Heart, London
2nd Louisiana, Bristol
3rd Rock City, Nottingham
4th Sunflower Lounge, Birmingham
Greywind
June
15th Thousand Island, London
Phinius Gage
July
20th Redrum, Stafford (w/ Random Hand)
29th New Cross Inn, London (w/ Mute)
In The News
Orange County's genre-bending hardcore band Fury have joined Run For Cover Records.
Pop-punk veterans Post Season have signed to Know Hope Records.
Brighton melodic skate punks Phinius Gage have announced they have reformed.
Album/EP Releases
May:
18th:
MIGHTY – MIGHTY (songintheair)
1. Manic
2. Safe And Sound
3. Phone In
4. Eugenia
5. Disc Jockey
6. Drip Drop
7. Chavez
8. Undertones
9. Move
10. Pale Yellow
11. Resolutions
25th
Flatfoot 56 – The Vancouver Sessions EP (Sailor's Grave Records)
June:
1st:
Odd Place – Things To Place On The Moon (Prime Collective)
15th:
State Champs – Living Proof (Pure Noise Records)
1. Criminal
2. Frozen
3. Crystal Ball
4. Dead and Gone
5. Lightning
6. Our Time To Go
7. Safehaven
8. Something About You
9. The Fix Up
10. Cut Through The Static
11. Mine Is Gold
12. Time Machine
13. Sidelines
Orange Goblin – The Wolf Bites Back (Universal/Candlelight Records)
ASG – Survive Sunrise (Relapse Records)
1. Survive Sunrise
2. Execution Thirst
3. Up From My Dreams
4. Lightning Song
5. Hawks on the Run
6. The Heaven Moon
7. Kubrick Colors
8. God Knows We
9. Heavy Scars
10. Weekend Money
11. Lamb Song
12. Florida Sleep On
13. Tongues Tied (Digital Bonus Track)
22nd:
Don't Worry – Who Cares Anyway? (Specialist Subject Records)
June:
13th:
Deafheaven – Ordinary Corrupt Human Love (ANTI-)
1. You Without End
2. Honeycomb
3. Canary Yellow
4. Near
5. Glint
6. Night People
7. Worthless Animal
Festival News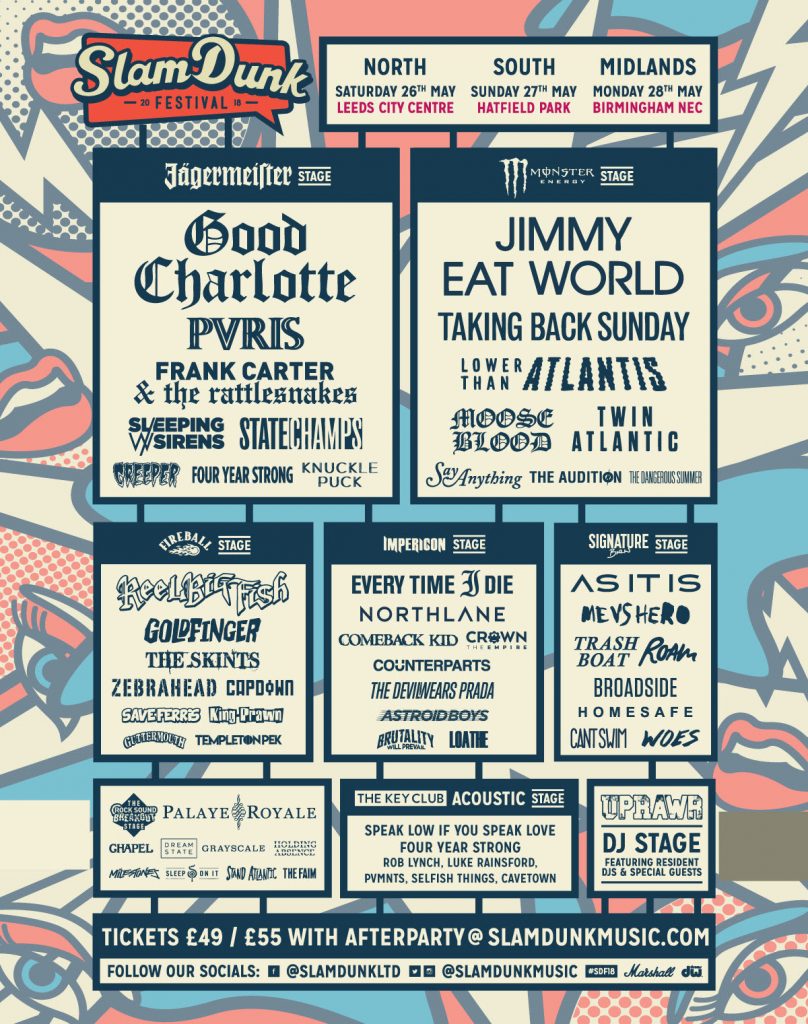 Lower Than Atlantis, Say Anything, Homesafe and Me Vs Hero have been announced as the final names for this year's Slam Dunk Festival.