Every weekend Already Heard gives you a rundown of what you have missed in the music world in the past seven days. 'In Case You Missed It' is your go-to source to find out all the latest tour news and music and video releases.
Don't forget to "Like Us" on Facebook for regular news updates.
New Music
Albums/EPs
Panic! At The Disco – Spotify Singles (High Hopes / Hey Ya!)
Steady Hands – Truth in Comedy
Petal – Live At Studio 4 EP
We Will Destroy You – New Others Part Two
Drones – Exiled B-Sides
Ashland – misc EP
Tour News
The Faim
January
25th Joiners, Southampton
27th Globe, Cardiff
28th Exchange, Bristol
29th Haunt, Brighton
30th Bodega, Nottingham
31st Key Club, Leeds
February
2nd Think Tank, Newcastle
3rd Rebellion, Manchester
5th King Tuts, Glasgow
6th O2 Academy, Birmingham
7th Underworld, Camden
Rival Sons
January
31st Northumbria Institute, Newcastle upon Tyne
February
1st Barrowland, Glasgow
2nd Manchester Academy, Manchester
4th O2 Academy, Leeds
5th O2 Academy, Birmingham
6th Roundhouse, London
Bad Sign will play their farewell show at Boston Music Room, London. All proceeds will be donated to MacMillan Cancer Research.
Nothington
November
20th Old Town House, Warrington
21st Exchange, Bristol
22nd Soundhouse, Leicester
23rd New Cross Inn, London
In The News
Architects have shared 'Holy Ghost', a documentary about the making of their new album – 'Holy Hell'.
All That Remains have announced guitarist and founding member Oli Herbert has died.
Ithaca have joined Holy Roar Records.
Canterbury quintet Broken Hands have signed to Atlantic Records. Their debut LP is expected for release in 2019.
Brighton duo H_ngm_n have joined Real Ghost Records and will be releasing a new EP called 'I Don't Want To Go Home' soon.
Redondo Beach singer-songwriter Cory Wells have signed with Pure Noise Records.
Rise Records have welcomed St. Louis duo Ashland to the label.
Kansas City, MO's Radar State have signed with LA-based Wiretap Records and will release their debut LP 'Strays' in January 2019. The bands members is made up of Matt Pryor and Jim Suptic (The Get Up Kids), Josh Berwanger (The Anniversary/Berwanger) and Adam Phillips (The Architects/The Gadjits).
Album/EP Releases
November:
2nd:
Kingsmen and Exitwounds – Sharptone Records Split Series #1
9th:
Overgrow – The House You Made EP (Common Ground Records)
December:
7th:
Misgivings – Hermitage (Lockjaw Records)
1. Call It Off
2. The Artless Life
3. Shameless
4. On Your Tongue
5. The New Lows
6. Johnny Come Late
7. The Last Word
8. I Keep Hoarding Up
21st:
Great Falls – A Sense Of Rest (Corpse Flower Records)
1. The Accelerationist
2. Not-For-Sale Bodies
3. Kettle Logic
4. We Speak In Lowercase
5. Thousands Every Hour
6. Baldessari Height
7. I Go To Glory
8. Scratched Off The Canvas
Janaury:
15th:
Inglorious – Ride To Nowhere (Frontiers Music Srl)
1. Where Are You Now?
2. Freak Show
3. Never Alone
4. Tomorrow
5. Queen
6. Liar
7. Time To Go
8. I Don't Know
9. While She Sleeps
10. Ride To Nowhere
11. Glory Days
18th:
Hold Close – Time (Hopeless Records)
1. Time
2. Hang Tight
3. Breath
4. Cast Me Away
5. Who Will?
6. Tropical Depression
7. Here Again
8. Absent To Reality
9. Cloud9
10. Aura
11. Separation
March:
29th:
Para Alta – Greatest Hits 2016-2019
Festival News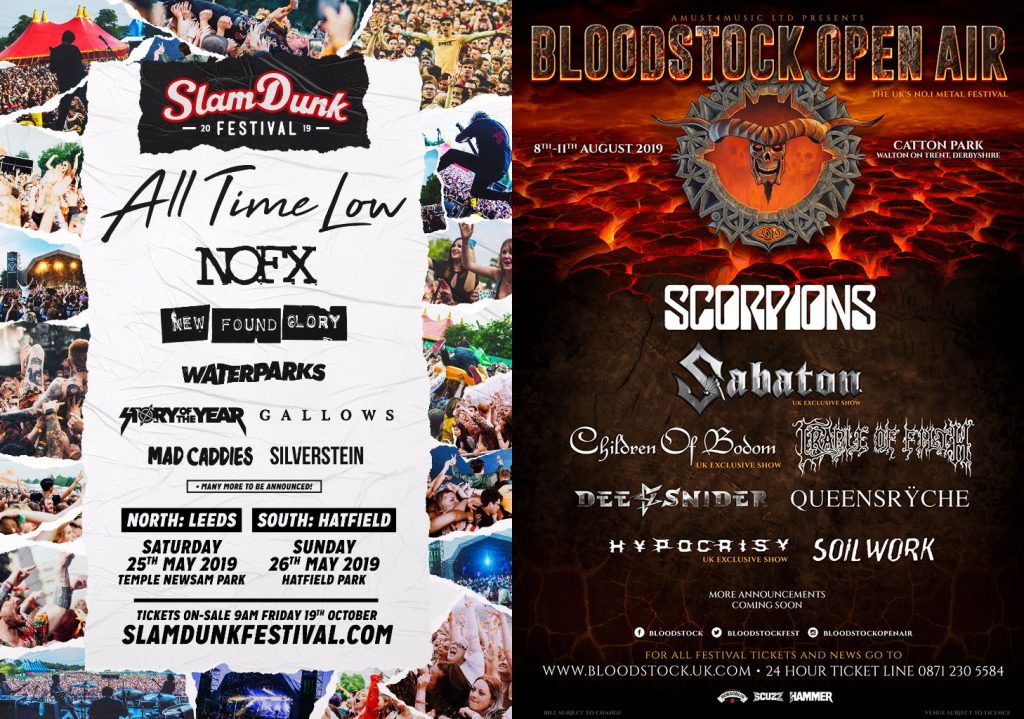 The first round of names for Slam Dunk 2019 have been announced. The "definitive alternative all-dayer" will be headlined by All Time Low and will be their only UK shows next year.
Other names announced today are NOFX, New Found Glory, Waterparks, Story Of The Year, Gallows, Mad Caddies, and Silverstein.
As previously announced, the festival has been reduced to just two days with the North event moving to Temple Newsam Park in Leeds. It will take place on Saturday, May 25th. While the South date will be returning to Hatfield Park on Sunday, May 26th.
German rock legends Scorpions will headline the Ronnie James Dio main stage at Bloodstock 2019 on Sunday 11th August.