Every weekend Already Heard gives you a rundown of what you have missed in the music world in the past seven days. 'In Case You Missed It' is your go-to source to find out all the latest tour news and music and video releases.
Don't forget to "Like Us" on Facebook for regular news updates.
New Music
Albums/EPs
Architects – Spotify Single
A.A.Williams – A.A.Williams EP

Spotify | Apple Music | YouTube | Deezer
Tour News
Brits Week / War Child Shows
February
11th IDLES – 100 club, London
11th You Me At Six – Scala, London
13th Enter Shikari – The Dome, London
15th Frank Turner (DJ Set) + Live Music from Xtra Mile acts – Omeara, London
18th The 1975 – The Garage, London
19th Bring Me The Horizon – The Dome, London
Visit BritsWeekWarChild.co.uk for more details
Frank Carter & The Rattlesnakes
February
7th The Bullingdon, Oxford
8th Wedgewood Rooms, Portsmouth
9th Dreamland Ballroom, Margate
11th Old Fire Station, Bournemouth
12th Fleece, Bristol
13th Sin City, Swansea
15th Sugarmill, Stoke
16th Empire, Coventry
18th Peddler, Sheffield
19th Arts Club, Liverpool
21st Think Tank, Newcastle
22nd Liquid Rooms, Edinburgh
23rd Fibbers, York
Sleeping With Sirens
February
22nd SWG3, Glasgow
23rd Liquid Rooms, Edinburgh
24th Limelight, Belfast
25th The Academy, Dublin
PUP and Milk Teeth
April
9th The Fleece, Bristol
10th The Garage, London
11th Community Room @ Brudenell Social Club, Leeds
12th Cathouse, Glasgow
Spanish Love Songs and Pkew Pkew Pkew
May
7th The Hope & Ruin, Brighton
8th Soup Kitchen, Manchester
9th The Flapper, Birmingham
10th Exchange, Bristol
11th New Cross Inn, London
Royal Tusk supporting Monster Truck
April
18th O2 Academy, Bristol
19th O2 Academy 2, Birmingham
20th O2 Academy 2, Manchester
22nd SWG3 TV Studio, Glasgow
23rd O2 Academy 2, Newcastle
25th Rescue Rooms, Nottingham
26th Waterfront, Norwich
27th Electric Ballroom, London
Follower
January
25th Lounge Bar, Alton
31st The Cave, Addlestone
February
1st Phoenix Bar, High Wycombe
2nd The Cotswold Inn, Cheltenham
28th The Holdroyd Arms, Guildford
March
14th The Facebar, Reading
31st Rock Avenue, Gillingham
Bury The Traitor
February
13th O'Riley's, Hill
14th Star & Garter, Manchester
15th Mulberry Bar & Venue, Sheffield
16th The Angel, Nottingham
17th Waterfront Studios, Norwich
Glamour of the Kill with Silent Screams and InVisions
April
2nd Rebellion, Manchester
3rd Stereo, Glasgow
4th O2 Academy Islington, London
5th O2 Institute 3, Birmingham
6th The Exchange, Bristol
7th The Key Club, Leeds
Fresh, Me Rex and Tea Leaf
February
25th 1-in-12 Club, Bradford
26th Conroy's Basement
27th Bloc, Glasgow
28th Leith Depot, Edinburgh
March
2nd Wharf Chambers, Leeds (no Me Rex)
In The News
Balance & Composure have announced they will be splitting up after a run of final US shows.
As It Is have announced guitarist Ronnish Ish as an official member.
Nuclear Blast have welcomed Icelandic sextet Une Misère.
Bridge Nine have teamed up with Ryan Hoffman of Chain Of Strength to launch a brand new imprint label dubbed Quiet Panic. Their first signing are Philadelphia's Beach Slang.
Charlotte's metallic hardcore band Violent Life Violent Death has joined Innerstrength Records. An album titled 'Sadness Rains' is expected to be released later this year.
Album/EP Releases
February:
14th:
Bury The Traitor – Ascend To Clarity
1. Embers
2. Season To Burn
3. A.S.I.F
4. Heads Down, Thumbs Up
5. Lion VS Wolf
6. When Lust Dethrones Loyalty
March:
1st:
Climate of Fear – The Onset Of Eternal Darkness (Demons Run Amok)
1. Rapture
2. The Cult of Retribution
3. Shadow & Flame
4. Centuries of Torment
5. Storming the Heavens
6. De Conflictu Noctis Aeternae Obruat
7. Slaves of Capital
8. From Enslavement to Extinction
9. Divide & Conquer
8th:
Youth Fountain – Letters To Our Former Selves (Pure Noise Records)
1. Helpless
2. Letters to Our Former Selves
3. Rose Colored Glass
4. Moody
5. Worried
6. Complacent
7. Ache
8. Deadlocked
9. Furlough
10. Lucid
11. Grinding Teeth
12. Blooms
15th:
Beach Slang – MPLS EP (Quiet Panic)
1. AAA
2. I Hate Alternative Rock
Blaqk Audio – Only Things We Love
Former Wrestlers – Champion Of The World EP
Elizabeth Colour Wheel – Nocebo (The Flenser)
1. Pink Palm
2. Somnambulist
3. 23
4. Life of a Flower
5. Hide Behind (Emmett's Song)
6. Bedrest
7. 34th
8. Head Home
22nd:
Follower – Against the Ropes EP
29th:
The Maine – You Are Ok (8123)
1. Slip The Noose
2. My Best Habit
3. Numb Without You
4. I Feel It All Over
5. Heaven, We're Already Here
6. Forevermore
7. Tears Won't Cry (Shinju)
8. One Sunset
9. Broken Parts
10. Flowers On The Grave
Devin Townsend – Empath (Inside Out Music)
1. Castaway
2. Genesis
3. Spirits Will Collide
4. Evermore
5. Sprite
6. Hear Me
7. Why
8. Borderlands
9. Requiem
10. Singularity Part 1 – Adrift
11. Singularity Part 2 – I Am I
12. Singularity Part 3 – There Be Monsters
13. Singularity Part 4 – Curious Gods
14. Singularity Part 5 – Silicon Scientists
15. Singularity Part 6 – Here Comes The Su
LAGS – SOON (Casu Marzu Records / To Lose La Track / Fuzzy Cluster Records)
1. Knives and Wounds
2. Echoes
3. Showdown
4. The Bait
5. Magic Bullet
6. Second Thoughts
7. What It Takes
8. Acceptable
9. I Still Remember
10. Il Podista (Bonus Track)
TBC
Wild Pink – 5 Songs EP
1. There Is A Ledger (Shy Layers Remix)
2. Love Is Better (Dondadi Remix)
3. All Some Frenchman's Joke (Eerie Gaits Remix)
4. Coaches Who Cry
5. How's The Tap Here
April:
5th:
PUP – Morbid Stuff (Rise Records)
1. Morbid Stuff
2. Kids
3. Free At Last
4. See You At Your Funeral
5. Scorpion Hill
6. Closure
7. Bloody Mary, Kate and Ashley
8. Sibling Rivalry
9. Full Blown Meltdown
10. Bare Hands
11. City
In Fear They Follow – Solace EP
1. Ares
2. Midas
3. Erebus
4. Arke
5. Solace
12th:
Yours Truly – Afterglow EP (UNFD)
1. Circles
2. I Can't Feel
3. High Hopes
4. Delusional Paradise
5. Afterglow
May
3rd:
Frank Carter & The Rattlesnakes – End Of Suffering (International Death Cult)
1. Why A Butterfly Can't Love A Spider
2. Tyrant Lizard King feat. Tom Morello
3. Heartbreaker
4. Crowbar
5. Love Games
6. Anxiety
7. Angel Wings
8. Supervillain
9. Latex Dreams
10. Kitty Sucker
11. Little Devil
12. End Of Suffering
Festival News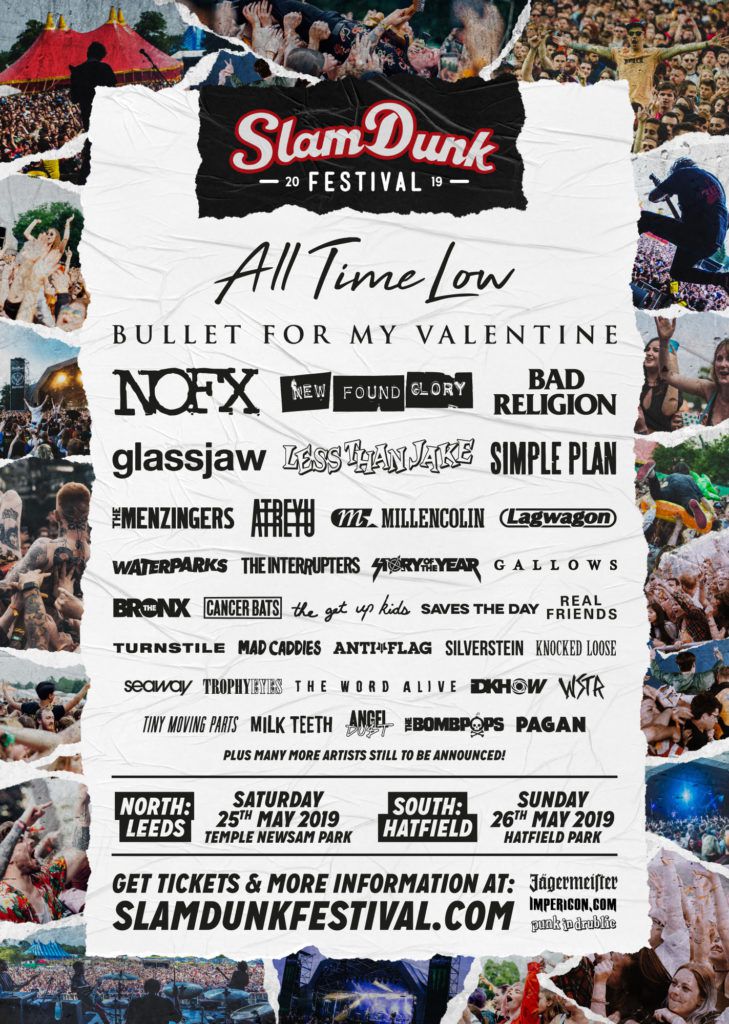 The Bronx, Cancer Bats, Atreyu, Milk Teeth, The Word Alive, Real Friends, Seaway, WSTR, Angel Du$t and Pagan are the latest names to be announced for this year's Slam Dunk Festival.