Every weekend Already Heard gives you a rundown of what you have missed in the music world in the past seven days. 'In Case You Missed It' is your go-to source to find out all the latest tour news and music and video releases.
Don't forget to "Like Us" on Facebook for regular news updates.
New Music
Albums/EPs
[hoot_toggle title="New Songs"][hoot_one_half]Alexisonfire – Familiar Drugs
Of Mice & Men – How To Survive
Yonaka – Bad Company
La Dispute – Rhodonite And Grief
Dave Hause – The Ditch
The Raven Age – The Day the World Stood Still
Trade Wind – No King But Me
Badflower – Promise Me
Kill The Lights – Watch You Fall
Follower – Faded
SPQR – Our Mother's Sons
Holy Pinto – Adult #2[/hoot_one_half][hoot_one_half last="yes"]Elizabeth Colour Wheel – Pink Palm
Nanami Ozone – Something To You
Never Loved – Goddamn
Dangers of Love – I'm a Pretender
Hang Tight – It's So Whatever
Mammoth Weed Wizard Bastard – The Spaceships of Ezekiel
Amarionette – Chemistry 2019
Mammoth Penguins – I Wanna
mouse on the keys – Circle
Hana Piranha – Naked Flame
Violent Skies – Invade/Escape[/hoot_one_half][/hoot_toggle]
[hoot_toggle title="New Videos"][hoot_one_half]While She Sleeps – The Guilty Party
Weezer – Take On Me
Fever 333 – One Of Us
Clutch – Ghost Wrangler
Holding Absence – You Are Everything
Stand Atlantic – Toothless
Andy Black – Westwood Road
Venom Prison – Uterine Industrialisation
Just Friends – Supersonic
itoldyouiwouldeatyou – Almost Zero
Our Hollow, Our Home – Wraiths
The Dirty Nil – Pain of Infinity
The Interrupters – Gave You Everything
Escape The Fate – Do You Love Me?
Parting Gift – Pale
Pop Evil – Be Legendary
Gloo – Stop and Stare
John Nolan – Half A Block To Go[/hoot_one_half][hoot_one_half last="yes"]KID DAD – Naked Creatures
Lazybones – Fashion Victim
Tacocat – Grains of Salt
Field Medic – henna tattoo
Underline The Sky – Promises
The Royal – Deathwatch (ft Ryo Kinoshita)
MOBS – Dark Side of a Good Thing
Booze and Glory – Too Soon
The Great Discord – Heart
Beast In Black – From Hell With Love
Infected Rain – Passerby
Florida Man – Wet Brain
Atlantic Wasteland – It's Mid-July, Take Off the Beanie
Newmeds – What's Your Problem?
Bellevue – Lights Out
Aborted – Deep Red
Jordan Rudess – Wired For Madness Pt 1.3
Bent Knee – Boxes[/hoot_one_half][/hoot_toggle]
[hoot_toggle title="Tour News"][hoot_one_half]Bury Tomorrow
December
13th Pyramids Centre, Portsmouth
14th Rock City, Nottingham
15th Y Plas, Cardiff
17th Riverside, Newcastle
18th SWG3, Glasgow
20th Academy, Manchester
21st Roundhouse, London
Alexisonfire
June
1st Alexandra Palace, London
ONE OK ROCK
May
8th o2 Ritz, Manchester
10th The Roundhouse, London
Dave Hause
May
10th Scala, London
11th Bodega, Nottingham
12th Oran Mor, Glasgow
13th Workmans Club, Dublin
14th Gorilla, Manchester
15th Thekla, Bristol[/hoot_one_half][hoot_one_half last="yes"]Death Blooms
May
8th Black Heart, London
9th Star & Garter, Manchester
12th The Victoria, Birmingham
Swedish Death Candy supporting All Them Witches
May
6th The Haunt, Brighton
8th Band on the Wall, Manchester
9th Clwb Ifor Bach, Cardiff
Ogikubo Station
June
17th Edge of the Wedge, Portsmouth
18th The Cavern, Exeter
19th Joiners, Southampton
20th Prince Albert, Brighton
22nd Frog and Fiddle, Cheltenham
23rd Crowleys Rock Bar, Swansea
24th Exchange, Bristol
25th New Cross Inn, London
26th The Soundhouse, Leicester
27th Redrum, Stafford
28th The Castle, Manchester
29th The 13th Note, Glasgow
30th The Banshee Labyrinth, Edinburgh[/hoot_one_half][/hoot_toggle]
In The News
Manchester's Parting Gift have joined Fearless Records.
Hopeless Records have announced the signing of Chicago-based singer/rapper dying in designer.
Melbourne quartet MOBS have joined Rude Records.
Hertfordshire alt-metallers Defences have welcomed screamer William Young as their second vocalist.
Canadian pop-punk band Bellevue have joined Penultimate Records.
Nine-piece, funk punk collective Just Friends have joined Pure Noise Records.
Album/EP Releases
March:
15th:
Venom Prison – Samsara (Prosthetic Records)
1. Matriphagy
2. Megillus & Leana
3. Uterine Industrialisation
4. Self Inflicted Violence
5. Deva's Enemy
6. Asura's Realm
7. Sadistic Rituals
8. Implementing The Metaphysics Of Morals
9. Dukkha
10. Narak
Just Friends – Nothing But Love (Pure Noise)
1. 1­800­CHOP­CITY ­
2. Never Gonna Bring You Down ­
3. Keep Up ­
4. Supersonic ­
5. Flex ­
6. I Wanna Love You
7. 107.7 KJFC ­
8. Get Down (ft. Caliph) ­
9. Nothing but Love ­
10. Sick of it All ­
11. Bang My Line 2 ­
12. Faucet ­
13. Worry ­
22nd:
Parting Gift – Ensom EP (Fearless Records)
1. Pale
2. 03:07 (Moonlight)
3. Without Sin
4. Cold
5. Ensom
April:
12th:
Dave Hause – Kick (Rise Records)
Andy Black – The Ghost of Ohio (Lava/Republic)
Scream Blue Murder – Rock Bottom (Stay Sick Recordings)
19th:
Jordan Rudess – Wired for Madness (Music Theories Recordings / Mascot Label Group)
1. Wired For Madness – Part 1
2. Wired For Madness – Part 2
3. Off The Ground
4. Drop Twist
5. Perpetual Shine
6. Just Can't Win
7. Just For Today
8. Why I Dream
26th:
Trade Wind – Certain Freedoms (End Hits Records)
1. Surrender
2. No King But Me
3. Close Encounters (of The 3rd Floor)
4. I Can't Believe You're Gone
5. Certain Freedoms
6. Moonshot
7. How's Your Head?
8. Cut
9. Flower Machine
10. Untitled II
11. Beige
12. Nashinga
May:
3rd:
Tacocat – This Mess Is a Place (Sub Pop)
1. Hologram
2. New World
3. Grains of Salt
4. The Joke of Life
5. Little Friend
6. Rose Colored Sky
7. Phantom
8. Crystal Ball
9. Meet Me at La Palma
10. Miles and Miles
Whitesnake – Flesh & Blood (Frontiers Music Srl)
10th:
Mental Cruelty – Inferis (Unique Leader Records)
1. Inferis
2. Planet Of Misery
3. Blood Altar
4. Tormentum (feat Dickie Allen of Infant Annihilator)
5. Priest of Damnation
6. Mundus Vult Decipi (feat Jack Simmons of Slaughter To Prevail)
7. Cosmic Indifference
8. Godhunt (feat Jason Evans of INGESTED)
9. Human Evisceration
10. Monocerotis (feat Marco Bayati of Desolace)
11th:
Bellevue – Picking Up The Pieces EP (Penultimate Records)
31st:
Yonaka – Don't Wait 'Til Tomorrow (Asylum Records)
1. Bad Company
2. Lose Our Heads
3. Awake
4. Guilty (For Your Love)
5. Rockstar
6. Creature
7. Don't Wait 'Til Tomorrow
8. Punch Bag
9. Fired Up
10. Wake Up
11. The Cure
Festival News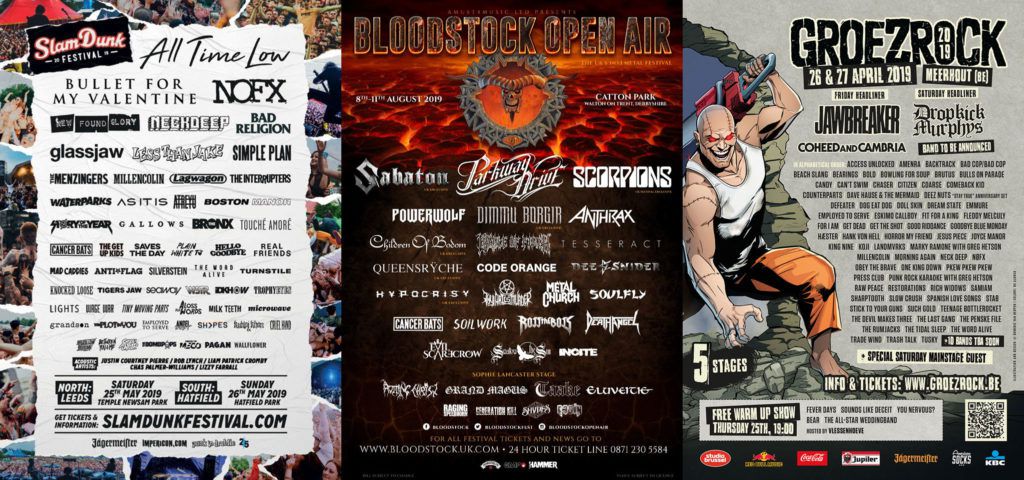 The final bands for this year's Slam Dunk Festival have been announced: Neck Deep, As It Is, Boston Manor, A Loss For Words, Press To MECO, Shvpes, Justin Courtney Pierre, grandson, Story Untold, Between You & Me, Rob Lynch, Lizzy Farrell, Liam Cromby, Kublai Khan, Chas Palmer-Williams and Cruel Hand.
Cancer Bats, Taake, Raging Speedhorn, Shvpes, And Resin are the latest additions to this year's Bloodstock Open Air Festival.
34 new names have been announced for the Groezrock Festival:
Brutus, Slow Crush, Pkew Pkew Pkew, Spanish Love Songs, Beach Slang, Dream State, Press Club, The Tidal Sleep, Bearings, Deez Nuts ('Stay True' anniversary set), Landmvrks, Trash Talk, Candy, Fit For a King, Koji (backed by Such Gold), King Nine, Jesus Piece, Rich Widows, STAB, Access Unlocked, Raw Peace, Hæster, NØFX (NOFX tribute band), Tusky, Get Dead, Bad Cop / Bad Cop, The Penske File, The Devil Makes Three.