Every weekend Already Heard gives you a rundown of what you have missed in the music world in the past seven days. 'In Case You Missed It' is your go-to source to find out all the latest tour news and music and video releases.
Don't forget to "Like Us" on Facebook for regular news updates.
New Music
Albums/EPs
The Dirty Nil – Master Volume
Cane Hill – Live From The Bible Belt
Super American – Tequila Sunrise
[hoot_toggle title="New Songs"][hoot_one_half]The Smashing Pumpkins – Silvery Sometimes (Ghosts)
Thrice – The Dark
mewithoutYou – Another Head for Hydra
Soulfly – Dead Behind The Eyes feat. Randy Blythe
Modern Life Is War – Indianapolis Talking Blues
Pallbearer – Run Like Hell (Pink Floyd cover)
Against The Current – Voices
Palaye Royale – Teenage Heartbreak Queen
Bayside – Sick Sick Sick (Acoustic)
William Ryan Key – The Bowery
Light Years – Burning In My Blood
Sylar – Shook![/hoot_one_half][hoot_one_half last="yes"]Silent Planet – In Absence
Rival Sons – Do Your Worst
Estrons – Body
All Them Witches – Diamond
Steady Hands – Indifferent Belushi
Jetty Bones – Bringing It Up
Well Wisher – Believe
Strange Plans – East Berlin Comfort Zone
Tribulation – Nightbound
Northward – Get What You Give
Subways on the Sun – Know It All
EARTHLESS – Electric Flame
Unleash The Archers – Ten Thousand Against One [/hoot_one_half][/hoot_toggle]
[hoot_toggle title="New Videos"][hoot_one_half]Architects – Hereafter
Neck Deep – Torn
Anti-Flag – For What It's Worth
Five Finger Death Punch – When the Seasons Change
The Dangerous Summer – This Is Life
Crossfaith – Make A Move
Touché Amoré – Flowers and You (live)
Deafheaven – Worthless Animal (Audiotree Far Out)
Deafheaven – Honeycomb (Audiotree Far Out)
itoldyouiwouldeatyou – Gold Rush
Lacuna Coil – Blood, Tears, Dust (The 119 Show – Live In London)
P.O.D. – Rockin' With The Best
Hellogoodbye – Close
Shaded – A Familiar Love
The Joy Formidable – The Better Me
Sœur – Fight
Pkew Pkew Pkew – Passed Out
Fidlar – Too Real
The Wild Things – You're Really Something
Wolf Girl – Maths In The Real World
Pillow Queens – Puppets
Lee Corey Oswald – Ferris Wheel
Adult Mom – Tenderness
[/hoot_one_half][hoot_one_half last="yes"]Settle Your Scores – Stuck In The Suburb
Seasonal – Strangers
Everyone and Anyone – Rainy Days
Larry And His Flask – Ellipsis
Spirit of the Beehive – Hypnic Jerks
face to face – All For Nothing
El Ten Eleven – Three and a Half Feet High and Rising
Four Stroke Baron – Planet Silver Screen
DeWolff – Double Crossing Man
The Uncharted – Revival
22 – Sum of Parts
Jonestown – Blunt Force Nihilist
VOIVOD – Iconspiracy
Sleepwell – Acreman
Death Valley Girls – More Dead
Smoke Signals – Letting Go
Jack The Envious – Walk In The Dark
Shading – The Scent
The Parallax Method – You Gotta Be Squiddin' Me!
AlithiA – Empress
Savage Hands – Useless
The Mechanist – Timekeeper
30 Miles – The Forest
TLE – Date Night
Tom Lumley – Crawling
Englomanatic Glitch – The Raid [/hoot_one_half][/hoot_toggle]
[hoot_toggle title="Tour News"][hoot_one_half]
Architects with Beartooth and Polaris
January
14th O2 Victoria Warehouse, Manchester
17th O2 Academy, Glasgow
18th Motorpoint Arena, Cardiff
19th The SEE Arena Wembley, London
The Wonder Years and Mayday Parade
February
16th O2 Academy, Glasgow
17th Manchester Academy, Manchester
18th O2 Academy, Birmingham
20th O2 Academy, Leeds
21st Rock City, Nottingham
22nd O2 Academy, Bristol
23rd Troxy, London
Bowling For Soup with Patent Pending
November
26th Guild Hall, Preston
27th Usher Hall, Edinburgh
28th O2 Academy, Bristol
29th The Hexagon, Reading
30th O2 Guildhall, Southampton
December
1st De La Warr Pavillion, Bexhill On Sea
2nd O2 Academy, Leicester
3rd O2 Academy, Leeds
Of Mice & Men with Loathe and Shvpes
November
12th Riverside, Newcastle
13th O2 Academy, Liverpool
Buckcherry and Hoobastank with Adelitas Way
February
5th O2 Ritz, Manchester
6th O2 Academy, Bristol
8th O2 Shepherds Bush Empire, London
9th Asylum, Hull
10th O2 Institute, Birmingham
12th O2 Academy, Newcastle
13th SWG3 Galvanizers, Glasgow
15th Rock City, Nottingham
16th O2 Academy, Oxford
17th UEA, Norwich[/hoot_one_half][hoot_one_half last="yes"]Silent Planet with Acres and Comrades
November
24th Satans Hollow, Manchester
25th Asylum 2, Birmingham
26th Garage Attic, Glasgow
27th New Cross Inn, London
Avalanche Party and Canshaker Pi
October
1st Castle & Falcon, Birmingham
2nd Sneaky Pete's, Edinburgh
3rd Nice 'n' Sleazy, Glasgow
4th The Shipping Forecast, Liverpool
5th Jimmy's, Manchester
6th The Victoria, London
7th Crofters Rights, Bristol
8th Sticky Mike's Frog Bar, Brighton
9th Picture House Social, Sheffield
10th The New Adelphi Club, Hull
11th The Chapel, Leeds
Oxygen Thief supporting Jonah Matranga
November
6th Strings, Isle Of Wight
7th Forum, Tunbridge Wells
8th Waterfront, Norwich
9th White Hart, Corby
10th Frog & Fiddle, Cheltenham
11th Crofters, Bristol
12th Sugarmill, Stoke
13th Joiners, Southampton
14th Firebug, Leicester
15th The Monarch, London (headline show)
All Them Witches
May
6th The Haunt, Brighton
8th Band On The Wall, Manchester
9th Clwb Ifor Bach, Cardiff
Pillow Queens
November
17th Oslo, London[/hoot_one_half][/hoot_toggle]
In The News
Pkew Pkew Pkew have joined Big Scary Monsters (UK) and Dine Alone Records (US).
Norwegian progressive rock band 22 have joined Long Branch Records.
Album/EP Releases
October:
5th:
Shaded – A Familiar Love (Common Ground Records)
Chasing Dragons – Faction
1. Factionless
2. How The World Went Black
3. Parasite
4. Like Gravity
5. Bareknuckle Lover
6. For Kingdom For Glory
7. This Time Is Ours
8. Devil In Her Eyes
9. The Connection
10. I'm No Devil (I'm Just A Girl)
11. Whitehorse
12. We Are The Wall
10th:
Villainous – Villainous
12th:
A Few Too Many – Solid Ground EP
1. Stay The Night
2. Ultimate Glory
3. Ghosts
4. Stuck On Repeat
5. The Pity Parade
6. Solid Ground
19th:
Steady Hands – Truth In Comedy (Lame-O Records)
1. 40x
2. No More Funerals
3. New Tattoo
4. Saint Lucas
5. Indifferent Belushi
6. Drop D and Dance Beats
7. Old House
8. Magazines
9. Better Days
10. Christmas at the 'Vous
26th:
The Struts – Young & Dangerous (Polydor Records)
1. Body Talks
2. Primadonna Like Me
3. In Love With A Camera
4. Bulletproof Baby
5. Who Am I?
6. People
7. Fire (Part 1)
8. Somebody New
9. Tatler Magazine
10. I Do It So Well
11. Freak Like You
12. Ashes (Part 2)
13. Body Talks ft. Kesha
AlithiA – The Moon has Fallen (Wild Thing Records)
1. The Sun
2. Empress
3. Diamonds
4. Blood Moon
5. Three Eyes
6. The Knife
7. Breathe
8. Faces in the Leaves
31st:
Strange Planes – South Of OK (Bad Horror Records)
November:
2nd:
Touché Amoré – 10 Years / 1000 Shows – Live at the Regent Theater
1. ~
2. New Halloween
3. Rapture
4. And Now It's Happening In Mine
5. Uppers / Downers
6. Adieux
7. Steps
8. Just Exist
9. Pathfinder
10 Flowers and You
11. Negotiating The Charade
12. The Great Repetition
13. Art Official
14. Displacement
15. Cadence
16. Harbor
17. Palm Dreams
18. Home Away From Here
19. Amends
20. Benediction
21. Banter 1
22. Is Survived By
23. Condolences
24. Banter 2
25. Circa 95
26. Low Beams
27. I'll Get My Just Deserve
28. I'll Deserve Just That
29. Honest Sleep
Bitch Hawk – JOY (Adrian Recordings)
9th:
Architects – Holy Hell (Epitaph Records)
1. Death Is Not Defeat
2. Hereafter
3. Mortal After All
4. Holy Hell
5. Damnation
6. Royal Beggars
7. Modern Misery
8. Dying To Heal
9. The Seventh Circle
10. Doomsday
11. A Wasted Hymn
Songs That Saved My Life (Hopeless Records)
1. Neck Deep – Torn (originally made famous by Natalie Imbruglia)
2. Movements – Losing My Religion (originally made famous by R.E.M.)
3. Stand Atlantic – Your Graduation (originally made famous by Modern Baseball)
4. Dance Gavin Dance – Semi Charmed Life (originally made famous by Third Eye Blind)
5. Against Me! – People Who Died (originally made famous by The Jim Carroll Band)
6. Taking Back Sunday – Bullet With Butterfly Wings (originally made famous by Smashing Pumpkins)
7. Dream State – Crawling (originally made famous by Linkin Park)
8. As It Is – Such Great Heights (originally made famous by The Postal Service)
9. Oceans Ate Alaska – Shape of my Heart (originally made famous by Sting)
10. Too Close To Touch – Let It Be (originally made famous by The Beatles)
11. Dan Campbell & Ace Enders – Broom People (originally made famous by The Mountain Goats)
12. The Maine – Transatlanticism (originally made famous by Death Cab For Cutie)
Four Stroke Baron – Planet Silver Screen (Prosthetic Records)
1. Cut
2. Planet Silver Screen
3. Neon Person
4. Machine And Joy
5. A Matter Of Seconds
6. 7th Of July
7. Cyborg Pt II The City
8. Duplex
9. Video Maniacs (ft Jorgen Munkeby of Shining)
16th:
The Smashing Pumpkins – Shiny And Oh So Bright, Vol. 1 / Lp No Past. No Future. No Sun (Martha's Music)
1. Knights of Malta
2. Silvery Sometimes (Ghosts)
3. Travels
4. Solara
5. Alienation
6. Marchin' On
7. With Sympathy
8. Seek And You Shall Destroy
itoldyouiwouldeatyou – Oh Dearism (Alcopop! Records x Failure By Design)
Oxygen Thief – Confusion Species (Xtra Mile Recordings)
Azusa – Heavy Yoke
1. Interstellar Islands
2. Heart of Stone
3. Heavy Yoke
4. Fine Lines
5. Lost In the Ether
6. Spellbinder
7. Programmed to Distress
8. Eternal Echo
9. Iniquitous Spiritual Praxis
10. Succumb to Sorrow
11. Distant Call
Jonestown – Dyatlov (Long Branch Records)
1. Burn Victim
2. Blunt Force Nihilist
3. Novae
4. Abyss
5. Dyatlov
6. The Scorpion and the Frog
7. The People's Temple
8. Cut Throat Lane
9. History of a Drowning Boy
10. The Pass
17th:
Soeur – Fight EP
1. Quiet It
2. Track Back
3. Whole Me
4. Out Again
5. Fight
30th:
William Ryan Key – Virtue EP
1. The Same Destination
2. Mortar And Stone
3. The Bowery
4. Virtue
5. Downtown (Up North)
6. No More, No Less
Light Years – Afterlife (Rude Records)
1. Back Then
2. Bottom of the Ocean
3. Lost on the Way Home
4. It Doesn't Matter
5. Graveyard
6. How Are You
7. Should Have Been
8. Bottle Rocket
9. Burning in my Blood
10. Paradise
11. If I Knew Then
Festival News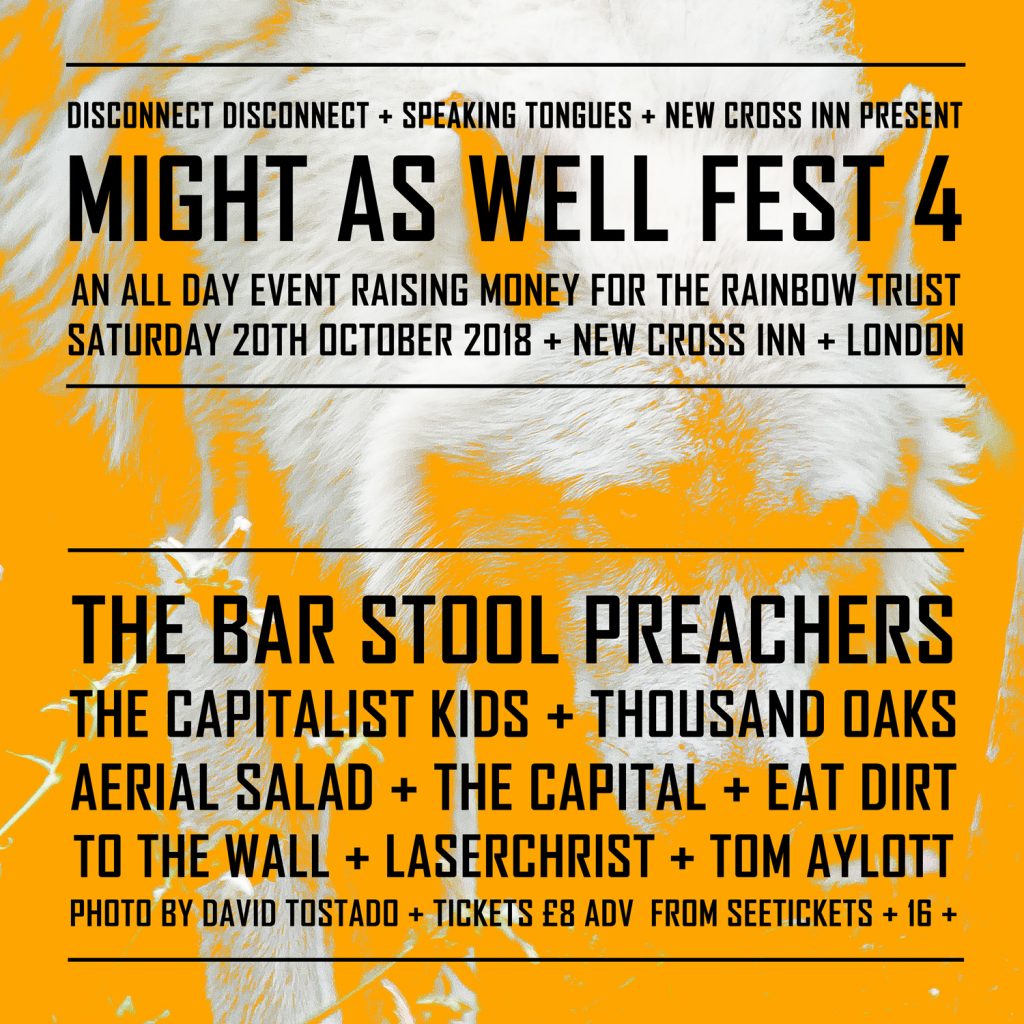 Might As Well Fest 4 has announced their second run of bands. It sees The Bar Stool Preachers, The Capital, Eat Dirt and To The Wall joining the all-day charity festival, which takes place on Saturday October 20th at New Cross Inn, London. Organisers have also announced The Rainbow Trust as this year's chosen charity.