Every weekend Already Heard gives you a rundown of what you have missed in the music world in the past seven days. 'In Case You Missed It' is your go-to source to find out all the latest tour news and music and video releases.
Don't forget to "Like Us" on Facebook for regular news updates.
New Music
Albums/EPs
Burning Vow – Burning Vow
Penulimate Records – Friends & Family Christmas Compilation
[hoot_toggle title="New Songs"][hoot_one_half]Papa Roach – Elevate
Gerard Way – Dasher (feat Lydia Night from The Regrettes)
Crossfaith – Soul Seeker
Set It Off – For You Forever
Set It Off – Dancing with the Devil
American Football – Silhouettes
Woahnows – Dipping Out
In Flames – (This is Our) House
Rival Sons – Feral Roots
Danny Worsnop – Little Did I Know
The Darkness – Christmas Time (Don't Let The Bells End) (Live)
The Raven Age – Fleur de lis[/hoot_one_half][hoot_one_half last="yes"]Deadline Ritual – Down In Flames
A Pale Horse Named Death – Vultures
Overkill – Last Man Standing
Dead Sword – Ender
The Stolen – Stuck
Whitechapel – Black Bear
Kenny O'Brien & the O'Douls (Kevin Devine) – The Body of An American (The Pogues cover)
Mad Caddies – I'm Going Surfing for Xmax
Bad Suns – Away We Go
Misery Loves Company – Dead Inside
Wet Dreams – Bad Boy
Nuns of the Tundra – Pray 4 U Slay 4 U
Nautical Mile – Regicide[/hoot_one_half][/hoot_toggle]
[hoot_toggle title="New Videos"][hoot_one_half]You Me At Six – Straight To My Head
Green Day – Youngblood
In Flames – I Am Above
Volbeat – For Evigt
Cane Hill – Acid Rain
Currents – Forever Marked
Against The Current – The Fuss
This Wild Life – Doomsday (Architects Cover)
Single Mothers – Tan Line (Like Passing Through A Wall)
Martha – Heart is Healing
River Becomes Ocean – Addicted
The Intersphere – Mind Over Matter
Helen Love – Glitter Star
Chest Pains – Cut The Resistance
A.A.Williams – Cold
Skinny Lister – The Story Is…
Von Hertzen Brothers – Jerusalem[/hoot_one_half][hoot_one_half last="yes"]Caracara – Evil
Surroundings – Chronesthesia
Jack The Envious – Stay Silent
The World Over – Rewind/Replay
Khaidian – Dominion
Bayside – Sick Sick Sick (Live Video)
Slaves – All I Want For Christmas Is You (cover)
Vanish – Role Play
RCKLSS – Tell You
Tapestry – Love/Deception
Apey & the Pea – Black November
Of Allies – In The Air Tonight
Unturned – Vertigo
Red Method – Split
The Royal – Nine For Hell
Enterprise Earth – He Exists
The Stolen – Stuck
BLVFF – Where Did We Go Wrong[/hoot_one_half][/hoot_toggle]
[hoot_toggle title="Tour News"][hoot_one_half]As It Is
February
26th Old Fire Station, Bournemouth
27th Cavern, Exeter
28th The Watering Hole, Perranporth
March
1st Moles, Bath
2nd Hobos, Bridgend
4th Oh Yeah Centre, Belfast
5th Green Room, Dublin
7th Arts Club Loft, Liverpool
8th Old Fire Station, Carlisle
9th Tunnels, Aberdeen
11th Sugarmill, Stoke
12th Arts Centre, Colchester
14th Academy 2, Leicester
15th Concorde 2, Brighton
Holding Absence with Capsize
March
21st The Joiners, Southampton
22nd The Flapper, Birmingham
23rd The Key Club, Leeds
24th O'Riley's, Hull
25th Garage, Glasgow
27th Rebellion, Manchester
28th The Globe, Cardiff
29th Underworld, London
Casey with Acres and Gatherers
May
6th Rescue Rooms, Nottingham
7th Exchange, Bristol
8th Rebellion, Manchester
9th Key Club, Leeds
10th The Dome, London
11th The Dome, London[/hoot_one_half][hoot_one_half last="yes"]In Flames
April
3rd SWG3, Glasgow
4th O2 Ritz, Manchester
5th The Roundhouse, London
6th Rock City, Nottingham
7th SWX, Bristol
9th UEA, Norwich
Normandie
March
24th Deaf Institute, Manchester
25th Stereo, Glasgow
26th Mama Roux's, Birmingham
27th Dingwalls, London
The Casualties
January
26th MK11, Milton Keynes
27th Crowleys Bar, Hastings
31st Warehouse 23, Wakefield
February
1st The Palm House, Belfast
2nd Fibber Magees, Dublin
3rd Redrum, Stafford
5th Rebellion Club, Manchester
6th Underworld, London
Bad Suns
January
13th Hare & Hounds, Birmingham
14th Thekla, Bristol
15th The Garage (Attic Bar), Glasgow
16th Deaf Institute, Manchester
18th Garage, London
19th The Green Door Store, Brighton[/hoot_one_half][/hoot_toggle]
In The News
The Darkness have revealed they will be performing their festive classic 'Christmas Time (Don't Let The Bells End)' on the Christmas Day edition of The Great British Bake Off.
Theatrical and genre-effacing New Jersey quintet Vanish have joined Hopeless Records.
County Durham indie-punk band Martha have joined Big Scary Monsters.
Aaron Buchanan And The Cult Classics have signed to Listenable Records.
Alabama based rock quintet West Means Home have joined Innerstrength Records. Their debut album, 'Hope This Reaches You', is set to be released in the Spring.
Entertainment One (eOne) have signed Creeping Death.
Minneapolis based emo-rock band Unturned have joined No Sleep Records.
Album/EP Releases
January:
25th:
Chapter & Verse – Glow EP
1. The Casket
2. Magazines
3. Eleven Hours in Real Time
4. A Devil in Blue
5. Ink
February:
1st:
RCKLSS – So Cynical EP
1. Every Time
2. Animals
3. Struggle
4. Tell You
5. Sorry For Trying
6. Empty Space
22nd:
Woahnows – Young and Cool (Specialist Subject Records)
1. Something To Regret
2. World Explodes
3. No One Else
4. Your Dreams
5. Hippy Shit
6. I Know I Knooow
7. …and Breathe
8. Dipping Out
9. You Explaining
10. Skin Peels
11. Whatever Works
12. Cold
Delain – Hunter's Moon
Brand New Studio Tracks:
1. Masters Of Destiny
2. Hunter's Moon
3. This Silence Is Mine
4. Art Kills
Live From Utrecht:
5. Hands Of Gold – Live (feat. George Oosthoek)
6. Danse Macabre – Live
7. Scarlet – Live
8. Your Body Is A Battleground – Live (feat. Marco Hietala)
9. Nothing Left – Live (feat. Marco Hietala)
10. Control The Storm – Live (feat. Marco Hietala)
11. Sing To Me – Live (feat. Marco Hietala)
12. Not Enough – Live
13. Scandal – Live (feat. Marco Hietala)
14. The Gathering – Live (feat. Marco Hietala)
Antre – Void (Withered Hand Records)
1. Suffer The Light
2. Fear The Old Blood
3. Denisovan
4. Into Oblivion
5. Tyrant
6. Guided By Nightmares
7. The Frozen Deep
8. Infinite Abyss
9. Beyond These Skies
March:
1st:
In Flames – I, The Mask (Nuclear Blast)
1. Voices
2. I, The Mask
3. Call My Name
4. I Am Above
5. Follow Me
6. (This is Our) House
7. We Will Remember
8. In This Life
9. Burn
10. Deep Inside
11. All The Pain
12. Stay With Me
Mammoth Weed Wizard Bastard – Yn Ol I Annwyn (New Heavy Sounds)
1. Tralfamadore
2. The Spaceships Of Ezekiel
3. Fata Morgana
5. Du Bist Jetzt Nicht In Der Zukunft
6. Yn Ol I Annwyn
7. The Majestic Clockwork
8. Five Days In The Abyss
8th:
Holding Absence – Holding Absence (Sharptone Records)
1. Perish
2. Your Love (Has Ruined My Life)
3. Like A Shadow
4. You Are Everything
5. Marigold
6. To Fall Asleep
7. Monochrome
8. A Godsend
9. Last Of The Evening Light
10. Purge
11. Wilt
The Raven Age – Conspiracy (Corvid Records)
1. Bloom of the Poison Seed
2. Betrayal of the Mind
3. Fleur De Lis
4. The Day the World Stood Still
5. Stigmata
6. Surrogate
7. Seventh Heaven
8. Forgotten World
9. The Face that Launched a Thousand Ships
10. Tomb of the Unknown Soldier
11. Scimitar
12. Grave of the Fireflies
The Royal – Deathwatch (Long Branch Records)
1. Pariah
2. Savages
3. State Of Dominance
4. Soul Sleeper
5. Deathwatch (feat. Ryo Kinoshita of Crystal Lake)
6. Exodus Black
7. Nine For Hell
8. Lone Wolf
9. Avalon
10. Glitch
Dead Sword – Enders (Human Blood Records)
1. Sometimes
2. Waiting
3. Black
4. Fumetsu
5. Interlude 04
6. Tonight
7. Letters
8. Hook
9. Perception
10. Interlude 05
11. Ender
15th:
Vanish – Familiar Faces (Hopeless Records)
1. Ouija Cult
2. Somebody Else
3. Role Play
4. Familiar Faces
5. The Sound of Violence
6. dontwaitforme
7. Under Water // On Fire
8. I'm All Out of Swipes
9. Slip
10. Distance, Disappear
22nd:
American Football – American Football (LP3) (Big Scary Monsters)
1. Silhouettes
2. Every Wave To Ever Rise (ft. Elizabeth Powell)
3. Uncomfortably Numb (ft. Hayley Williams)
4. Heir Apparent
5. Doom in Full Bloom
6. I Can't Feel You (ft. Rachel Goswell)
7. Mine To Miss
8. Life Support
29th:
Whitechapel – The Valley (Metal Blade Records)
1. When a Demon Defiles a Witch
2. Forgiveness Is Weakness
3. Brimstone
4. Hickory Creek
5. Black Bear
6. We Are One
7. The Other Side
8. Third Depth
9. Lovelace
10. Doom Woods
Festival News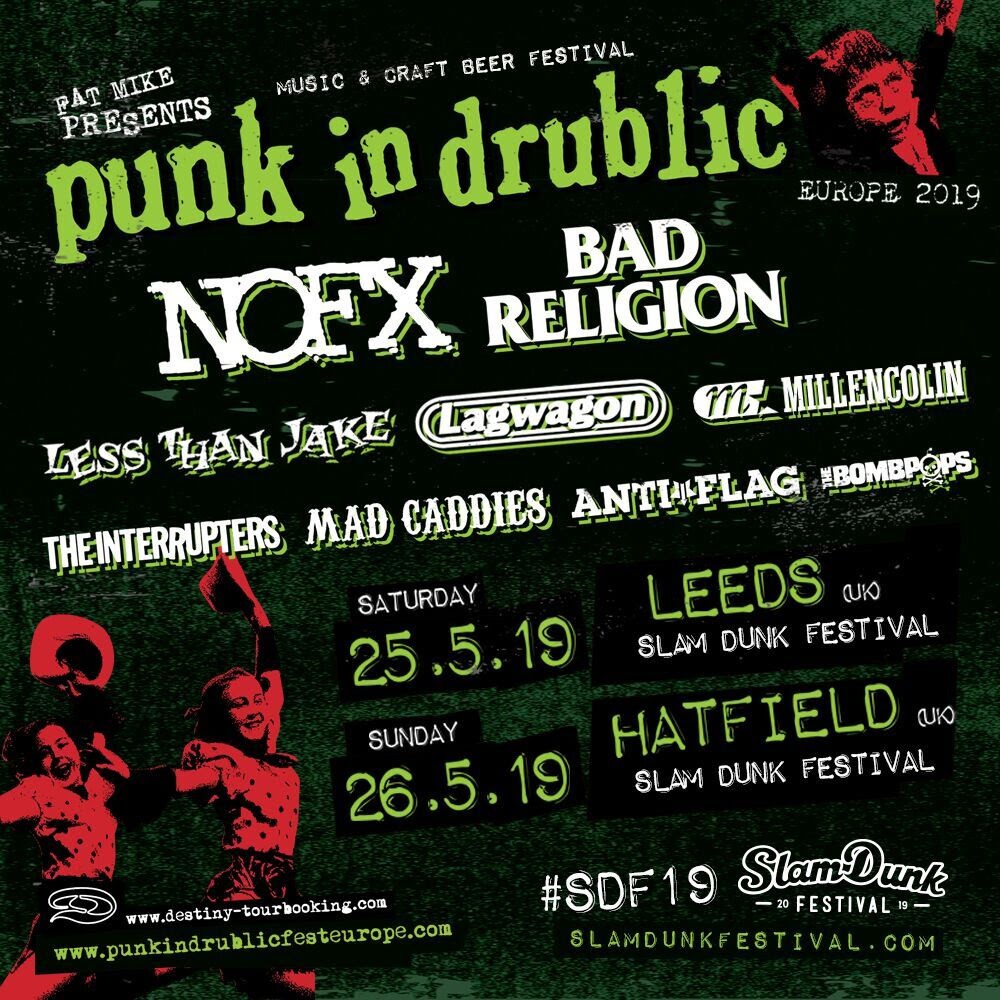 NOFX will be bringing their 'Punk In Drublic' takeover to Slam Dunk Festival. It sees Bad Religion, Less Than Jake, Anti-Flag, Lagwagon, The Interrupters, Millencolin, and The Bombpops joining the bill.
Deadland Ritual have been added to next year's Download Festival. Its members consist of Geezer Butler (Black Sabbath), vocalist Franky Perez (Apocalyptica, Scars on Broadway), drummer Matt Sorum (Guns N' Roses, Velvet Revolver) and guitarist Steve Stevens (Billy Idol).
Rise Of The Northstar, Arnocorps, and Hands Off Gretel have been added to Amplified Festival 2019.