Every weekend Already Heard gives you a rundown of what you have missed in the music world in the past seven days. 'In Case You Missed It' is your go-to source to find out all the latest tour news and music and video releases.
Don't forget to "Like Us" on Facebook for regular news updates.
New Music
Albums/EPs
Captain Cuts – EMOWORLD
Tour News
Emarosa
January
9th The Craufurd Arms, Milton Keynes
10th Joiners, Southampton
11th Club Ifor Bach, Cardiff
12th Asylum 2, Birmingham
13th The Key Club, Leeds
14th The Garage Attic, Glasgow
15th The Workman's Club, Dublin
16th Satan's Hollow, Manchester
17th Rock City Basement, Nottingham
18th The Waterfront, Norwich
19th Borderline, London
20th Thekla, Bristol
P.O.D. and Alien Ant Farm with '68
February
26th Lemon Grove, Exeter
27th O2 Academy, Bristol
28th Waterfront, Norwich
March
1st O2 Academy, Oxford
2nd O2 Forum Kentish Town, London
3rd O2 Academy, Newcastle
5th The Garage, Glasgow
6th The Welly, Hull
7th O2 Institute, Birmingham
9th Rock City, Nottingham
10th O2 Ritz, Manchester
12th Dolans, Limerick
13th Limelight, Belfast
14th Button Factory, Dublin
Greta Van Fleet
March
5th Newcastle 02 Academy, Newcastle
7th 02 Academy, Glasgow
8th 02 Academy Leeds, Leeds
10th Rock City, Nottingham
11th Montford Hall, Liverpool
13th Olympia Theatre, Dublin
Yonaka will be supporting Bring Me The Horizon with The Fever 333
November
23rd Arena, Birmingham
24th First Direct Arena, Leeds
25th SSE Hydro, Glasgow
27th Motorpoint Arena, Cardiff
29th Alexander Palace, London
30th Alexander Palace, London
The Algorithm
November
13th The Fleece, Bristol
14th Asylum 2, Birmingham
15th Rescue Rooms, Nottingham
16th Satans Hollow, Manchester
17th Garage Attic, Glasgow
18th Borderline, London
Louise Distras
January
17th Portland Arms, Cambridge
18th The Bodega, Nottingham
23rd Key Club, Leeds
24th Cluny 2, Newcastle
25th The Boileroom, Guildford
26th Waterfront Studio, Norwich
27th Edge of The Wedge, Portsmouth
29th Leicester Firebug
31st The Half Moon, Bishops Stortford
February
2nd Slade Rooms, Wolverhampton
Silent Rival
January
26th Night & Day, Manchester
27th Attic Bar, Glasgow
29th Hare & Hounds Venue 2, Birmingham
30th Joiners, Southampton
31st Old Blue Last, London
The Kris Barras Band
February
6th The Globe, Cardiff
7th Deaf Institute, Manchester
8th The Cluny, Newcastle
9th The Welly Club, Hull
12th Rescue Rooms, Nottingham
13th The Portland Arms, Cambridge
14th Brudenell Social Club, Leeds – TICKETS
15th The Tivoli, Buckley
16th Foxlowe Arts Centre, Leek
21st Thekla, Bristol
22nd The Harlington, Fleet
23rd The Garage, London
26th The Haunt, Brighton
27th The Bullingdon, Oxford
March
1st The Old Bakery, Truro
8th Cheese & Grain, Frome
9th The Wharf, Tavistock
10th Planet Rock's Winter's End Festival, Poole
15th Voodoo Rooms, Edinburgh
Jungle Rot with Ultra Violence
April
15th London New Cross Inn
18th Cardiff Fuel Rock Club
Rehasher and Eat Defeat
November
22nd The Hive, Manchester
23rd Sticky Mike's, Brighton
24th New Cross Inn, London
25th Red Rum, Stafford
In The News
After six years together, South West band Empire are calling it a day.
Andy Black has revealed his next solo album will be called 'The Ghost Of Ohio'.
A.A.Williams has joined the Holy Roar Records roster.
Brooklyn, New York punk band Worriers has joined 6131 Records. The label has reissued their latest album, 'Survival Pop', with two new songs.
Swedish alternative rockers Port Noir have signed to InsideOutMusic.
Manchester DIY punk band Incisions have joined TNSrecords.
Canadian thrashers Wolfrik are now part of the Lockjaw Records roster.
Album/EP Releases
November:
2nd:
The Algorithm – Compiler Optimization Techniques
1. Cluster
2. Fragmentation
3. Superscalar
4. Binary Space
5. Sentinel Node
Chicharrero – Dapper Elephants Moan Over Supper (Speaking Tongues)
1. Happy 30th Fool!
2. Hand Me a Beer, This Place Stinks.
3. Turn That Cross Upside Down
4. Grab a Cuppa, Brother
5. Hope You're Good vs. How Are You?
6. Counting Colugos
7. Grab a Ciggie, Shy Away
8. What's a Sun to Do?
9. Chicharrero – Who Do I Complain to Now?
9th:
Yonaka – Creature (Asylum Records)
1. Own Worst Enemy
2. Creature
3. Death By Love
4. She's Not There
I Don't Know How but They Found Me – 1981 Extended Play (Fearless Records)
16th:
Not Ur Girlfrenz – New Kids In America EP
23rd:
22 – Call Me Trimtab (Long Branch Records)
CD1 – You Are Creating: Limb1
1. Inspec
2. Staying Embodied
3. Sum Of Parts
4. A Mutation Of Thrushes
5. Adam Kadmon Body Mass Index
6. Ectypes
7. You Are Creating
8. Node1
CD2 – You Are Creating: Limb2
1. Node2
2. Call Me Trimtab
3. Dillemanns Clarity
4. Autumn Stream
5. Chroma Key
6. Sylphs
7. V
8. Akira
Rival Bones – Strangefruit EP (Alya Records)
1. Beautiful Dangerous
2. Tie So Tight
3. Pull Me Under
4. Hot Blooded
30th:
Def Leppard – The Story So Far – The Best Of
Disc 1
1. Animal
2. Photograph
3. Pour Some Sugar On Me
4. Love Bites
5. Let's Get Rocked
6. Armaggedon It
7. Foolin'
8. Two Steps Behind
9. Heaven Is
10. Rocket
11. Hysteria
12. Have You Ever Needed Someone So Bad
13. Make Love Like A Man
14. Action
15. When Love & Hate Collide
16. Rock of Ages
17. Personal Jesus
Disc 2
1. Let's Go
2. Promises
3. Slang
4. Bringin' On The Heartbreak
5. Rock On (Radio Remix)
6. Nine Lives (feat. Tim McGraw)
7. Work It Out
8. Stand Up
9. Dangerous
10. Now
11. Undefeated
12. Tonight
13. C'Mon C'Mon
14. Man Enough
15. No Matter What
16. All I Want Is Everything
17. It's All About Believing
18. Kings Of The World
RavenFace – Breathe Again
1. Breathe Again
2. Gasoline
3. Tyrants and Kings
4. Colder
5. In Time, In Sight
6. Fighters
7. Tastes Like Misery
8. Light In The Dark
9. The Line
Stand Alone – Falling, Faster EP
December:
7th:
Atlas : Empire – The Stratosphere Beneath Our Feet
1. As Yet Unwritten
2. Diminishing Returns
3. It's All In The Reflexes
4. The Moment We Were Exploding
5. Gethsemane
6. The Entire History Of You
7. Hostess
8. The Year Of The Four Emperors
9. Our Hands Part The Waves
10. Cenotaphs
Jason Becker – Triumphant Hearts (Music Theories Recordings/Mascot Label Group)
1. Triumphant Heart (ft. Marty Friedman, Gluaco Bertagnin, Hiyori Okuda)
2. Hold On To Love (ft. Codany Holiday)
3. Fantasy Weaver (ft. Jake Shimabukuro)
4. Once Upon A Melody
5. We Are One (ft. Steve Knight)
6. Magic Woman (ft. Uli Jon Roth, Chris Broderick)
7. Blowin' In The Wind
8. River of Longing (ft. Jon Satiriani, Aleks Sever, Guthrie Govan, Steve Morse)
9. Valley of Fire (ft. The Magnificent 13)
10. River of Longing (ft. Trevor Rabin)
11. Taking Me Back
12. Tell Me No Lies
13. Hold On To Love (ft. Codany Holiday) [Chuck Zwicky Remix]
14. You Do It
10th:
Beans On Toast – A Bird In The Hand (Beans on Toast Music )
14th:
All Ears Avow – Skin & Bones EP
January:
11th:
State Of Ember – Broken Horizons EP
25th:
FIDLAR – Almost Free (Mom & Pop)
1. Get Off My Rock
2. Can't You See
3. By Myself
4. Flake
5. Alcohol
6. Almost Free
7. Scam Likely
8. Called You Twice (feat. K.Flay)
9. Nuke
10. Too Real
11. Kick
12. Thought. Mouth.
13. Good Times Are Over
Festival News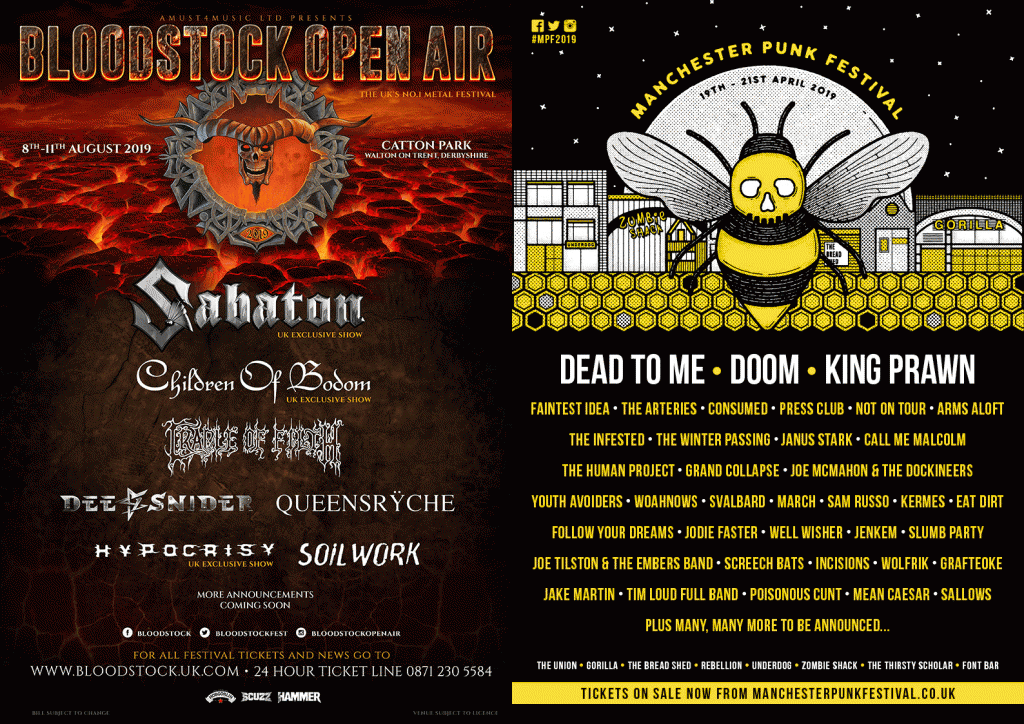 Children Of Bodom, Cradle Of Filth, Soilwork, Dee Snider, Queensryche and Hypocrisy have been added to Bloodstock 2019.
The first bands for the 2019 Manchester Punk Festival have been announced:
Dead To Me, Doom, King Prawn, Not On Tour, The Arteries, The Infested, Consumed, Faintest Idea, Press Club, Arms Aloft, The Winter Passing, Janus Stark, Call Me Malcolm, Youth Avoiders, The Human Project, Grand Collapse, Joe McMahon & The Dockineers, Woahnows, Svalbard, Wolfrik, March, Sam Russo, Kermes, Eat Dirt, Jodie Faster, Jenkem, Well Wisher, Joe Tilston & The Embers Band, Slumb Party, Screech Bats, Incisions, Grafteoke, Jake Martin, Tim Loud Full Band, Poisonous Cunt, Mean Caesar, Sallows, Follow Your Dreams.
It will take place over three full days across Easter weekend with over 130 bands playing 8 venues.