Every weekend Already Heard gives you a rundown of what you have missed in the music world in the past seven days. 'In Case You Missed It' is your go-to source to find out all the latest tour news and music and video releases.
Don't forget to "Like Us" on Facebook for regular news updates.
New Music
Albums/EPs

Spotify | Apple Music | YouTube | Deezer
Songs
[hoot_one_half]Against The Current – Almost Forgot
Against The Current – Strangers Again
Tremonti – Bringer Of War
Burn The Priest – I Against I
Petal – Tightrope
Slowcoaches – Found Down
Yonaka – F.W.T.B.
Gatherers – Every Pain In Monochrome[/hoot_one_half][hoot_one_half last="yes"]Arms & Hearts – Sore Sight For Sorry Eyes
Late Bloomer – Heaven
Here Lies Man – That Much Closer To Nothing
Skyharbor – Dim
Maypine – Give
Ness Lake – Forgot
The Forgotten Age – Relent
Desert Clouds – Under Tons
Static Fires – Return[/hoot_one_half]
New Videos
[hoot_one_half]State Champs – Crystal Ball
Five Finger Death Punch – Sham Pain
BABYMETAL – Distortion
Bleeding Through – Fade Into The Ash
Northlane – Heartmachine
Jonathan Davis – Basic Needs
Napalm Death – Standardization
Sevendust – Medicated
Woes – HLB2
Sink The Ship – Out of Here
Homesafe – Run
SHVPES – Undertone
I, The Mapmaker – Disbelief (ft. Justine Jones of Employed to Serve)
Dream Awake – Dispersion
DZ Deathrays – Guillotine
Delta Sleep – El Pastor
Seán McGowan – Cuppa Tea[/hoot_one_half][hoot_one_half last="yes"]Astpai – Best Years
In Dynamics – Happy & Honest
Sun Arcana – Fracture (Acoustic)
Gloo – Holiday
Halo Tora – Man of Stone (Featuring Solareye)
The Human Project – That One Percent
10 Years – Burnout
The Paradox Twin – Planeta
Lucifer – California Son
Graveyard – The Fox
The Adicts – Fucked Up World
LICE – Little John Waynes
Roseview – Leap
Gold Steps – Suckerpunch
Black Fast – Cloak of Lies
Bridge The Border – Congratulations ft. Christopher Vernon
Liquid State – Dirty Little Preachers
Hammers – Speak of the Devil[/hoot_one_half]
Tour News
Slayer with Lamb of God, Anthrax and Obituary
November
1st 3 Arena, Dublin
3rd SSE Arena Wembley, London
5th Motorpoint Arena, Cardiff
7th Birmingham Arena, Birmingham
9th Manchester Arena, Mandy
10th Metro Radio Arena, Newcastle
12th SSE Hydro, Glasgow
Cancer Bats
June
9th Cavern, Exeter
10th The Junction, Plymouth
12th Chinnerys, Southend
13th The Old Fire Station, Bournemouth
14th The Booking Hall, Dover
itoldyouiwouldeatyou will host The Queer Escape on Friday 18th May at Brighton Electric.
itoldyouiwouldeatyou
The Spook School
Nervus
Flirting
Alison Rumfitt
+ more TBA
65daysofstatic (performing 'Decomposition Theory')
November
19th The Contemporary, Nottingham
20th Village Underground, London
21st Band Studios, Bristol
22nd CCA, Glasgow
23rd Howard Assembly Room, Leeds
24th Sage 2, Gateshead
Petal
November
6th Hope & Ruin, Brighton
7th The Islington, London
9th Crofters, Bristol
11th Hare & Hounds, Birmingham
12th Gullivers, Manchester
13th Oporto, Leeds
14th Hug & Pint, Glasgow
The Dali Thundering Concept With Nexilva
July
2nd Exchange, Bristol
3rd The Black Heart, London
4th The Hairy Dog, Derby
Graveyard
November
30th Leadmill, Sheffield
December
1st Key Club, Leeds
2nd Rescue Rooms, Nottingham
3rd G2, Glasgow
5th Scala, London
6th Academy 3, Manchester
7th O2 Academy 3, Birmingham
8th Thekla, Bristol
Earthless with Ruby The Hatchet
July
29th Hare & Hounds, Birmingham
30th Classic Grand, Glasgow
31st Brudenell Social Club, Leeds
August
1st The Haunt, Brighton
Esprit D'Air
September
2nd Boston Music Room, London
In The News
Album/EP Releases
May:
25th:
William Ryan Key – Thirteen EP (The Lone Tree Recordings)
1. Old Friends
2. Vultures
3. Form and Figure
4. Thirty Days
5. Great Unknown
Pass Away – The Hell I've Always Seen
June:
1st:
Derek Ted – Hourglass Sand EP
15th:
Ness Lake – Kicking (Take This To Heart)
22nd:
Nine Inch Nails – Bad Witch
1. Shit Mirror
2. Ahead of Ourselves
3. Play the Goddamned Part
4. God Break Down the Door
5. I'm Not From This World
6. Over and out
Astpai – True Capacity (Through Shield Recordings (UK/EU) & Jump Start Records (US))
29th:
Homesafe – One (Pure Noise Records)
The Paradox Twin – The Importance Of Mr Bedlam (White Star Records)
The Forgotten Age – Paradigm EP
1. Faith
2. Remember
3. Relent
4. Paradigm
July:
6th:
Shvpes – Mixtapes 1 (Search and Destroy/Spinefarm Records)
1. Undertones
2. Calloused Hands
3. I'm Stuck
4. War
Maypine – Bend/Break EP
1. Give
2. Kodokushi
3. Weather
4. Together Alone
GLOO – A Pathetic Youth
1. Holiday
2. No Sh*t Sally
2. 3. Force You
4. Hit It
5. Let Me Have Some
6. Pig
7. Say Yes
8. Act My Age
9. Dripping Wet
10. P*ssheads
The Human Project – Clarion Call
Liquid State – Save Yourself EP
1. Temper
2. Bones To Glass
3. Unscathed
4. Dirty Little Preachers
5. After Hours
13th:
Black Fast – Spectre Of Ruin (Entertainment One)
1. Cloak of Lies
2. Silhouette Usurper
3. Scarecrow and Spectre
4. Phantom I Am
5. Mist of Ruin
6. Temple of Leviathan
7. Famine Angel
8. Crescent Aberration
9. Husk
29th:
Late Bloomer – Waiting (6131 Records)
1. Complacency
2. Sleeve
3. Heaven
4. January
5. Not The Same
6. Listen
7. All I Need
8. The Truth
9. Make It Go Away
10. Life Is Weird
August:
10th:
Static Fires – Thirteen
Festival News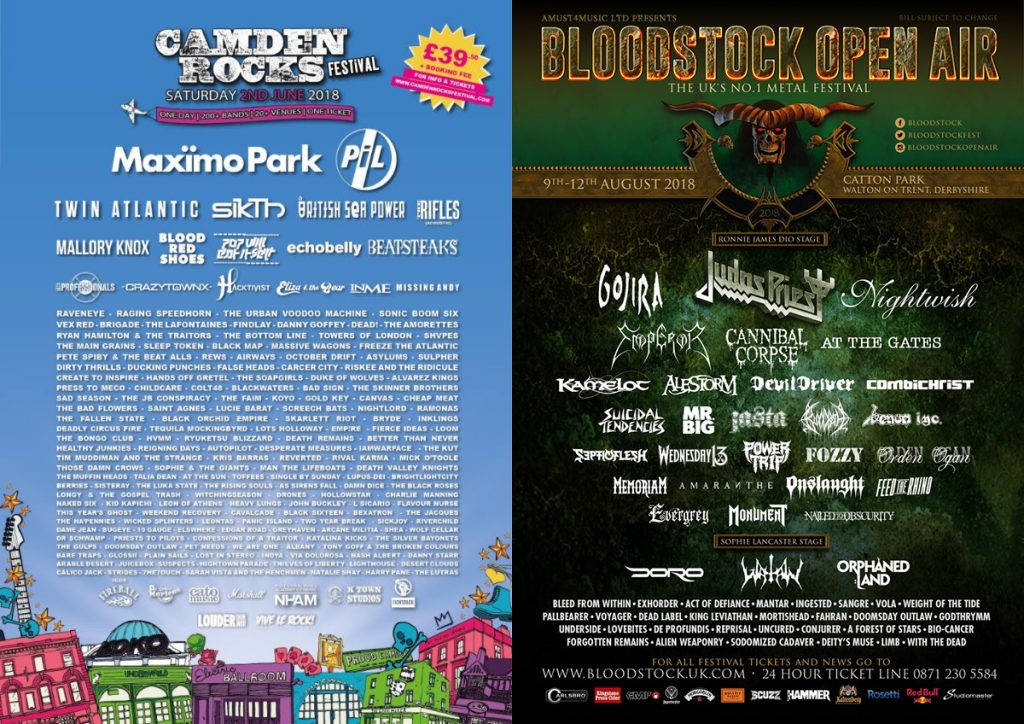 Nailed To Obscurity, Evergrey, Monument, Sodomized Cadaver, Deity's Muse, Limb, and With The Dead are the latest names to be Bloodstock 2018.
55 names have been added to the Camden Rocks Festival:
Missing Andy, INME, Findlay, Pete Spiby & the Beat Alls, October Drift, The SoapGirls, Bryde, Reigning Days, Reverted, Berries, Longy & The Gospel Trash Drones, Hollowstar, Kid Kapichi, Leon Of Athens, Heavy Lungs, John Buckley, Flavour Nurse, BeXatron, The Jacques, The Ha'pennies, Missing Andy, Panic Island, Two Year Break, Sickjoy, 10 Gauge, Elswhere, Edgar Road, Greyhaven UK, As Sirens Fall, Arcane Militia, Wolf Cellar, Dr Schwamp, Priests to Pilots, Confessions of a Traitor, Katalina Kicks, The Silver Bayonets, Doomsday Outlaw, Pet Needs, We Are One, Albany, Tony Goff & The Broken Colours Glossii, Plain Sails, Lost In Stereo, Indya, Scrubs, Arable Desert, Juicebox Suspects, Hightown Parade, Thieves Of Liberty, Lighthouse, Desert Cloud, Those Damn Crows, Danny Starr, Mick O'Toole and The Lutras.