Every weekend Already Heard gives you a rundown of what you have missed in the music world in the past seven days. 'In Case You Missed It' is your go-to source to find out all the latest tour news and music and video releases.
Don't forget to "Like Us" on Facebook for regular news updates.
New Music
Albums/EPs
Fatherson – Sum of All Your Parts Reimagined EP

Spotify | Apple Music | YouTube | Deezer
Tour News
The Xcerts
March
29th Beat Generator, Dundee
30th SWG3, Glasgow
31st The Key Club, Leeds
April
8th Portland Arms, Cambridge
9th The Garage, London
11th Castle and Falcon, Birmingham
12th The Loft, Southampton
13th Condorde 2, Brighton
14th The Fleece, Bristol
Puppy
April
17th Joiners, Southampton
18th The Exchange, Bristol
19th The Flapper, Birmingham
20th Star and Garter, Manchester
21st Garage Attic, Glasgow
22nd Think Tank, Newcastle
23rd Bodega Social Club, Nottingham
24th Brundenell Social Club, Leeds
25th Underworld, London
Press To MECO
February
25th Rescue Rooms, Nottingham
26th Hyde Park Book Club, Leeds
27th Jimmy's, Manchester
28th Poetry Club, Glasgow
March
1st The Victoria, Birmingham
4th The Brunswick, Brighton
5th SixtySixty Sounds, London (sold out)
6th SixtySixty Sounds, London (sold out)
Guided By Voices
June
5th Village Underground, London
MONO with Arabrot and Jo Quail
May
4th The Haunt, Brighton
5th Handmade Festival, Leicester
6th Gorilla, Manchester
Press Club
April
16th Frog & Fiddle, Cheltenham
17th Hy-Brasil, Bristol
18th Think Tank? Underground, Newcastle
19th Sneaky Pete's, Edinburgh
20th Manchester Punk Festival
May
2th The Islington, London
3th Dark Horse, Birmingham
4th Liverpool Sound City, Liverpool
5th Stag & Dagger, Glasgow
8th Cardiff, Clwb Ifor Bach
The Picturebooks
May
3rd Asylum 2, Birmingham
5th King Tuts, Glasgow
6th Cluny 2, Newcastle
8th Deaf Institute, Manchester
9th Exchange, Bristol
10th Underworld, London
Blanket
February
23rd Harris Museum Art Gallery & Library, Preston (performing 'How To Let Go' in full)
The Treatment
May
22nd The Slade Rooms, Wolverhampton
23rd Hanger 18, Swansea
24th The Underworld, London
25th The Waterfront, Norwich
27th The Portland, Cambridge
29th Corporation, Sheffield
30th Rebellion, Manchester
31st Stereo, Glasgow
June
1st The Brickyard, Carlisle
2nd The Cluny, Newcastle
Symphony X
4th Empire, Coventry
5th Picturedrome, Holmfirth
6th Electric Ballroom, London
In The News
Drummer Michael "Moose" Thomas (formerly of Bullet For My Valentine) has teamed up with singer James Clark (Throw The Fight), guitarists Jordan Whelan (Still Remains) and Travis Montgomery (Threat Signal), and bassist Davey Richmond (Glamour Of The Kill) to form a new band called Kill The Lights.
Lansing, Michigan's crushing rock/metal band Of Virtue have joined SharpTone Records.
Topshelf Records have welcomed Brooklyn-based group Bellows.
Liverpool quintet Decay have signed to Fox Records.
Album/EP Releases
January
25th:
Driver Friendly – Ceremony EP (Hopeless Records)
February:
1st:
Guided By Voices – Zeppelin Over China
Kevin Devine / Cavetown – Devinyl Splits No. 11
Kevin Devine – Only Yourself
Cavetown – Devil Town
Reconciler – Set Us Free (A-F Records)
1. Honest Words
2. Constants
3. All We Have
4. January
5. Just Say It
6. Rust
7. Take It Away
8. Just Wanna Play Rock n Roll
9. Don't Cry
10. Not What I Used To Be
11. Damn The Weather
8th:
August Burns Red – Phantom Sessions EP (Fearless Records)
1. Midnight
2. The Legend of Zelda
3. Laniakea
4. Coordinates (Reprise)
5. The Frost (Midi Version)
15th:
Press To MECO – Acoustic EP (Marshall Records)
Starve To Survive – Have Me to Waste EP
1. Tremor
2. Dismal (feat. Harry Rule)
3. Back & Forth
4. Twinge
5. Dread
6. Have Me to Waste
22nd:
Exitwounds – Visions EP (SharpTone Records)
1. Visions
2. Hades
3. Transparency
4. Medusa
5. Choices
6. Scars
Bellows – The Rose Gardener (Topshelf Records)
1. Housekeeping
2. Accidents Happen
3. In Silence
4. Rosebush
5. Stupidest Thing
6. Innocent in Ignorance
7. Denouement
8. What Can I Tell You About the World?
9. Gather Ye Rosebuds
10. The Rose Gardener
11. Judgment
12. The Tower
13. Count 'Em Down
March:
1st:
Masked Intruder – III (Pure Noise Records)
1. No Case
2. Mine All Mine
3. All of My Love
4. Just So You Know
5. I'm Free (At Last)
6. Please Come Back To Me
7. B & E
8. Maybe Even
9. Not Fair
10. Stay With Me Tonight
11. Dream a Little Dream
12. I'll Be Back Again Someday
Our Nameless Boy – Tomorrow I'll Be Scared Again EP (Beth Shalom Records)
Westkust – Westkust (Run For Cover / Luxury)
8th:
Zebrahead – Brain Invaders (MFZB Records)
1. When Both Sides Suck, We're All Winners
2. I Won't Let You Down
3. All My Friends are Nobodies
4. We're Not Alright
5. You Don't Know Anything About Me
6. Chasing the Sun
7. Party on the Dancefloor
8. Do Your Worst
9. All Die Young
10. Up in Smoke
11. Ichi, Ni, San, Shi
12. Take A Deep Breath (And Go Fuck Yourself)
13. Better Living Through Chemistry
14. Bullet on the Brain
22nd:
The Mute Gods – Atheists and Believers (InsideOut Music)
1. Atheists and Believers
2. One Day
3. Knucklehead
4. Envy the Dead
5. Sonic Boom
6. Old Men
7. The House Where Love Once Lived
8. Iridium Heart
9. Twisted World, Godless Universe
10. I Think Of You
29th:
The Xcerts – Wildheart Dreaming EP (Raygun Records)
1. You Mean Everything
2. Ready to Call
3. Fight or Run
4. Real Love
April:
26th:
Belzebubs – Pantheon of the Nightside Gods (Century Media)
Festival News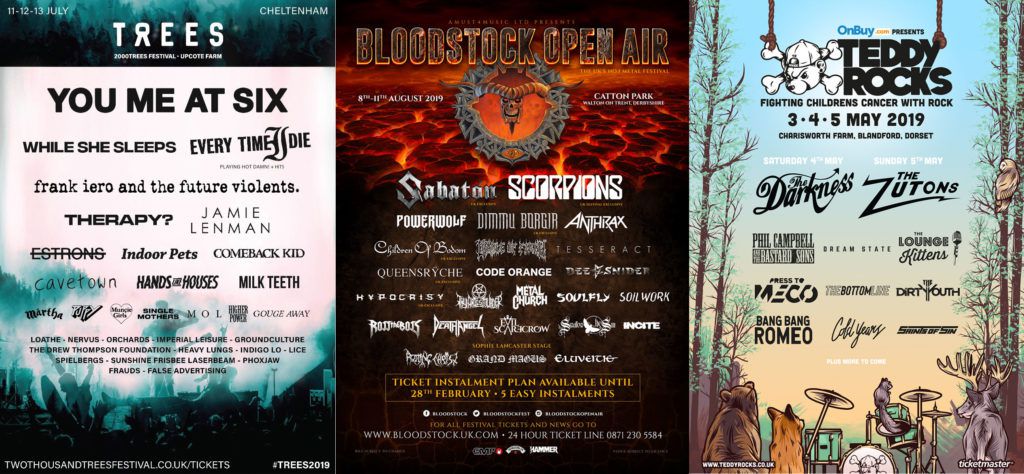 You Me At Six have been announced as the first headliners for this year's 2000 Trees Festival.
The other names part of the first announcement are: While She Sleeps, Every Time I Die (playing 'Hot Damn' in full), Frank Iero and the Future Violents, Therapy?, Jamie Lenman, Comeback Kid, Estrons, Indoor Pets, Cavetown, Hands Like Houses, Milk Teeth, Martha, Puppy, Muncie Girls, Single Mothers, Møl, Higher Power, Gouge Away, Loathe, Nervus, Orchards, Imperial Leisure, GroundCulture, The Drew Thompson Foundation, Heavy Lungs, Indigo Lo, Lice, Spielbergs, Sunshine Frisbee Laserbeam, Phoxjaw, Frauds and False Advertising.
Powerwolf, Soulfly, Incite and Swallow The Sun have been added to this year's Bloodstock Open Air Festival.
The latest additions to the Teddy Rocks Festival have been announced: Phil Campbell And The Bastard Sons, Dream State, The Lounge Kittens, Press To Meco, The Bottom Line, The Dirty Youth, Bang Bang Romeo, Cold Years, Saints of Sin