Every weekend Already Heard gives you a rundown of what you have missed in the music world in the past seven days. 'In Case You Missed It' is your go-to source to find out all the latest tour news and music and video releases.
Don't forget to "Like Us" on Facebook for regular news updates.
New Music
Albums/EPs

Spotify | Apple Music | YouTube | Deezer
Songs

New Videos
Tour News
Parkway Drive
January
29th O2 Apollo, Manchester
31st Motorpoint Arena, Nottingham
February
1st Motorpoint Arena, Cardiff
2nd Alexandra Palace, London
You Me At Six with Marmozets and The Xcerts
November
22nd O2 Academy, Birmingham
23rd Victoria Warehouse, Manchester
27th Barrowland, Glasgow
30th O2 Academy Brixton, London
December
1st University Great Hall, Cardiff
Black Peaks with Bossk and Gold Key
October
11 Empire, Belfast
12 Grand Social, Dublin
13 Cluny, Newcastle
14 King Tuts, Glasgow
16 Cockpit, Leeds
17 Academy 3, Manchester
18 Hare and Hounds, Birmingham
19 Underworld, London
20 The Plug, Sheffield (Festiville)
21 Forty Two, Worthing
Less Than Jake and Reel Big Fish
October
30th O2 Forum Kentish Town, London
31st O2 Forum Kentish Town, London
November
2nd O2 Academy, Bournemouth
3rd Rock City, Nottingham
4th O2 Academy, Bristol
6th O2 Academy, Newcastle
8th O2 Academy, Leicester
9th O2 Academy, Liverpool
10th University, Leeds
11th O2 Academy, Birmingham
13th UEA, Norwich
14th O2 Ritz, Manchester
15th O2 ABC, Glasgow
17th Button Factory, Dublin
18th Button Factory, Dublin
Bury Tomorrow with 36 Crazyfists and Cane Hill
December
11th SWX, Bristol
12th O2 Institute, Birmingham
13th Garage, Glasgow
14th O2 Ritz, Manchester
15th O2 Forum Kentish Town, London
Boston Manor with Microwave, Drug Church & Wallflower)
September
21st Thekla, Bristol
22nd Electric Ballroom, London
23rd Mama Roux's, Birmingham
24th Rescue Rooms, Nottingham
26th Hangar 34, Liverpool
27th SWG3, Glasgow
28th Key Club, Leeds
29th Gorilla, Manchester
Deafheaven with Inter Arma
September
30th The Fleece, Bristol
October
1st Gorilla, Manchester
2nd Art School, Glasgow
3rd Stylus, Leeds
5th ULU, London
Black Stone Cherry with The Cadillac Three and Monster Truck
December
6th Motorpoint Arena, Cardiff
7th Metro Radio Arena, Newcastle
9th SECC, Glasgow
10th Arena, Manchester
11th Arena, Birmingham
13th First Direct Arena, Leeds
14th The SSE Arena Wembley, London
Tesseract with Between The Buried & Me and Plini
November
27th SWX, Bristol
28th Academy 2, Manchester
29th Garage, Glasgow
30th O2 Institute, Birmingham
December
1st O2 Shepherd´s Bush Empire, London
2nd Tivoli, Dublin
The Amity Affliction with The Plot In You, Dream State, and Endless Heights)
October
2nd O2 Academy 2, Birmingham
3rd Church, Leeds
4th The Electric Ballroom, London
5th Queen Margaret Union, Glasgow
6th Welly:One, Hull
7th Academy 2, Manchester
8th SWX, Bristol
Chelsea Grin with Oceano, Kublai Khan and Enterprise Earth
September
24th The Dome, London
25th The Fleece, Bristol
26th Rebellion, Manchester
27th G2, Glasgow
28th The Asylum, Birmingham
Greta Van Fleet
November
9th Kentish Town Forum, London
11th Kentish Town Forum, London
14th O2 Academy, Birmingham
15th The Academy, Manchester
A (performing 'Hi-Fi Serious' in full with Wheatus and InMe)
November
12th Concorde 2, Brighton
13th Rock City, Nottingham
14th Academy 2, Manchester
15th Riverside, Newcastle
16th Garage, Glasgow
17th SWX, Bristol
19th Waterfront, Norwich
20th Y Plas, Cardiff
21st O2 Shepherds Bush Empire, London
Corrosion Of Conformity and Orange Goblin with Fireball Ministry & Black Moth
October
26th Engine Rooms, Southampton
27th The Institute, Birmingham
28th Rock City, Nottingham
30th The Ritz, Manchester
November
1st O2 ABC, Glasgow
2nd The Plug, Sheffield
3rd Cardiff University Great Hall, Cardiff
4th The Forum, London
Astpai with Harker
August
14 Sticky Mike's Frog Bar, Brighton
15 The Lock Tavern, London
16 Exchange, Bristol
17 Fuel Cafe, Manchester
18 The Big Top, Cardiff
In The News
Epitaph Records have added Thrice to their roster.
WSTR have joined Hopeless Records.
Dead! will be splitting up after a farewell show at The Underworld in London on October 5th.
Album/EP Releases
July:
20th:
Jungle Rot – Jungle Rot (Victory Records)
1. Send Forth Oblivion
2. Delusional Denial
3. A Burning Cinder
4. Triggered
5. Fearmonger (featuring Schmier)
6. Stay Dead
7. Glory For The Fallen
8. Pumped Full Of Lead
9. Twisted Mind
10. Terrible Certainty (Kreator)
27th:
No Better – It Felt Like Glass (No Sleep Records)
1. Poise & Light
2. My Love Says Always
3. Remember This
4. Seconds Race
5. Still
6. Waver
7. Cordova
8. Jets
9. Keep You Closer
10. What I Really Need
11. It Felt Like Glass
August:
3rd:
Eat Defeat – I Think We'll Be OK (Bearded Punk Records)
10th:
Deaf Havana – Sinner (SO Recordings)
1. Wake
2. Sinner
3. Ritual
4. Hell
5. Holy
6. Saviour
7. Fear
8. Pure
9. Evil
10. Heaven
11. Worship
12. Saint
13. Epiphany
24th:
NOTHING – Dance On The Blacktop (Relapse Records)
1. Zero Day
2. Blue Line Baby
3. You Wind Me Up
4. Plastic Migraine
5. Us/We/Are
6. Hail On Palace Pier
7. I Hate The Flowers
8. The Carpenters Son
9. (HOPE) Is Just Another Word With A Hole In It
31st:
WSTR – Identity Crisis (Hopeless Records)
1. Tell Me More
2. Crisis
3. Bad to the Bone
4. Promiscuous
5. The Latest
6. Silly Me
7. Fling
8. Hide Everything Sharp
9. See You In Hell
10. Ashtray
11. Riddle Me This
IDLES – Joy as an Act of Resistance (Partisan Records)
1. Colossus
2. Never Fight a Man With a Perm
3. I'm Scum
4. Danny Nedelko
5. Love Song
6. June
7. Samaritans
8. Television
9. Great
10. Gram Rock
11. Cry To Me
12. Rottweiler
September:
7th:
Boston Manor – Welcome To The Neighbourhood (Pure Noise Records)
1. Welcome to The Neighbourhood
2. Flower In Your Dustbin
3. Halo
4. England's Dreaming
5. Funeral Party
6. Digital Ghost
7. Tunnel Vision
8. Bad Machine
9. If I Can't Have It No One Can
10. Hate You (Kids With Matches)
11. FY1
12. Stick Up
13. The Day That I Ruined Your Life
14th:
Vennart – To Cure A Blizzard Upon A Plastic Sea (Medium Format)
1. Binary
2. Donkey Kong
3. Immortal Soldiers
4. The Wave
5. Friends Don't Owe
6. Spider Bones
7. Sentientia
8. That's Not Entertainment
9. Diamond Ballgag
10. Robots In Disguise
The Dirty Nil – Master Volume (Dine Alone Records)
October:
5th:
You Me At Six – VI (Underdog Records/AWAL)
1. Fast Forward
2. Straight To My Head
3. Back Again
4. Miracle In The Mourning
5. 3AM
6. I O U
7. Pray For Me
8. Predictable
9. Danger
10. Losing You
Black Peaks – All That Divides (Rise Records/BMG)
1. Can't Sleep
2. The Midnight Sun
3. Electric Fires
4. Aether
5. Across the Great Divide
6. Home
7. Eternal Light
8. Slow Seas
9. Fate I & II
Festival News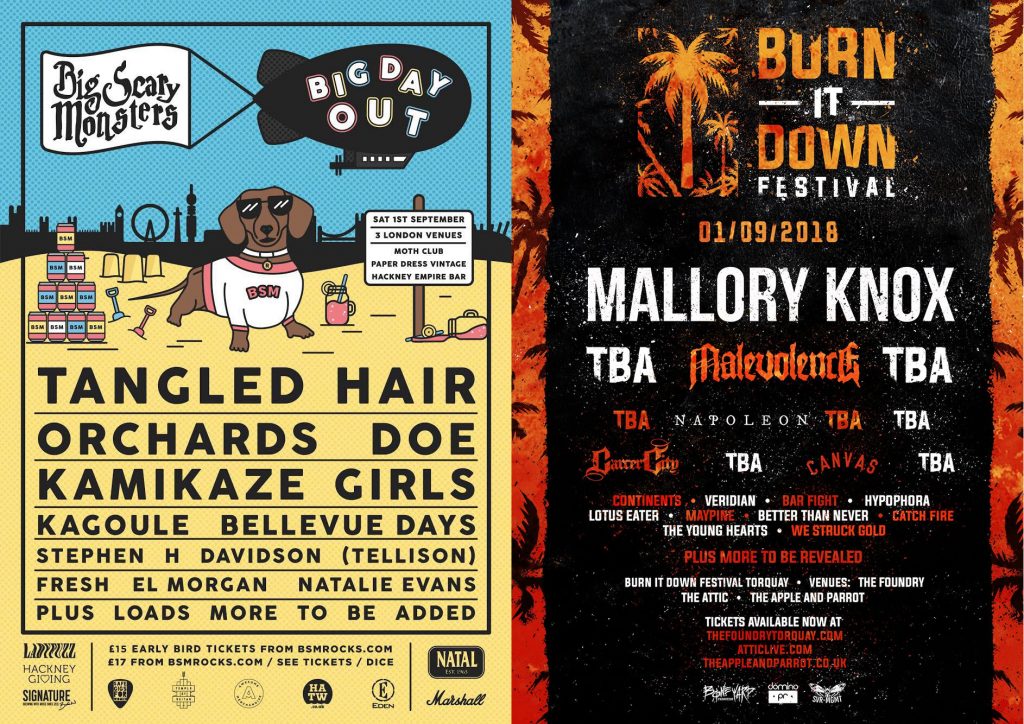 Big Scary Monsters Records will host the inaugural BSM's Big Day Out on Saturday 1st September. It will include twenty of the label's favourite artists and will take place across three unique East London venues – Moth Club, Paper Dress Vintage and Hackney Empire Bar.
Tangled Hair, Doe, Kagoule, Kamikaze Girls, Orchards, Bellevue Days, Fresh, Stephen H Davidson (Tellison), El Morgan, and Natalie Evans with more to be announced.
The first names for the Burn It Down festival have been announced. It is a new event taking place across The Foundry, The Attic and The Apple and Parrot in Torbay on 1st September:
Mallory Knox, Malevolence, Napoleon, Carcer City, CANVAS, Continents, Veridian, Bar Fight, Hypophora, Lotus Eater, Maypine, Better Than Never, Catch Fire, The Young Hearts, and We Struck Gold.
Camden Rocks 2019 will take place across two days – Saturday 1st and Sunday 2nd June.