Every weekend Already Heard gives you a rundown of what you have missed in the music world in the past seven days. 'In Case You Missed It' is your go-to source to find out all the latest tour news and music and video releases.
Don't forget to "Like Us" on Facebook for regular news updates.
New Music
Albums/EPs
Holy Pinto – Adult
If Only, If Only – If Only, If Only EP

Spotify | Apple Music | YouTube
[hoot_toggle title="New Songs"][hoot_one_half]
The Xcerts – Ready To Call
Andy Black – Ghost Of Ohio
Bouncing Souls – Favorite Everything
Free Throw – Today Is Especially Delicious
Periphery – Garden In The Bones
The Hold Steady – The Last Time That She Talked To Me
The Mountain Goats – Cadaver Sniffing Dog
Dream State – Hand In Hand
Soeur – No Show
Heavy Rapids – Infected Nightmares (Frankenstein)
illuminati hotties – I Wanna Keep Yr Dog[/hoot_one_half][hoot_one_half last="yes"]Harker – Flex Yr Head
The Drew Thomson Foundation – Break
Caracara – Better
Paws – The Watering Hole
HALFNOISE – Who Could You Be
Liily – I Can Fool Anybody In This Town
Field Medic – used 2 be a romantic
Nightmarathons – Waiting Room
Resolve – Pendulum
Blushhh – All My Friends
Crabe – Festival[/hoot_one_half][/hoot_toggle]
[hoot_toggle title="New Videos"][hoot_one_half]The Get Up Kids – Satellite
Defeater – Mothers' Sons
Of Mice & Men – How To Survive
The Raven Age – The Day the World Stood Still
We Never Learned To Live – Android Anaesthetist
Mark Morton – Cross Off ft. Chester Bennington
Fatherson – Ghost
Black Futures – Me.TV ft. Bobby Gillespie
Man With A Mission – Left Alive
Youth Fountain – Ache
The Bottom Line – Gone
The Skints – Learning To Swim
Borders – War
Royal Republic – Fireman & Dancer
The Fallen State – American Made
Defences – Shatter
From Sorrow To Serenity – Reclaim
Cellar Darling – Drown
Savage Messiah – Under No Illusions
Deadthrone – Feel
Sunsleeper – Soften Up
Charly Bliss – Chatroom
Fontaines D.C. – Roy's Tune
Nothing Ever Forever – Buried[/hoot_one_half][hoot_one_half last="yes"]Holy Pinto – Adult #1
Port Noir – Young Bloods
Fleshgod Apocalypse – Sugar
Truth Corroded – Victims Left Lepers
Witching Waves – Eye 2 Eye
Soen – Covenant
TV COMA – Have A Party
Slow Crush – Dive
Micah Erenberg – Somewhere Beyond the Ocean
Scream Blue Murder – Bury Me
Dead Girls Academy – Far Away
Anthem – Black Empire
Dboy – Dboy For President
Inlaze – Normal
Anthem – Bad Habits Die Hard (live)
Life Pilot – Dark, Dark, Goose
Windwaker – My Empire
Vanity – Humane
Crooked Royals – Rumination
Deference – Burial
Illyria – Kenopsia
Eight Days – Sink
Hanged At Sunset – The Living Dead[/hoot_one_half][/hoot_toggle]
[hoot_toggle title="Tour News"][hoot_one_half]Converge with Terror, Sect and Candy
July
1st Electric Ballroom, London
2nd The Ritz, Manchester
Of Mice & Men
August
26th The Underworld, London
Stone Temple Pilots
June
12th O2 Academy, Glasgow
13th O2 Forum Kentish Town, London
Trash Boat with Capstan, Dollskin and Woes
September
12th O2 Institute 2, Birmingham
13th O2 Islington Academy, London
14th Stylus, Leeds
15th G2, Glasgow
17th Oh Yeah Centre, Belfast *
18th Workmans Club, Dublin *
* without Dollskin and Woes
I Prevail with Palisades
June
17th SWG3, Glasgow
18th O2 Ritz, Manchester
20th Electric Ballroom, London
Black Flag
October
7th Electric Ballroom, London
8th The Mill, Birmingham
9th The Waterfront, Norwich
11th Engine Rooms, Southampton
12th The Tramshed, Cardiff
13th Academy 2, Manchester[/hoot_one_half][hoot_one_half last="yes"]itoldyouiwouldeatyou supporting Hellogoodbye
May
21st O2 Academy, Birmingham
22nd The Sound House, Dublin
23rd King Tuts Wah Wah Hut, Glasgow
24th Bush Hall, London
Chapter and Verse with Delaire, the Liar
May
14th Forum Basement, Tunbridge Wells
16th Thousand Island, London
17th Parish, Huddersfield
19th Night People, Manchester
20th Red Room, Nottingham
22nd Sunflower Lounge, Birmingham
23rd Hy-Brasil, Bristol
24th Underground, Plymouth
Crystal Lake
June
18th Star And Garter, Manchester
19th Boston Music Room, London
The Spook School
August
30 Henry's Cellar Bar, Edinburgh
31 The Cumberland Arms, Newcastle
September
1st Gullivers, Manchester
2nd Brudenell Social Club, Leeds
3rd Exchange, Bristol
4th Green Door Store, Brighton
5th Moth Club, London
6th Rough Trade, Nottingham
7th The Art School, Glasgow
Borders
May
3rd Rebellion, Manchester
4th Fuel, Cardiff
6th Green Door Store, Brighton
7th Joiners, Southampton
8th 229, London
9th Subside, Birmingham
10th Alberts, Nottingham
11th Liquor, Lincoln
12th 13th Note, Glasgow[/hoot_one_half][/hoot_toggle]
In The News
Keith Flint of The Prodigy has died. He was 49 years old.
Feed The Rhino will be splitting up after a final show at The Underworld in London on May 17th.
Lo-fi punk/shoegaze duo Kamikaze Girls have changed their name to Cultdreams.
Rude Records have welcomed Salt Lake City quintet Sunsleeper.
Alcopop! Records have announced that they have signed masked rock and roll trio DBOY.
Portland, Oregon death metallers Vitriol have joined Century Media Records.
Finnish metalcore five-piece Atlas are the latest addition to Long Branch Records' roster.
Scottish indie-pop band The Spook School have announced they will be splitting following a farewell tour in August/September.
Arising Empire have welcomed Manchester metalcore group Deadthrone to their roster.
Post-death metallers Oceans have joined Nuclear Blast.
Album/EP Releases
April:
19th:
Crooked Royals – Rumination
26th:
Illyria – The Carpathian Summit
Deference / Vanity – Condemned To Repeat EP
May:
10th:
Defeater – Defeater (Epitaph Records)
1. The Worst Of Fates
2. List & Heel
3. Atheists In Foxholes
4. Mothers' Sons
5. Desperate
6. All Roads
7. Stale Smoke
8. Dealer / Debtor
9. No Guilt
10. Hourglass
11. No Man Born Evil
The Get Up Kids – Problems (Big Scary Monsters (UK) / Polyvinyl Records)
1. Satellite
2. The Problem Is Me
3. Salina
4. Now Or Never
5. Lou Barlow
6. Fairweather Friends
7. Common Ground
8. Waking Up Alone
9. The Advocate
10. Symphony of Silence
11. Brakelines
12. Your Ghost Is Gone
The Skints – Swimming Lessons (Easy Star / Mr Bongo)
May:
17th:
Savage Messiah – Demons (Century Media)
24th:
Fleshgod Apocalypse – Veleno (Nuclear Blast)
31st:
Royal Republic – Club Majesty (Nuclear Blast)
August:
9th:
Slipknot – TBA
Festival News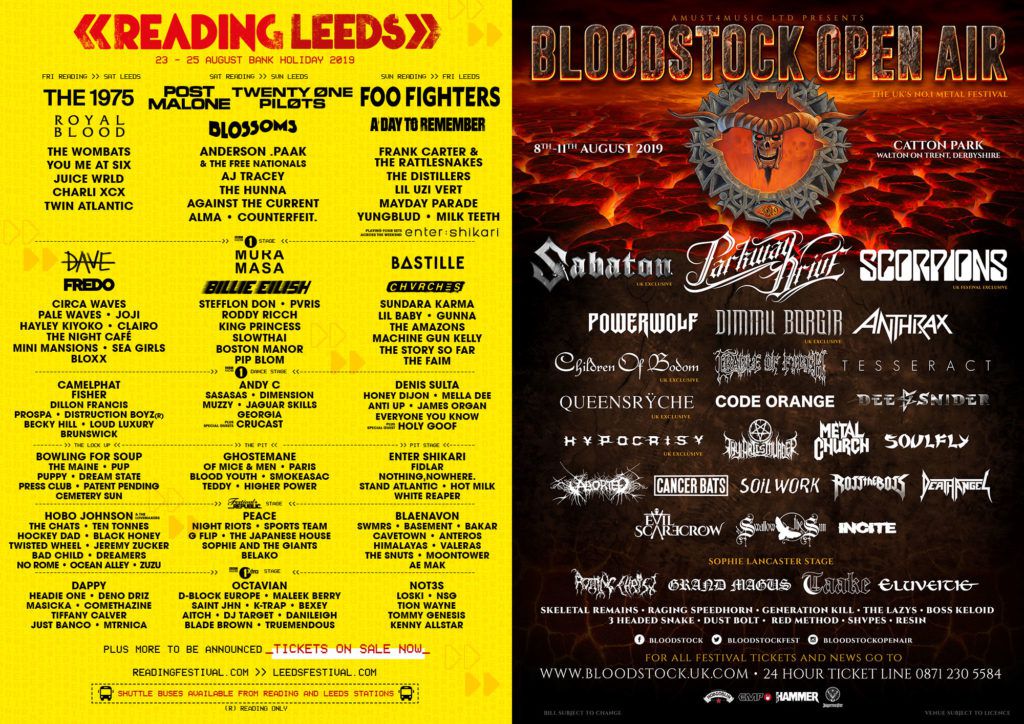 Over 70 names have been added to this summers Reading and Leeds Festival including:
Basement, Blood Youth, Boston Manor, The Faim, Fidler, Higher Power, Hot Milk, Mayday Parade, Milk Teeth, Press Club, Pup, Puppy, Of Mice and Men, Patent Pending, Stand Atlantic, and SWMRS.
Aborted, Skeletal Remains, The Lazys, 3 Headed Snake, Boss Keloid, Dust Bolt and Red Method are the latest additions to this year's Bloodstock Festival.