Every weekend Already Heard gives you a rundown of what you have missed in the music world in the past seven days. 'In Case You Missed It' is your go-to source to find out all the latest tour news and music and video releases.
Don't forget to "Like Us" on Facebook for regular news updates.
New Music
Albums/EPs
Single Mothers – Through A Wall
The Hold Steady – Confusion in the Marketplace b / w T – Shirt Tux
Attan – End of.
Bersa – Anhedonia
Tour News
Creeper
November
1st KOKO, London
Slash Ft. Myles Kennedy & The Conspirators
February
16th O2 Apollo, Manchester
17th SEC Hall 3, Glasgow
19th The Dome, Doncaster
20th Eventim Apollo, London
You Me At Six
October
4th New Slang at Przym, Kingston-Upon-Thames. All ages and 18+ show's. (Full band)
6th Rough Trade East, London (Signing + Acoustic)
7th Sound Knowledge, Marlborough (Signing + Acoustic)
8th HMV, Birmingham (Signing + Acoustic)
8th Jacaranda, Liverpool (Phase One) (Signing + Acoustic)
9th HMV, Manchester (Signing + Acoustic)
9th Action, Preston (Signing + Acoustic)
10th Jumbo, Leeds (Signing + Acoustic)
11th HMV, Glasgow (Signing + Acoustic)
Black Peaks
October
5th Album Launch Show, The Omera, London (SHOW ONLY)
6th Resident Records, Brighton (signing) / Idle Hands, Brighton (show)
7th Banquet Records, Kingston (signing) / Fighting Cocks, Kingston (show)
8th Record Junkee, Sheffield (signing and show)
9th Rough Trade, Nottingham (signing and show)
16th Jumbo, Leeds (SIGNING ONLY)
Turnstile with Wicca Phase Springs Eternal and Big Cheese
October
23rd The Globe, Cardiff
24th Classic Grand, Glasgow
25th The Mill, Birmingham
26th House of Vans, London
27th Rebellion, Manchester
WSTR supported by Between You And Me and Hey Charlie
December
7th Underworld London
9th Exchange, Bristol
10th O2 Academy 3, Birmingham
11th Deaf Institute, Manchester
13th Key Club, Leeds
14th Classic Grand, Glasgow
15th Think Tank, Newcastle
Pagan with Phoxjaw
November
20th Old Blue Last, London
21st Mothers Ruin, Bristol
22nd Satan's Hollow, Manchester
23rd Key Club, Leeds
24th The Actress & Bishop, Birmingham
PVMNTS with The Bottom Line
November
27th The Fleece, Bristol
28th Engine Rooms, Southampton
29th Rebellion, Manchester
30th The Key Club, Leeds
December
1st O2 Institute 3, Birmingham
2nd Think Tank, Newcastle
3rd King Tuts, Glasgow
5th The Underworld, London
6th Open, Norwich
HalfNoise
November
5th Night & Day, Manchester
6th King Tuts Wah Wah Hut, Glasgow
7th Moth Club, London
Rise Of The Northstar and Dope D.O.D.
November
30th Corporation, Sheffield
December
1st ULU, London
The Run Up with The Moms
October
1st Subside, Birmingham
2nd Temple Of Boom, Leeds
3rd The Cavern, Exeter
4th Mulberry Tavern, Sheffield
5th The Bobbin, Lancaster
7th Keynes Craufurd Arms, Milton
8th Slaughtered Lamb, London
9th Broadcast, Glasgow
10th Eagle Inn, Manchester
11th Mother's Ruin, Bristol
12th The Alma Inn, Bolton
The Wild
November
7th The Black Heart, London
8th The Station, Cannock
9th Hangar 18, Swansea
10th Hard Rock Hell, Pwllheli
The Hard Aches
October
5th Le Pub, Newport
6th TBC, Leeds
7th The Exchange, Bristol – matinee show
8th The Old Blue Last, London
Neshiima with Titan Breed
September
29th Stereo, Glasgow*
October
13th Soundhouse, Leicester*
15th Lounge 41, Workington
16th Little Buildings, Newcastle
17th The Junction, Plymouth
18th Subside, Birmingham
20th Temple of Boom, Leeds
21st Sitwell Tavern, Derby
*Neshiima only
To The Rats And Wolves
March
22nd Boston Music Room, London
23rd Deaf Institute, Manchester
In The News
Drummer Fil Thorpe-Evans is leaving Neck Deep.
Australian trio Stand Atlantic have joined Hopeless Records.
Northlane bassist and founding member Alex Milovic has announced his departure from the band.
California based alternative post-rock band Convey have joined Revival Recordings.
Manic Kat Records have signed post-hardcore/alternative group Pyrite Sidewalk.
Album/EP Releases
September
28th:
Kevin Devine and Petal – Devinyl Splits No. 9 (Bad Timing Records)
1. Petal – You Got Lucky (Tom Petty Cover)
2. Kevin Devine – Into The Great Wide Open (Tom Petty Cover)
October:
5th:
Poets of the Fall – Ultraviolet
1. Dancing on Broken Glass
2. My Dark Disquiet
3. False Kings
4. Fool's Paradise
5. Standstill
6. The Sweet Escape
7. Moments Before the Storm
8. In a Perfect World
9. Angel
10. Choir of Cicadas
12th:
Stranger Ranger – How It All Went By EP (Tiny Engines)
1. New Hair
2. I Want It To Be Dark
3. The Wires
4. Remember
5. Birdies
19th:
Greta Van Fleet – Anthem of The Peaceful Army (Virgin EMI/Lava Records)
1. Age of Man
2. The Cold Wind
3. When The Curtain Falls
4. Watching Over
5. Lover Leaver (Taker Believer)
6. You're The One
7. The New Day
8. Mountain of the Sun
9. Brave New World
10. Anthem
As Everything Unfolds – As Everything Unfolds EP
Delayed Departure – Your Colours EP
26th
Stand Atlantic – Skinny Dipping (Hopeless Records)
1. Lavender Bones
2. Bullfrog
3. Skinny Dipping
4. Speak Slow
5. Cigarette Kiss
6. Lost My Cool
7. Toothpick
8. Burn In The Afterthought
9. Clay (feat. Hannah Greenwood)
10. Roses
Antarctigo Vespucci – Love in the Time of E-Mail (Big Scary Monsters / Polyvinyl)
1. Voicemail
2. Kimmy
3. White Noise
4. Breathless On DVD
5. The Price Is Right Theme Song
6. So Vivid!
7. Freakin' U Out
8. All These Nights
9. Not Yours
10. Do It Over
11. Another Good Thing
12. Lifelike
13. E-Mail
Typesetter – Nothing Blues (6131 Records)
1. Monogamy I (Gliss Happening)
2. Real Conversations With Imaginary Friends
3. Regardless
4. See The Light
5. Technicolor
6. Monogamy II (Bad Actor)
7. Only
8. White Noise
9. Marigold
10. Viva
Boys Of Fall – Better Moments (InVogue Records)
Fifth Angel – The Third Secret (Nuclear Blast)
November:
2nd:
Metallica – …And Justice For All (30th anniversary edition) (full details)
Napoleon – Epiphany (Basick Records)
Why Everyone Left – This Is Not A Test EP
1. Pick You Up
2. Stand By
3. Bouch
4. Whiskey & Coke
5. Dead Inside
9th:
Ohhms – Exist (Holy Roar Records)
Sunshine Frisbee Laserbeam – Blackout Cowboy (By The Time It Gets Dark)
1. Running From My Ghost
2. All The Way Over The Edge (Bros Don't Talk About Anything)
3. Meatloaf To The Camera
4. Adult Memory Oww
5. Blackout Cowboy
6. Mrs JR Hartley
7. MK Ultra
8. Mind Control
Cult Leader – A Patient Man (Deathwish)
1. I Am Healed
2. Curse of Satisfaction
3. Isolation in the Land of Milk and Honey
4. To Achlys
5. A World Of Joy
6. Craft of Mourning
7. Share My Pain
8. Aurum Reclusa
9. A Patient Man
10. The Broken Right Hand of God
Cold Night For Alligators – Fervor (Long Branch Records)
1. Violent Design
2. Drowning Light
3. Canaille
4. Black Swan
5. Nocturnal
6. Entangled
7. Get Rid Of The Walls
8. Wilderness
9. The Proposition
10. Soulless City (feat. Andreas Bjulver Paarup of Cabal)
11. Coloured Bones
12. Infatuated
16th:
Catch Fire – Karma Owes Me a Lifetime of Happiness (Rude Records)
1. Petrifaction
2. Malignance
3. Fault Line
4. Stabbing Pains
5. How Heavily I Breathe
6. Heist
7. Bad Behaviour
8. For Those Who Fear Death
9. Hostage
10. Agnostic
11. Third Person
P.O.D. – Circles (Mascot Records/Mascot Label Group)
1. Rockin' With The Best
2. Always Southern California
3. Circles
4. Panic Attack
5. On The Radio
6. Fly Away
7. Listening For The Silence
8. Dreaming
9. Domino
10. Soundboy Killa
11. Home
Phoxjaw – Goodbye Dinosaur… EP
1. The Great Dying
2. Triceratops
3. Lottery
4. Weapons
5. Dinosaur Bones
6. Plastic Wedding
Portrayal Of Guilt – Let Pain Be Your Guide (Holy Roar Records/Gilead Media)
1. Daymare
2. Among Friends
3. A Burden
4. Let Pain Be Your Guide
5. Your War
6. Chamber of Misery (Pt. II)
7. Life Holds Nothing
8. The Hunger
9. Death Is Gentle
10. Until We're Dust
Karg – Dornenvögel (AOP Records)
1. Drangsal
2. La tristesse durera toujours
3. Petrichor
4. L'apelle du vide
5. Meine Freiheit war ihr Tod
6. F 19.5
7. Heimat bist du tiefster Winter
8. Advent
December:
7th:
Jaret Reddick and Kelly Ogden – Jaret and Kelly Sittin' In A Tree
January
18th:
The Twilight Sad – It Won/t Be Like This All The Time (Rock Action Records)
1. 10 Good Reasons for Modern Drugs
2. Shooting Dennis Hopper Shooting
3. The Arbor
4. VTr
5. Sunday Day13
6. I/m Not Here [missing face]
7. Auge_Maschine
8. Keep It All To Myself
9. Girl Chewing Gum
10. Let's Get Lost
11. Videograms
Festival News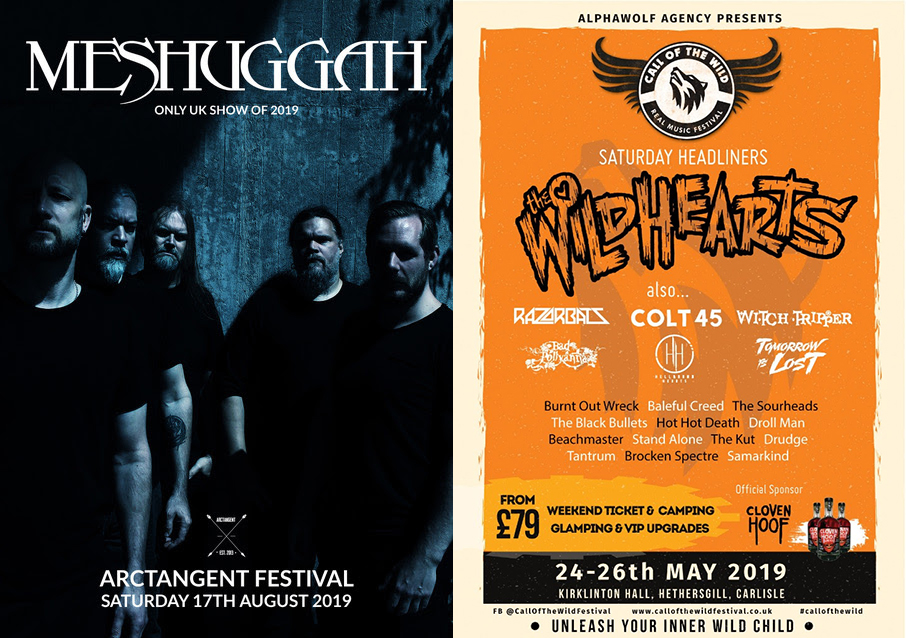 Swedish progressive metal pioneers Meshuggah have been announced as the first headliner for next year's ArcTanGent Festival.
The Wildhearts will headline the Saturday night at the Call Of The Wild Festival 2019. It's a new three-day festival taking place at Kirklinton Hall in Carlisle. Set to take place from From 24th – 26th May, it will consist of over 70 bands across three stages for three days.
Other names announced so far include: Razorbats, COLT 45, The Virginmarys (Friday night headliners), WitchTripper, The Kut, Drudge, Tantrum, Hellbound Hearts, Bad Pollyanna, Burnt Out Wreck, Baleful Creed, The Sourheads, The Black Bullets, Tomorrow is Lost, Stand Alone, Samarkind, Hot Hot Death, Droll Man, Beachmaster and Brocken Spectre.