Every weekend Already Heard gives you a rundown of what you have missed in the music world in the past seven days. 'In Case You Missed It' is your go-to source to find out all the latest tour news and music and video releases.
Don't forget to "Like Us" on Facebook for regular news updates.
New Music
Albums/EPs
No Sleep Records – Bummer Summer 2018 Compilation

Spotify | Apple Music | YouTube | Deezer
Songs

New Videos
Tour News
Youth Killed It
October
6th Aatma, Manchester
7th Epic, Norwich
9th Subside, Birmingham
10th Hy-Brasil, Bristol
12th Notting Hill Arts Club, London
In The News
No Sleep Records have welcomed Michigan based rock band Forest Green and New England based post-hardcore band Actor Observer.
Canadian emo band Castlefield have joined Penultimate Records.
Long Branch Records have signed German deathcore quintet Walking Dead On Broadway.
Album/EP Releases
July:
August:
3rd:
Tides on Man – Every Nothing
1. Static Hymn
2. Mercury Fields
3. New Futures
4. Far Off
5. Old 88
6. Waxwing
7. Keep Telling Yourself
8. Everything Is Fine, Everyone is Happy
9. Death is No Dread Enemy
10. Outside Ourselves
11. Mosaic
12. Infinite Ceiling
24th:
Actor Observer – Pareidolia (No Sleep Records)
1. Tyranny of the Remembering Self
2. The Devil You Know
3. Pendulum Days
4. Reprieve
5. Reuptake
6. In Your Ways
7. Low and Beholden
8. Well Being
9. On Your Laurels
10. Dilettante
11. Pareidolia
31st:
Throat – Bareback (Svart Records)
September:
14th:
Anna's Anchor – Everybody's Welcome (Failure By Design Records)
1. Executive Summary
2. 8 Hours in Stanstead
3. White Washed Corridor
4. Precautionary
5. Four Quarters Interlude
6. 50 States
7. Johnny Cash Was A Punk
8. Summer Camp
9. For The Parish
10. Appendix A B C
Living With Lions – Island (No Sleep Records)
1. All The Same (Intro)
2. Second Narrows
3. Tidal Wave
4. Dusty Records
5. The Remedy
6. On A Rope
7. Interlude
8. Plastic Flowers
9. Night Habits
10. Hastings Sunrise
11. Another Ordinary Summer
12. Island
21st:
Nosound – Allow Yourself (Kscope)
October:
5th:
Redwood – Lay Your Love Down EP (Failure By Design Records)
1. In Your Arms
2. Mother
3. Denaline
4. Magnolia
5. Yellowstone
Youth Killed It – What's So Great, Britain? (Rude Records)
Festival News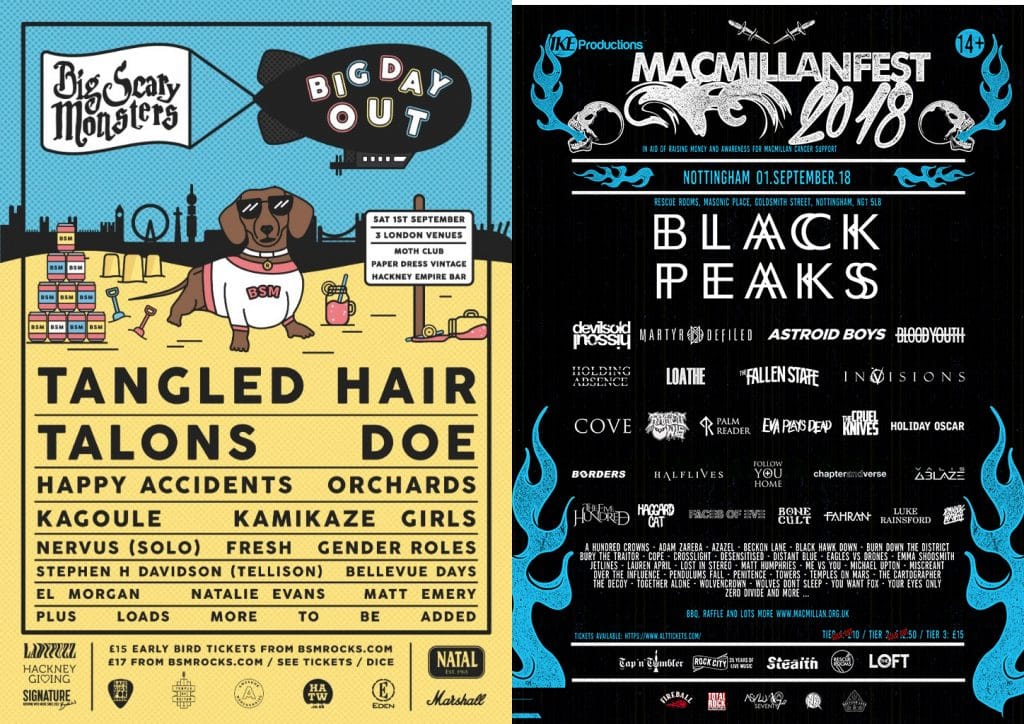 TALONS, Happy Accidents, Nervus (Em solo), Gender Roles, and Matt Emery have been added to Big Scary Monsters' event. It'll take place across three unique East London venues – Moth Club, Paper Dress Vintage and Hackney Empire Bar – on Saturday 1st September 2018.
Macmillan Fest Nottingham has added The Fallen State, The Cruel Knives, Valis Ablaze, Holiday Oscar, Luke Rainsford and Danny Wright to this year's lineup.