Every weekend Already Heard gives you a rundown of what you have missed in the music world in the past seven days. 'In Case You Missed It' is your go-to source to find out all the latest tour news and music and video releases.
Don't forget to "Like Us" on Facebook for regular news updates.
New Music
Albums/EPs
The Maple State – The Motorbike & The Closest Of Calls

Spotify | Apple Music | YouTube | Deezer
Songs

New Videos
Tour News
The Story So Far with Citizen and All Get Out
October
5th SWX, Bristol
6th 02 Forum, London
7th 02 Institute, Birmingham
9th Beckett SU, Leeds
10th Garage, Glasgow
11th Riverside, Newcastle
12th 02 Ritz, Manchester
13th Engine Rooms, Southampton
Against The Current
September
17th SWX, Bristol
18th Engine Rooms, Southampton
19th Waterfront, Norwich
21st o2 Institute, Birmingham
22nd University Stylus, Leeds
23rd o2 Ritz, Manchester
27th Riverside, Newcastle
29th Kentish Town Forum, London
Three Days Grace
October
1st Pyramids Centre, Portsmouth
2nd Rock City, Nottingham
4th O2 Institute, Birmingham
5th St Phillips, Bristol
7th O2 Shepherds Bush Empire, London
8th O2 ABC, Glasgow
9th O2 Ritz, Manchester
Eskimo Callboy and Attila
October
17th Engine Rooms, Southampton
18th The Fleece, Bristol
19th Islington Academy O2, London
20th Riverside, Newcastle
21st Classic Grand, Glasgow
22nd Club Academy, Manchester
23rd The Asylum 2, Birmingham
Haggard Cat
June
12th The Junction, Plymouth
13th Joiners, Southampton
14th Green Door Store, Brighton
15th Out of Key Studios, Gloucester
16th The Shed, Leicester
17th Harleys, Ayre
Dying Fetus with Carnifex, Toxic Holocaust, Goatwhore and Venom Prison
August
13th O2 Academy Islington, London
14th Club Academy, Manchester
Valis Ablaze and Unprocessed
June
30th The Maze, Nottingham
July
1st Exchange, Bristol
2nd Subside, Birmingham
3rd Black Heart, London (main support to Nexilva and The Dali Thundering Concept)
Arch Echo and Schiermann
June
30th Thousand Island, London
July
1st Hope & Ruin, Brighton
2nd Le Pub, Newport
3rd Subside, Birmingham
4th Garage Attic, Glasgow
5th Satan's Hollow, Manchester
Danny Wright
May
29th The Eagle Inn, Manchester
30th Fox and Newt, Leeds
31st Scruffy Murphys, Birmingham
June
1st Suburbia, Southampton
2nd Tamesis Dock, London (Matinee Show)
In The News
According to TMZ, The Used have filed a restraining order against their former guitarist, Justin Shekoski.
Long-serving bassist and backup vocalist, Devin "Ghost" Sola, has left Motionless In White. Thomas "TJ" Bell (former MIW and currently in Escape The Fate) will be filling in bass duties for all forthcoming tour dates.
Chelsea Grin have parted ways with frontman Alex Koehler.
Album/EP Releases
June:
1st:
Tigress – Who Cares EP (LAB Records)
1. Paranoid
2. Bring Me Down
3. Over Your Love
4. Hangman
5. The Cycle
Head with Wings – From Worry To Shame
8th:
Eskimo Callboy – The Scene – Live in Cologne
15th:
Mayday Parade – Sunnyland (Rise Records)
1. Never Sure
2. It's Hard To Be Religious When Certain People Are Never Incinerated By Bolts Of Lightning
3. Piece Of Your Heart
4. Is Nowhere
5. Take My Breath Away
6. Stay The Same
7. How Do You Like Me Now
8. Where You Are
9. If I Were You
10. Satellite
11. Looks Red, Tastes Blue
12. Always Leaving
13. Sunnyland
22nd:
This Wild Life – Petaluma (Epitaph)
1. Figure It Out
2. Headfirst
3. Catie Rae
4. Positively Negative
5. Westside
6. Hold You Here
7. Come Back Down
8. College Kids
9. Never Believe
10. No Need For Novocaine
Tru – Growing Pains EP (Sniffling Indie Kids)
1. The Graduate
2. Growing Pains
3. Same Conversation, Different Day
4. Loneliness
5. Peace of Mind
29th:
The Interrupters – Fight the Good Fight (Hellcat Records)
1. Title Holder
2. So Wrong
3. She's Kerosene
4. Leap Of Faith
5. Got Each Other (feat. Rancid)
6. Broken World
7. Gave You Everything
8. Not Personal
9. Outrage
10. Rumors And Gossip
11. Be Gone
12. Room With A View
July:
6th:
Rope – Come Closer Now (Truthseeker Music and Flood Records)
1. Every Good Boy Deserves Food
2. Exit Interview
3. Human Resources
4. Manoeuvre
5. Port Talbot
6. The Rope
20th:
While She Sleeps – You Are We Special Edition
1. You Are We
2. Steal The Sun
3. Feel
4. Empire Of Silence
5. Wide Awake
6. Silence Speaks
7. Settle Down Society
8. Hurricane
9. Revolt
10. Civil Isolation
11. In Another Now
12. Feel (Alternative Version)
13. Silence Speaks (Alternative Version)
14. Hurricane (Alternative Version)
15. Civil Isolation (Demo)
16. Feel (Demo)
17. Fear In Change (Instrumental Demo)
18. I Am While She Sleeps
19. Lost Ideas
Wild Pink – Yolk In The Fur (Tiny Engines)
1. Burger Hill
2. Lake Erie
3. Yolk In The Fur
4. Civility At Gunpoint
5. Jewels Drossed In The Runoff
6. There Is A Ledger
7. The Seance On St. Augustine St.
8. John Mosby Hollow Drive
9. Love Is Better
10. All Some Frenchman's Joke
Festival News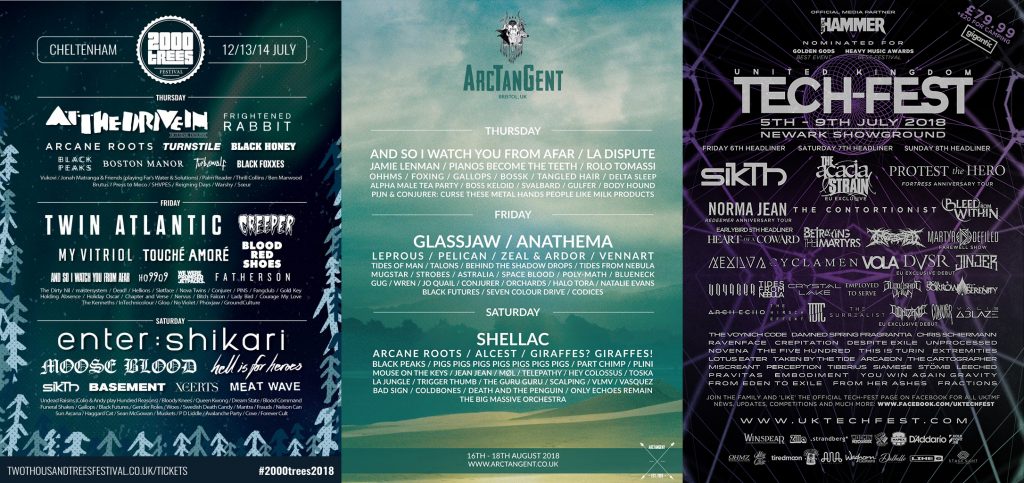 The fifth 2000trees Festival 2018 announcement has been made:
Sikth, We Were Promised Jetpacks, Meat Wave, Palm Reader, mastersystem, Courage My Love, The Kenneths, InTechnicolour, Woes, Mantra, Frauds, Nelson Can, GroundCulture, Avalanche Party, Cove, Reigning Days, PINS, Forever Cult and Swedish Death Candy.
15 more bands have been added to the line-up for ArcTanGent:
Anathema, Leprous, Tides From Nebula, Pigs Pigs Pigs Pigs Pigs Pigs Pigs, Part Chimp, Strobes, Astralia, Hey Colossus, Space Blood, Trigger Thumb, La Jungle, Toska, The Guru Guru, MUGSTAR, and The Big Massive Orchestra.
The final names for the UK Tech-Fest have been annouced:
Heart Of A Coward (Thursday headliner), Betraying The Martyrs, Ingested, Martyr Defiled (Farewell Show), Employed To Serve, From Sorrow To Serenity, Arch Echo, The Hirsch Effekt, The Dali Thundering Concept, Valis Ablaze, Ravenface, Novena, The Five Hundred, Extremities, Lotus Eater, Taken By The Tide, The Cartographer, Miscreant, Pravitas, Embodiment, From Eden To Exile, From Her Ashes And, and Fractions.