Every weekend Already Heard gives you a rundown of what you have missed in the music world in the past seven days. 'In Case You Missed It' is your go-to source to find out all the latest tour news and music and video releases.
Don't forget to "Like Us" on Facebook for regular news updates.
New Music
Albums/EPs
Neck Deep – In Bloom: Versions EP
Victory Kid – Thrillenials EP

Spotify | Apple Music | YouTube | Deezer
New Videos
Tour News
Behemoth with At the Gates and Wolves in the Throne Room
February
6th Motion, Bristol
7th O2 Institute, Birmingham
8th O2 Forum Kentish Town, London
9th O2 Ritz, Manchester
10th Vicar Street, Dublin
11th QM Union, Glasgow
Wolf Culture and Shaded
October
5th Singleshot, Leeds
7th Atomic, Wrexham
8th Subside, Birmingham
9th 229, London
10th The Avil, Bournemouth
Von Hertzen Brothers
December
2nd Planet Rockstock, Porthcawl
4th Thekla, Bristol
5th The Junction, Plymouth
6th O2 Academy, Oxford
7th Corporation, Sheffield
8th University, Newcastle
10th Wedgewood Rooms, Portsmouth
11th O2 Institute2, Birmingham
12th O2 Ritz, Manchester w/Uriah Heep
13th SWG3, Glasgow w/Uriah Heep
14th O2 Shepherd's Bush Empire, London w/Uriah Heep
15th Rock City, Nottingham w/Uriah Heep
16th City Hall, Hull w/Uriah Heep
In The News
Laura Jane Grace of Against Me! has started a new project called Laura Jane Grace & the Devouring Mothers. The band are set to release their debut record through Bloodshot Records in the Autumn. Further details are expected to be announced soon.
Press To MECO have postponed their forthcoming headline tour
Can't Swim have parted ways with drummer Andrea Morgan.
Royal Tusk have joined eOne.
Album/EP Releases
September:
7th:
Suicidal Tendencies – STill Cyco Punk After All These Years (Suicidal Records)
1. I Love Destruction
2. F.U.B.A.R.
3. All Kinda Crazy
4. Sippin' From the Insanitea
5. Its Always Something
6. Lost My Brain…Once Again
7. Nothin' To Lose
8. Gonna Be Alright
9. Ain't Gonna Get Me
10. All I Ever Get
11. Save A Peace For Me
Vodun – Ascend (New Heavy Sounds)
28th:
Palaye Royale – Boom Boom Room (Side B) (Sumerian Records)
1. Death Dance
2. Teenage Doors of Heartbreak
3. You'll Be Fine
4. Dying In A Hot Tub
5. Mrs Infamous
6. Hospital Beds
7. Love The Void
8. The Boom
Gouge Away – Burnt Sugar (Deathwish Inc.)
1. Only Friend
2. Fed Up
3. Slow Down
4. Hey Mercy
5. Subtle Thrill
6. Ghost
7. Dis s o c i a t i o n
8. Can't Relate
9. Stray/Burnt Sugar
10. Wilt (I Won't)
11. Raw Blood
The Arusha Accord – Juracan EP
1. Blackened Heart
2. Vultures
3. The Road (Amor Vincit Omnia – Part 1)
4. Beneath The Dule Tree
5. The Dark Pane
All Them Witches – ATW (New West Records)
October
5th:
Behemoth – I Loved You At Your Darkest (Nuclear Blast)
1. Solve
2. Wolves ov Siberia
3. God = Dog
4. Ecclesia Diabolica Catholica
5. Bartzabel
6. If Crucifixion Was Not Enough…
7. Angelvs XIII
8. Sabbath Mater
9. Havohej Pantocrator
10. Rom 5:8
11. We Are the Next 1000 Years
12. Coagvla
Hellogoodbye – S'Only Natural (Alcopop Records)
12th:
Basement – Beside Myself (Fueled By Ramen)
1. Disconnect
2. Be Here Now
3. Nothing Left
4. Ultraviolet
5. Keepsake
6. Changing Lanes
7. Stigmata
8. New Coast
9. Just A Life
10. Slip Away
11. Reason For Breathing
12. Right Here
Justin Courtney Pierre – In The Drink (Epitaph Records)
1. Undone
2. Anchor
3. I Don't Know Why She Ran Away
4. Moonbeam
5. Ready Player One
6. I'm a Liar
7. Sooner
8. Shoulder the Weight
9. In The Drink
10. Goodnight Hiroyuki
19th:
Crimson Throne – Of Void & Solitude (Apocalyptic Witchcraft)
26th:
Hakan – Vector (InsideOutMusic)
1. Clear
2. The Good Doctor
3. Puzzle Box
4. Veil
5. Nil By Mouth
6. Host
7. A Cell Divides
November:
2nd:
Drug Church – Cheer (Pure Noise Records)
1. Grubby
2. Strong References
3. Avoidarama
4. Dollar Story
5. Unlicensed Guidance Counselor
6. Weed Pin
7. Unlicensed Hall Monitor
8. Foam Pit
9. Conflict Minded
10. Tillary
Festival News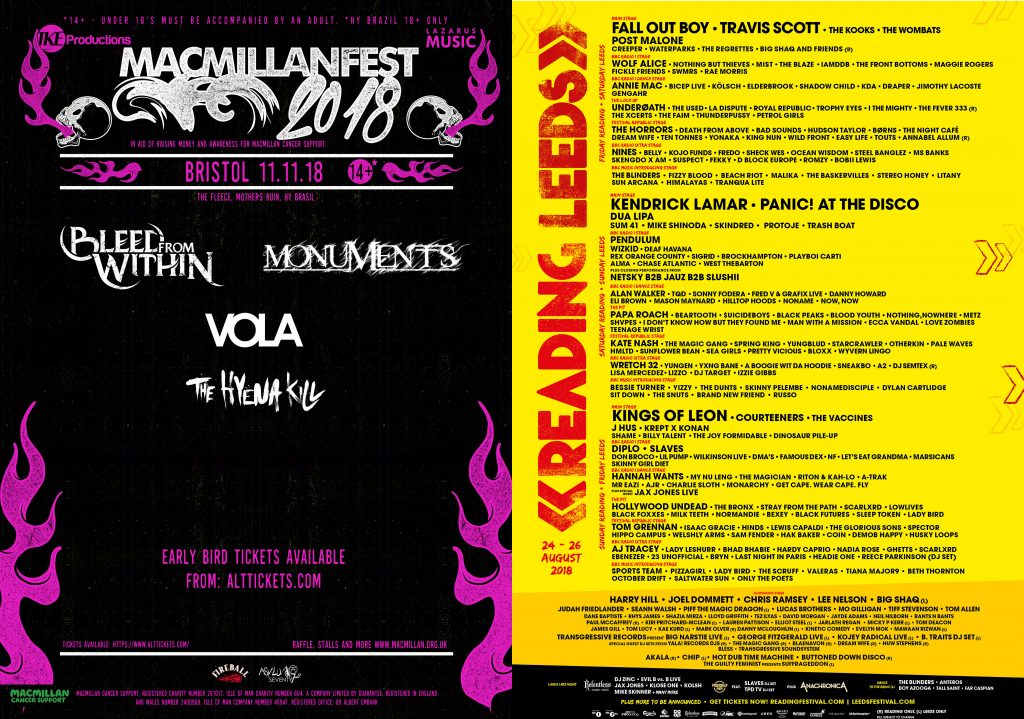 Bleed From Within, Monuments, VOLA and The Hyena Kill are the first names for Macmillan Festival Bristol have been announced. It will take place across three venues (The Fleece, Hy Brasil & The Mother's Ruin) on Sunday November 11t h. Tickets can be purchased here.
Fizzy Blood, Sun Arcana, and Sports Team are amongst the names announced for the BBC Music Introducing stage at Reading and Leeds Festival later this month.
Reading – Friday 24th August / Leeds – Saturday 25th August:
The Blinders
Fizzy Blood
Beach Riot
Malika
The Baskervilles
Stereo Honey
Litany
Sun Arcana
Reading – Saturday 25th August / Leeds – Sunday 26th August:
Yizzy
The Dunts
Skinny Pelembe
Nonamedisciple
Dylan Cartlidge
Sit Down
Reading – Sunday 26th August / Leeds – Friday 24th August:
Pizzagirl
Lady Bird
The Scruff
Valeras
Tiana Major9
Beth Thornton
October Drift