Every weekend Already Heard gives you a rundown of what you have missed in the music world in the past seven days. 'In Case You Missed It' is your go-to source to find out all the latest tour news and music and video releases.
Don't forget to "Like Us" on Facebook for regular news updates.
New Music
Albums/EPs
Laura Jane Grace & The Devouring Mothers – Bought To Rot
[hoot_toggle title="New Songs"][hoot_one_half]Panic! At The Disco – The Greatest Show
Buckcherry – Head Like A Hole (Nine Inch Nails cover)
Rival Sons – Back In The Woods
Light Years – Bottle Rocket
Skinny Lister – 38 Minutes
Spielbergs – 4AM
For I Am King – Home
Gardenside – My Bad
Overgrow – No Rain
Brutai – Upside Down
Swedish Death Candy – A Date with Caligula[/hoot_one_half][hoot_one_half last="yes"]Copeland – Pope
The Scene Aesthetic – Season
The Amorettes – Born to Break
River Fury – Comfort Is Being Fooled
Gamblers – Black Brick Road
Washer – Super Pop
Varsity – The Dogs Only Listen to Him
Varsity – UFO
When The World Sleeps – Legacy
Nanami Ozone – Alone Too
Sleeptalk – Apart From You[/hoot_one_half][/hoot_toggle]
[hoot_toggle title="New Videos"][hoot_one_half]Slipknot – All Out Life
Architects – Modern Misery
While She Sleeps – ANTI-SOCIAL
Alice In Chains – Never Fade
Black Peaks – Fate I
Prophets of Rage – The Ballot or the Bullet
Lacuna Coil – The House Of Shame (The 119 Show – Live In London)
Opeth – Ghost of Perdition (Live at Red Rocks Amphitheater)
Cursive – Life Savings
mewithoutYou – Julia (or, 'Holy to the LORD' on the Bells of Horses)
As It Is – The Reaper (ft. Aaron Gillespie)
Deaf Havana – Worship
Jamie Lenman – Mississippi Acoustic – Live At St Pancras)
Real Friends – Me First
Stand Atlantic – Skinny Dipping
Tiny Moving Parts – Feel Alive
Jonathan Davis – Basic Needs
August Burns Red – Dangerous
Pagan – Imitate Me
Blanket – Halloween Theme
Steady Hands – Indifferent Belushi
Perdo The Lion – Yellow Bike
Dave Hause – Lemon Hill
Seán McGowan – Romance Ain't Dead
Plague Vendor – Locomotive
Haggard Cat – Goldberg
Møl – JORD
Silent Planet – Visible Unseen
Annisokay – Escalators
[/hoot_one_half][hoot_one_half last="yes"]POLAR – Drive
Currents – Into Despair
Breathe Atlantis – My Supernova
TheCityIsOurs – Casket
Dead Reynolds – Dust
ALAZKA – Hearts Of Gold
Household – Superiority Complex
Charmer – Topanga Lawrence
Like A Storm – Pure Evil
A.A. Williams – Control
The Wild Things – Better Off Alone (The Garage Sessions)
Covet – howl
Hypophora – Sorcerers
Derange – Runaway
Famous Last Words – No Walls
Irk – Life Changing Porno
Spirit of the Beehive – Hypnic Jerks
Beans On Toast – Alexa
Gardenside – Bear On
Brent Walsh – Moon Creep
The Frights – Over It
Northshore – For What It's Worth
Rival Bones – Beautiful/Dangerous
All The Best Tapes – Water Palace Hyper Raceway
Azusa – Fine Lines
Flat Earth – Given Time
Spectral Fires – Just A Mirage
Downcast – I'm Sorry
Mason Hill – Hold On
Elyne – Stand Tall
XERO – Garden[/hoot_one_half][/hoot_toggle]
[hoot_toggle title="Tour News"][hoot_one_half]While She Sleeps with Stray From The Path and LANDMVRKS
February
26th Rock City, Nottingham
27th SWG 3, Glasgow
28th Beckett SU, Leeds
March
1st Roundhouse, London
KISS
July
9th Resorts World Arena, Birmingham
11th The O2, London
12th Arena, Manchester
14th Metro Radio Arena, Newcastle
16th The SSE Hydro, Glasgow
Escape The Fate ('This War Is Ours' ten-year anniversary tour)
January
24th Thekla, Bristol
25th Gorilla, Manchester
26th Rock City, Nottingham
27th Voodoo Lounge, Dublin
28th Limelight 2, Belfast
29th Garage, Glasgow[/hoot_one_half][hoot_one_half last="yes"]Milestones with Luke Rainsford and SHADED
January
18th Thousand Island, London
19th Night People, Manchester
Skinny Lister
February
28th Concorde 2, Brighton
March
1st Arts Centre, Norwich
2nd 1865, Southampton
6th Fleece, Bristol
7th King Tuts, Glasgow
8th Key Club, Leeds
9th Academy, Leicester
April
3rd The Mash House, Edinburgh
4th Riverside, Newcastle
5th Rescue Rooms, Nottingham
6th Club Academy 2, Manchester
10th Junction 1, Cambridge
11th Electric Ballroom, London
Spielbergs
February
11th Jimmy's, Manchester
12th The Garage (Attic Bar), Glasgow
13th Think Tank? Underground, Newcastle
14th Sunflower Lounge, Birmingham
15th Shacklewell Arms, London[/hoot_one_half][/hoot_toggle]
In The News
It seems Creeper have broken up after vocalist Will Gould told the crowd at their headline show at KOKO in London this past Thursday – "it's the last show that we'll ever do". At the end of their set, each member left their 'Callous Heart' jacket on stage with a black and white video montage ending with the message; "Even eternity ends."
Milestones have announced they are splitting up.
Post-hardcore band POLAR have joined Arising Empire. A new album is expected to be released in the spring.
London-based modern alternative quartet Elswhere have changed their name to Thousand Thoughts. They will be releasing a new single, 'Perspectives', on November 9th via Marshall Records.
Phoenix, Arizona post-rock quartet Nanami Ozone have joined Tiny Engines.
Run For Cover Records have welcomed Chicago based indie pop band Varsity to their roster.
Album/EP Releases
November:
30th:
Washer and Bethlehem Steel – Split 7″
1. Washer – Super Pop
2. Bethlehem Steel – Fake Sweater
3. Bethlehem Steel – Porky (Washer cover)
4. Washer – One Giant Fuck Machine (Bethlehem Steel cover)
December:
14th:
Currents – I Let The Devil In EP (Sharptone Records)
1. Into Despair
2. My Disguise
3. Feel The Same
4. The Rope
5. Forever Marked
6. Into Despair (Instrumental)
7. My Disguise (Instrumental)
8. Feel The Same (Instrumental)
9. The Rope (Instrumental)
10. Forever Marked (Instrumental)
Burning Vow – Burning Vow (Holy Roar Records & Church Road Records)
1. Apathy and Acceptance
2. Void of Obsession
3. Walls Around Earth
4. Alpha.Omega.Erasure
5. The Advocate
January:
18th:
Pedro The Lion – Phoenix (Big Scary Monsters / Polyvinyl)
1. Sunrise
2. Yellow Bike
3. Clean Up
4. Powerful Taboo
5. Model Homes
6. Piano Bench
7. Circle K
8. Quietest Friend
9. Tracing the Grid
10. Black Canyon
11. My Phoenix
12. All Seeing Eye
13. Leaving the Valley
Desert Clouds – Nothing Beyond The Cage
1. The Outcast Trail
2. Speed Of Light
3. Take Off
4. Under Tons
5. Overmore
6. The Judgement
7. Whistling In The Rain
25th:
Rival Sons – Feral Roots (Low Country Sound/Atlantic Record)
1. Do Your Worst
2. Sugar on the Bone
3. Back in the Woods
4. Look Away
5. Feral Roots
6. Too Bad
7. Stood By Me
8. Imperial Joy
9. All Directions
10. End of Forever
11. Shooting Stars
A.A. Williams – A.A. Williams EP (Holy Roar Records)
February:
1st:
Spielbergs – This Is Not The End (By The Time It Gets Dark)
1. Five On It
2. Distant Star
3. NFL
4. We Are All Going To Die
5. Familiar
6. You All Look Like Giants
7. Bad Friend
8. McDonald's (Please Don't Fuck Up My Order)
9. Sleeper
10. 4AM
11. S.K.
12. Forevermore
15th:
Northshore – For What It's Worth EP
1. Be Heard
2. Dependence
3. Shedding Skin (Featuring Christina Rotondo)
4. For What It's Worth
5. Summer
6. Conspiracy
March:
1st:
While She Sleeps – SO WHAT? (Sleeps Brothers / Spinefarm)
Skinny Lister – The Story Is… (Xtra Mile Recordings)
Queensrÿche – The Verdict
Festival News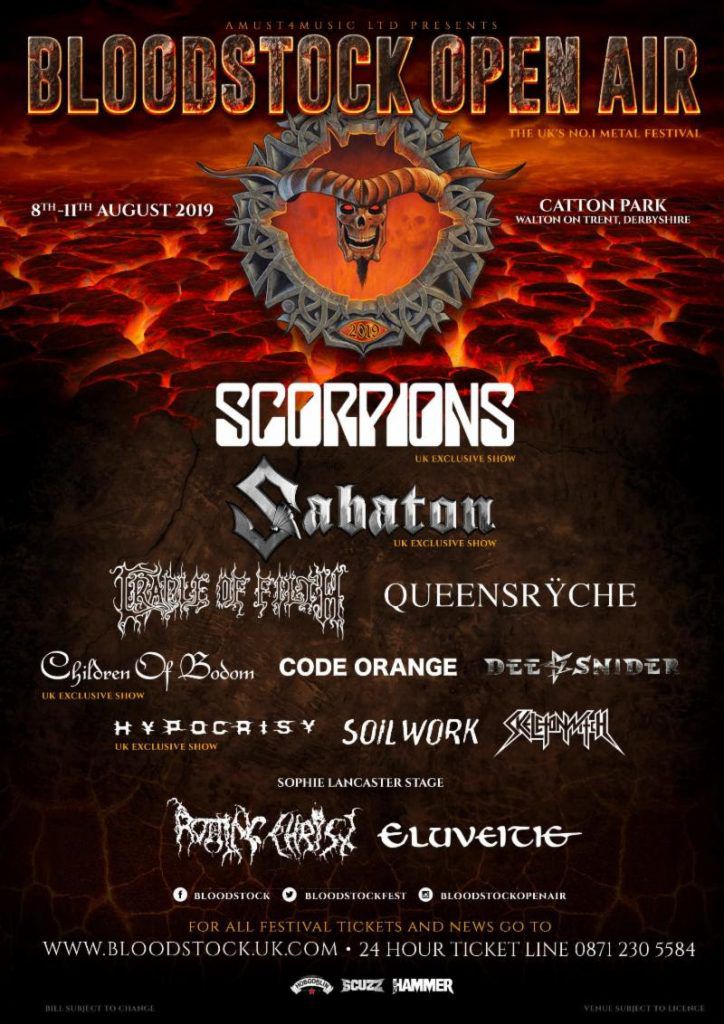 Code Orange, Skeletonwitch, Rotting Christ and Eluveitie are the latest additions to Bloodstock Open Air Festival 2019.