Every weekend Already Heard gives you a rundown of what you have missed in the music world in the past seven days. 'In Case You Missed It' is your go-to source to find out all the latest tour news and music and video releases.
Don't forget to "Like Us" on Facebook for regular news updates.
New Music
Albums/EPs
Ithaca – The Language Of Injury
Guided By Voices – Zeppelin Over China
Second Home – First Thoughts EP
Meanings – Everything's Fine EP

Spotify | Apple Music | YouTube | Deezer
Tour News
Devin Townsend
December
6th Academy, Dublin
7th Limelight, Belfast
9th SWG3 Galvanisers, Glasgow
10th Albert Hall, Manchester
12th Roundhouse, London
13th Rock City, Nottingham
Palm Reader and Lotus Eater supporting Blood Youth
March
1st Joiners, Southampton
2nd The Key Club, Leeds
3rd Audio, Glasgow
4th Think Tank, Newcastle
6th Star & Garter, Manchester
7th Mama Roux's, Birmingham
8th Underworld, London
Hop Along with Sidney Gish
June
9th Patterns, Brighton
11th Islington Assembly Hall, London
12th Brudenell Social Club, Leeds
13th The Centre for Contemporary Arts, Glasgow
14th Gorilla, Manchester
Norma Jean and Light The Torch supporting In Flames
March
3rd SWG3, Glasgow
4th O2 Ritz, Manchester
5th Roundhouse, London
6th Rock City, Nottingham
7th SWX, Bristol
9th UEA, Norwich
InMe
September
8th Exchange, Bristol
9th Cluny, Newcastle
10th Classic Grand, Glasgow
12th Hare and Hounds, Birmingham
13th Borderline, London
15th Deaf Institute, Manchester
16th Brudenell Social Club, Leeds
Green Lung supporting Puppy
April
17th The Joiners, Southampton
18th The Exchange, Bristol
19th The Flapper, Birmingham
20th The Star & Garter, Manchester
21st Garage Attic, Glasgow
22nd Think Tank, Newcastle
23rd Bodega Social Club, Nottingham
24th Brudenell Social Club, Leeds
25th Underworld, London
Badflower
April
8th Tufnell Park Dome, London
Breathe Atlantis and Flash Forward supporting Cheap Love
March
22nd Boston Music Rooms, London
23rd Deaf Institute, Manchester
In The News
Lincoln metallers Borders have joined Long Branch Records.
Album/EP Releases
February:
22nd:
grandson – a modern tragedy vol. 2 EP (Fueled By Ramen)
1. Apologize
2. Stigmata
3. Is This What You Wanted
4. Fallin (Temptation)
5. Darkside
March:
1st:
Source – Totality (Pavement Entertainment)
8th:
Black Coast – Ill Minds Vol 2 (Primordial Records)
22nd:
Dream Ritual – Trips Around The Sun EP
1. Breathe In
2. Faster
3. Trips Around The Sun Part 1
4. Trips Around The Sun Part 2
5. Outside Your Window
6. Stones
7. Shot In The Back
8. Breathe Out
April:
5th:
Martha – Love Keeps Keeping
1. Heart is Healing
2. Sight for Sore Eyes
3. Into This
4. Wrestlemania VIII
5. Mini Was a Preteen Arsonist
6. Love Keeps Kicking
7. Brutalism by the River (Arrhythmia)
8. Orange Juice
9. The Void
10. Lucy Shone a Light on You
11. The Only Letter That You Kept
26th:
The Mountain Goats – In League With Dragons (Merge Records)
1. Done Bleeding
2. Younger
3. Passaic 1975
4. Clemency for the Wizard King
5. Possum by Night
6. In League with Dragons
7. Doc Gooden
8. Going Invisible 2
9. Waylon Jennings Live!
10. Cadaver Sniffing Dog
11. An Antidote for Strychnine
12. Sicilian Crest
Craig Finn – I Need A New War (Partisan Records)
Death Blooms – You Are Filth EP
1. Crosses
2. Filth
3. Believe
4. Rotting Away
May:
3rd:
New Found Glory – From The Screen To Your Stereo 3 (Hopeless Records)
1. Cups
2. This Is Me
3. The Power Of Love
4. Let It Go
5. Accidentally In Love
6. A Thousand Years
7. Eye Of The Tiger
10th:
We Never Learned To Live – The Sleepwalk Transmissions (Holy Roar Records)
1. Permafrost
2. Android Anaesthetist
3. Human Antenna
4. The Clocks
5. Luma / Non Luma
6. Wounds Like Wires
7. Retreat Syndrome
8. From The Sixth Floor
9. Owari
10. Digitalis
11. Radio Silence
17th:
Black Label Society – Sonic Brew – 20th Anniversary Blend 5.99 – 5.19 (eOne)
Festival News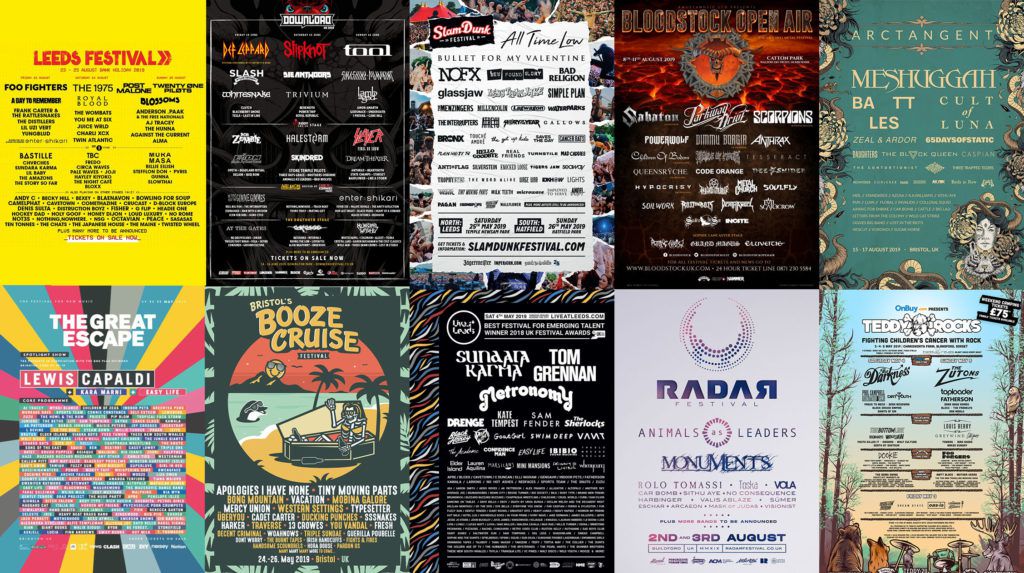 Over 40 bands have been added to the Download Festival:
Aaron Buchanan
, Alcest
, Animals as Leaders
, At The Gates
, Bad Wolves, 
Batushka, Beartooth, Behemoth, 
Black Peaks, 
Brothers Osborne, 
Cane Hill, 
Clutch, 
coldrain, 
Conjurer, 
Crystal Lake, 
Deadland Ritual, Enter Shikari, 
FEVER 333
, Godsmack, 
GroundCulture, 
Halestorm, 
Heart of a Coward, 
Icon For Hire
, Intervals, 
Last In Line
, Like A Storm, 
Lost In Stereo, 
Lovebites, 
Municipal Waste, 
Ne Obliviscaris, Palaye Royale, Parting Gift
, Redhook, 
Skid Row, 
Skynd, 
Stone Temple Pilots
, Sumo Cyco
, Those Damn Crows
, Three Days Grace
, Toska, Trash Boat, Twelve Foot Ninja, 
Vega, 
Wolfjaw
The first 39 acts for this years ArcTanGent Festival have been announced:
Battles, Cult of Luna, Zeal & Ardor, 65daysofstatic, The Black Queen, Daughters, Caspian, The Contortionist, Three Trapped Tigers, The Algorithm, Frontierer, Conjurer, Bossk, The Physics House Band, Møl, GosT, A,DK, Birds in Row, Car Bomb, Azusa, Pijn, Sithu Aye, LLNN, A.A.Williams, Letters From The Colony, Invalids, Standards, Collosal Squid, Aiming for Enrike, Floral, Cattle, Wild Cat Strike, Lost in the Riots, Big Lad, Voronoi, Ogives Big Band, Hexcut, and Sugar Horse.
Plain White T's, Hellogoodbye, Touche Amore, Tigers Jaw, Microwave, Wallflower, LIGHTS, Wage War, Employed To Serve and Our Hollow, Our Home have been added to this year's Slam Dunk Festival.
Parkway Drive have been announced as the final headliner for this year's Bloodstock Open Air Festival.
A Day To Remember, You Me At Six, Royal Blood, Frank Carter and the Rattlesnakes, Enter Shikari (playing four sets across the weekend), The Story So Far, Against The Current, The Maine and Cavetown are amongst the latest names announced for this year's Reading & Leeds Festival.
Bristol's Booze Cruise have announced its second wave of bands: Apologies, I Have None, Mercy Union, Vacation, Traverse, Cadet Carter, Sssnakes, Harker, Triple Sundae, Pardon Us, 13 Crowes & Handsome Scoundrels
VANT, Indoor Pets, Fatherson, Bloxx, Brand New Friend, Hot Milk, and Spielbergs are just some of the names added to Live at Leeds.
Brutus, Can't Swim, Bitch Falcon Hot Milk, Life, Pagan, Petrol Girls, and Haggard Cat are among the 100 acts that have been announced for Brighton's The Great Escape festival.
Jamie Lenman, Martha, Blood Youth, Can't Swim, Decade, Dream State, itoldyouiwouldeatyou, Fresh, Doe, Orchards, Estrons, Superlove, Frauds, JOHN, LIFE, Parting Gift, Petrol Girls, Yr Poetry are just some of the names to be announced for Leicester's Handmade Festival.
The final names for the Manchester Punk Festival have been announced:
Snuff, 88 Fingers Louie, Martha, Ancst, Authority Zero, Such Gold, Officer Down, Calvinball, Frankie Stubbs, F. Emasuclata and Sonic Boom Six.
Our Hollow, Our Home, Fatherson, Wolf Jaw, Greywind, BLOXX, Seán McGowan, Parting Gift, Black Orchid Empire, Youth Killed It, I, The Mapmaker, Wolf Culture and Death By Shotgun are amongst the latest bands to be announced for the Teddy Rocks 2019 festival.
The first wave of bands for a new Surrey, Guildford festival called Radar have been announced. It will take place on August 2nd and 3rd: Animals as Leaders, Monuments, Rolo Tomassi, Toska, VOLA, Car Bomb, Sithu Aye, No Consequence (one night only return), Harbinger, Valis Ablaze, Sumer, Eschar, Arcaeon, Mask of Judas and Visionist.