Every weekend Already Heard gives you a rundown of what you have missed in the music world in the past seven days. 'In Case You Missed It' is your go-to source to find out all the latest tour news and music and video releases.
Don't forget to "Like Us" on Facebook for regular news updates.
New Music
Tour News
Skindred
October
31st Empire, Coventry
November
1st Brickyard, Carlisle
2nd University SU, Newcastle
3rd Liquid Room, Edinburgh
4th Unit 51, Aberdeen
9th Old Fire Station, Bournemouth
10th Lemon Grove, Exeter
11th Wedgewood Rooms, Portsmouth
15th Tivoli, Buckley
16th Sugarmill, Stoke
17th Esquires, Bedford
18th Sin City, Swansea
22nd Picturedrome, Holmfirth
23rd Fibbers, York
24th Tramshed, Cardiff
29th Asylum, Hull
30th Engine Shed, Lincoln
December
1st Winterrocks Festival, Sheffield
7th Concorde 2, Brighton
13th Cheese & Grain, Frome
14th Roadmender, Northampton
15th O2 Academy, Liverpool
20th Junction, Cambridge
21st O2 Academy, Oxford
22nd O2 Academy, Leicester
Sleep Token
October
11th St Pancras Old Church, London (sold out)
Terror with Deez Nuts, Backtrack and Risk It!
December
2nd The Underworld, London
3rd The Underworld, London
Don't Worry with Brutalligators and All Better
November
8th The George, Hitchin
9th The Sebright Arms, London
10th The Pipeline, Brighton
11th The Blue Moon, Cambridge
Gouge Away supporting Culture Abuse
October
17th Joiners, Southampton
18th Actress & Bishop, Birmingham
19th Bodega, Nottingham
20th Key Club, Leeds
21st Hope & Ruin, Brighton
22nd Exchange, Bristol
23rd King Tuts, Glasgow
24th Star & Garter, Manchester
25th Boston Music Room, London
The Human Project
October
4th Exchange, Keighley w/ PMX
6th Old Town House, Warrington w/ PMX
11th New Cross Inn, London w/ PMX
12th The Junction, Plymouth w/ PMX
13th The Golden Lion, Bristol w/ PMX
November
15th The Windmill Inn, Ashford w/ Eat Defeat
December
21st The Key Club, Leeds w/ Consumed
Lucifer with Blood Of The Sun
October
13th
10th The Dome, London
In The News
We Came As Romans have confirmed late vocalist Kyle Pavone died of an accidental overdose.
Arcane Roots have announced they will be splitting up after 12 years.
Danish progressive metal Cold Night For Alligators have joined Long Branch Records. They will be releasing their second album, 'Fervor' soon.
The mysterious producer known as GosT has signed Century Media Records.
Album/EP Releases
September:
27th:
Various – Fast Around The World Volume 2 (Disconnect Disconnect Records)
28th:
Well Wisher – This Is Fine (6131 Records)
October:
19th:
Opeth – Ghost Of Perdition (Live) 10″ (pink sparkle (limited to 700) and 10″ violet sparkle (Nuclear Blast mail order exclusive, limited to 300))
Delayed Departure – Your Colours EP
26th:
Debt Neglector – The Kids are Pissed (Smartpunk Records)
November:
2nd:
Witherfall – A Prelude To Sorrow (Century Media Records)
1. A Prelude To Sorrow
2. We Are Nothing
3. Moment Of Silence
4. Communion Of The Wicked
5. Maridian's Visitation
6. Shadows
7. Ode To Despair
8. The Call
9. Vintage
10. Epilogue
Hank Von Hell – Egomania (Sony Music Entertainment / Century Media Records)
9th:
Muse – Simulation Theory
1. Algorithm
2. The Dark Side
3. Pressure
4. Propaganda
5. Break it To Me
6. Something Human
7. Thought Contagion
8. Get Up And Fight
9. Blockades
10. Dig Down
11. The Void
Laura Jane Grace & the Devouring Mothers – Bought to Rot (Bloodshot Records)1. China Beach
2. Born In Black
3. The Airplane Song
4. Apocalypse Now (& Later)
5. Reality Bites
6. Amsterdam Hotel Room
7. The Friendship Song
8. I Hate Chicago
9. Screamy Dreamy
10. Manic Depression
11. The Acid Test Song
12. The Hotel Song
13. Valeria Golina
14. The Apology Song
Barbarian Hermit – Solitude and Savagery (APF Records)
1. Enter the Hermitage
2. Black Mass
3. No Sleep
4. Beyond the Wall
5. Lifebreather
6. Reawaken
7. Laniakea
16th:
Crooked Teeth – Honey EP (Rude Records)
1. Hate Me
2. Honey
3. Absent
4. You and Me (Whatever)
5. Broken Bones
23rd:
The Wild Things – You're Really Something (AWAL)
January:
25th:
Puppy – The Goat (Spinefarm Records)
1. Black Hole
2. Vengeance
3. Poor Me
4. Just Like You
5. And So I Burn…
6. Entombed
7. World Stands Still
8. Bathe In Blood
9. Nightwalker
10. I Feel An Evil
11. Handlebars
12. Demons
Festival News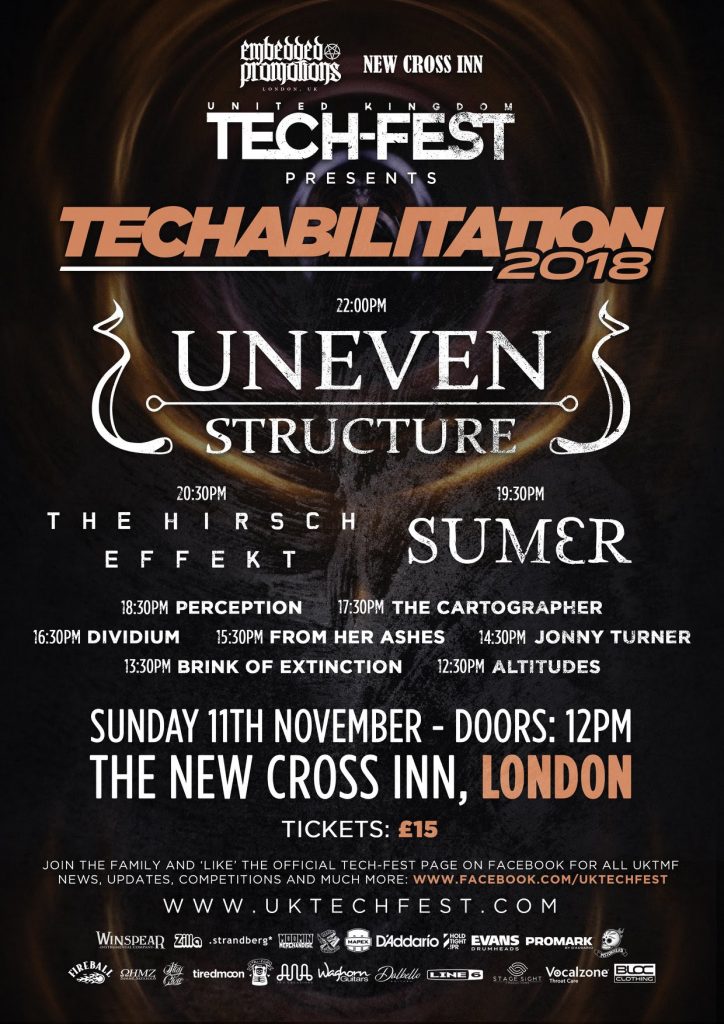 Uneven Structure, The Hirsch Effekt, Sumer, Perception, The Cartographer, Dividium, From Her Ashes, Jonny Turner, Brink of Extinction and Altitudes have been announced for Techabilitation. It will take place on November 11th at The New Cross Inn, London. Tickets can be purchased here.