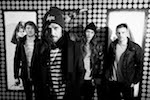 Idiom have released a new music video for 'Same Old Songs' featuring Benji Webbe from Skindred and Sean Smith from The Blackout.
The song features on the band's new EP of the same name which is available now as a cover mount CD with Metal Hammer (in subscriber and WHSmith editions).
The video can be viewed after the jump.