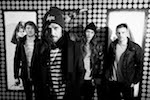 Idiom have announced they will release a new EP called 'Same Old Songs' later this month. It will be the second of three EP's that will be released cover-mounted CD with Metal Hammer magazine.
'Same Old Songs' will be released with the May 27th issue of Metal Hammer and will be exclusive to subscribers of the mag and issues sold in WHSmith.
1. We Live On
2. All I've Known
3. One By One
4. Same Old Songs Feat. Benji Webbe (Skindred) & Sean Smith (The Blackout)
5. Lighthouse
A preview of the title track which features guest vocals from Skindred's Benji Webbe and The Blackout's Sean Smith can be heard after the jump below.
May
08 Milton Keynes – Craufurd Arms
09 Stoke – Sugarmill
11 Glasgow – Ivory Blacks
12 Manchester – Sound Control
13 York – Duchess
14 London – Barfly
15 St Albans – The Horn
16 Southend – Chinnerys
17 Nottingham – Rock City Basement (Hey Hey Hey Club)
25 Plymouth – White Rabbit