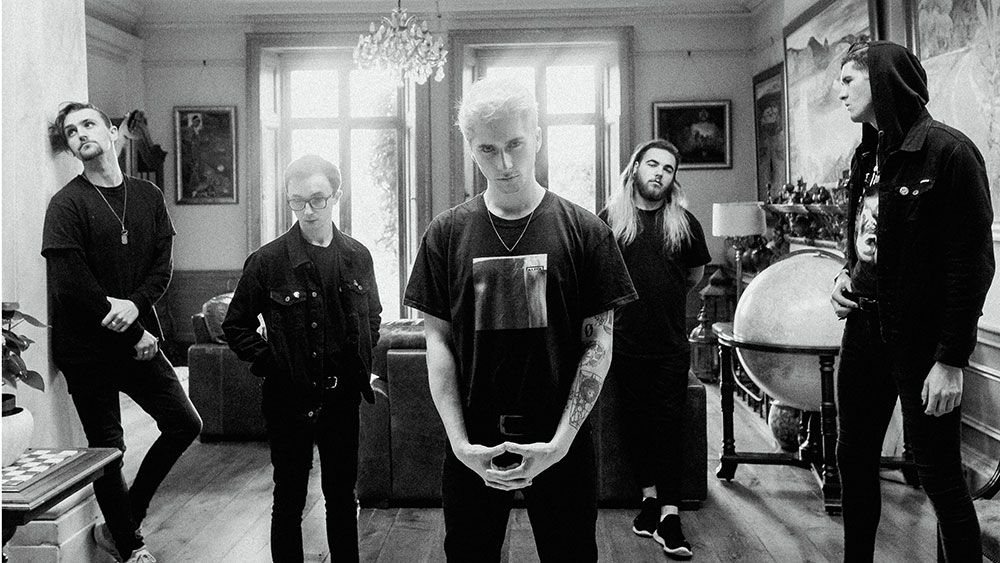 For many bands, your debut album is a substantial landmark in your career. It's seen as your only opportunity to present a well-rounded first impression. Some bands first albums are seen as stepping stones for what they followed. Nevertheless, the prospect of making your first album is a hefty task, especially if you're a band with a growing reputation.
For Cardiff quintet Holding Absence, the creation of their eponymous debut has been a rollercoaster of a journey, full of stops and starts. A combination of creative frustration and a substantial member leaving at the halfway point allowed the band to step back and refocus on their collective goal of producing a coherent album that represents them in the best way possible. And as our 5 out of 5 review suggests, it's mission accomplished for the Welsh five-piece.
Now as they prepare to unleash 'Holding Absence' to the public and hit the road for a series of headline shows, vocalist Lucas Woodland took the opportunity to talk about the creation of the record in detail – their initial aims, the setbacks, and he thoughts on the final record.
---
I honestly can't remember when we sat down and started properly writing the album. It was always a goal from day one of this band. I think the importance of this album always weighed on our shoulders and that really helped us naturally choose what was right to release and when.
"Thematically and lyrically, the aim was to produce a body of work that was thought out and intrinsically joined at the hip."
Sometimes it just felt like fate that the album ended up how it did. The first track we composed for this album, 'A Godsend', is two years old now and was practically finished before both 'Saint Cecilia' and 'Heaven Knows'. From the beginning, we were really feeling our way around the album and going with what felt natural, and scrapping the songs that didn't. This soon became a "Beggars can't be choosers" problem for us – some songs were taking a long time to nail, others we just didn't believe were right. I think that's why every song on the album feels so special to me. They all had to fight for their place on the record, against pretty stiff competition, in hindsight.
Sonically, the aim was to sound like an angsty, impulsive and naive post-hardcore band writing record number 1. Biting off more than we could we chew with style – kinda like how 'Hybrid Theory' (Linkin Park) or 'Orchestra Of Wolves' (Gallows) felt. Thematically and lyrically, the aim was to produce a body of work that was thought out and intrinsically joined at the hip. Like these songs couldn't exist without one another. We wanted this to sound like 'The Black Parade' (My Chemical Romance) or 'Vheissu' (Thrice) – mature and broken in. Though this task sounds impossible, I feel like the juxtaposition worked, to us at least.
The recording process for this record was a lengthy, laborious one, but once again I feel like it was necessary in the end. We started work with George Lever in late January (2018) and had already formed a healthy relationship through the 'This Is As One' split EP with him. The plan was to record half the album and start releasing tracks as we went along – this was purely due to the amount of time it was taking us to write songs as a four-piece. This session tracking was done at Vada studios, and we tracked 'Perish', 'Your Love', 'You Are Everything', 'A Godsend', 'Marigold' and another track that didn't make the cut.
Leaving Vada behind, in a blaze of fury, our old guitarist Feisal quit a month later, whilst on tour. In hindsight, with all respect, this really saved the record. The pace we were working at was dangerously slow, but as a remodelled band – myself, James (Joseph – bass) and Ash (Green – drums) transformed from musicians to songwriters overnight and this saw us write the rest of the album far quicker than the first, and included some of my favourites, 'Like A Shadow', 'Monochrome' and 'Wilt'. The rest of the album was recorded through September in George's studio in Wells.
"I am so incredibly proud of this album"
The absolute rollercoaster experience this album went through – in terms of songwriting and production – could've absolutely killed it, but in my opinion, this record now has a range of emotion and depth that no sane band would ever try to achieve the way we did.
As an overview, I am so incredibly proud of this album. Musically, whether it's the piercing intro to Perish, the catchy hook in 'Like A Shadow' or the pounding intro on 'To Fall Asleep'. Emotionally, the bittersweet love story told in Your Love, the gentle and beautiful refrain offered to you by 'Marigold', or the depressing lesson of reality taught throughout 'Last Of The Evening Light'. Finally, personally, being able to listen to the imperfect cadence that closes 'Wilt' and signifies the end of a record I waited a lifetime to write, and poured so much of myself into… That's a feeling that will always fill me with joy.
---
Holding Absence will be going out on a headline tour later this month. Support comes from Luke Rainsford and The Nightmares.
March
21st Joiners, Southampton
22nd Flapper, Birmingham
23rd Key Club, Leeds
24th O Reilly's, Hull
25th Garage, Glasgow
27th Rebellion, Manchester
28th Globe, Cardiff
29th Underworld, London
'Holding Absence' by Holding Absence is released on 8th March on SharpTone Records.
Holding Absence links: Website | Facebook | Twitter | Instagram