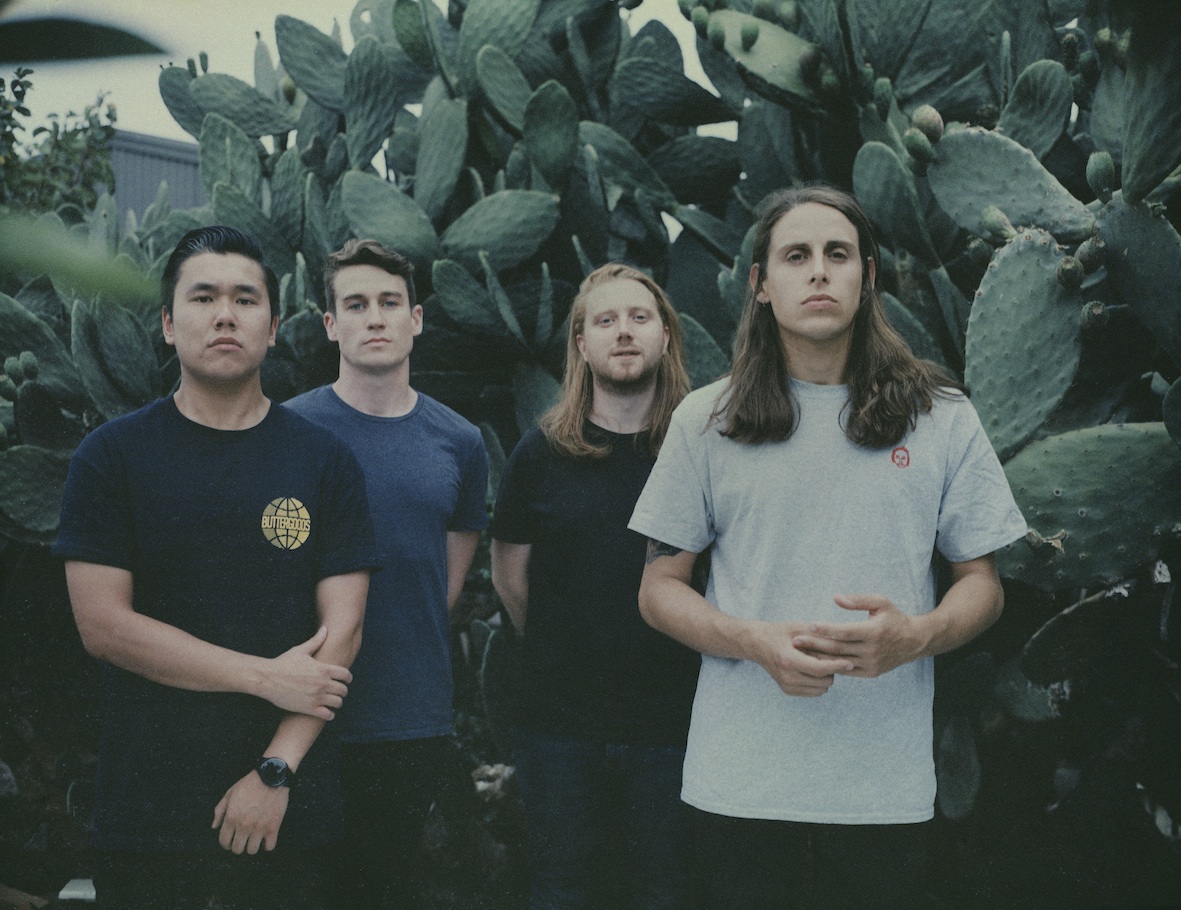 "I just hope that people can get lost in the stories of it"
"St Leonards is a really small, really quaint little beach town that doesn't have much more than a milk bar and a fish and chip shop."
Most people would read that description of a town and make the decision to continue driving through to the next place. But for Slowly Slowly frontman Ben Stewart, St Leonards is more than that. The second generation of a migrant grandfather from Sicily, Ben spent a lot of time growing up in the community situated 67 miles from Melbourne.
Slowly Slowly's debut full-length 'St Leonards' is a hotbed of various topics, all delivered with a sharply poetic earnestly, but it's naturally the album's title track that allows him to pay tribute to the times he spent in the town and the family he lost there. "I find that the Italian culture and that kind of upbringing that I had spending a lot of time at that family house is something that I hold very dear to me, so that song centres a lot about my Grandfather's passing and the disbanding of the family around that," Ben explains.
"That's why I sort of talk about a 'cornerstone' throughout the song. It references my Grandfather, and the death of tradition and things like that, which you can view positively or negatively, but it's still an experience."
At present, Ben is based in Preston which is situated just North of Melbourne, and it's in the city where the band conduct most of their business. "Pat [Murphy] our drummer lives over East near our bass player Alex [Quayle] and then out West is our guitarist Albert [Doan], so we're kind of splayed all over Melbourne," Ben explains. "Luckily there is a rehearsal studio that's sort of smack bang in the middle of all of us, so nobody has to go out of their way too much. But we all live relatively close to the city though."
The plight of city life is also a major lyrical subject on 'St. Leonards', as tracks 'Dinosaurs' and 'Aliens' let Ben address the idle state of life that comes from living in an area filled with air pollution and media overload. "I love the music community in Melbourne, and I love all my friends that live here," Ben explains."But I can see how the lifestyle that gets promoted when you get closer to the city center begins to decay a little bit."
Taking these ideas further on 'Aliens', Ben touches on that decay, exploring different frustrations from the obvious pressures of keeping up with rent, to the minor setbacks like overcooking microwave meals and turning them into mush. "That song for me was kind of a real purge that came out of some montage and fast forward of all of this synthetic lifestyle that I was frustrated by", he reveals. "I didn't really know what the song was about when I wrote it. I'd just had a bad day at work and I was stuck in a bit of a shitty period of my life anyway, but it all just came kind of cascading down and I didn't really put the jigsaw together for quite a while.
"It stayed as a rant on my phone that I wrote directly after work or on a lunch break, and then I came back at it, and put some chords to it a few weeks later. Then I showed Alex and he said that it really resonated with him, and that's when I first started thinking, 'well maybe this could be a song.'"
The gradual development of a rant into a song is a fitting description for a lot of the tracks on 'St Leonards'. Ben uses each track as a means to communicate various forms of overthinking in a way that is often difficult to express in everyday conversation. "Even songs like 'Aliens' took a long time to get right, but the lyrical content never changed. From top-to-bottom, it was just that rant which was a stream-of-consciousness," he elaborates.
"When it's going, it's going. If I've got that feeling while writing lyrics and it's all coming out, then I mine as hard as I can at that vein until the lyrics all spill out."
While Ben's autobiographical writing style has always been his natural style of lyricism, the messages and themes of 'St Leonards' haven't been lost on listeners. Having people resonate to his lyrics is something that Ben revels in. "I love knowing we can play a small part in someone's life and I love the idea that our songs can be the soundtrack to a time in someone's life.
"We have experienced it a little bit with St Leonards since it came out, we've had a few people who were in the same boat and used to holiday to that area. They messaged our page and said that they listened to it as a family and were just kind of blown away because it was painting all this imagery that they understood."
The lyrics are easy to become immersed in as they're carried by vibrant power pop melodies, which obtain a sense of sunburst tranquility even at their most distorted. Features such as reverb effects on 'Ten Leaf Clover's' drum arrangements gives the track the exact dreamy atmosphere the band were looking for. "The whole record was recorded by Alex and myself, so we mixed most of it apart from a little bit of help with drums at the very start with our friend Joel [Taylor] who let us record in his studio [The Black Lodge Studio]," Ben explains. "But everything onwards, all the effects were slaved over by me and Alex.
"That's why I think the record feels like such a weight off our shoulders to have it released. While other bands would have booked the recording time and sent it off to mixing and mastering, it's millions of hours of our own work on that vinyl when we held it in the end."
Thankfully, the result of Slowly Slowly's labour is now being heard by bigger crowds than the band have ever experienced before, thanks in part to the album's release via widely acclaimed Australian label UNFD Records. Ben for one refuses to take the opportunity to work with industry professionals for granted. "The team at UNFD are a very organised bunch and our band is not," Ben says with a wry chuckle. "If I start writing a song at the start of the day, it'll consume me. Then I'll look up bleary eyed from my laptop or the guitar or something at 6pm that day while standing there in my undies and my slippers and go; 'What the fuck happened to my day?'
"So it's nice having a team of people a phone call away, taking care of the organisational side of things and keeping you on track and helping with planning and stuff like that, and it allows me to spend more days standing in my undies and slippers."
Naturally, Slowly Slowly have a busy touring schedule ahead of them, having recently completed a lengthy headline tour across supporting the album's release. But Ben is already looking ahead for future touring opportunities. "We've always been intent on getting overseas, so we're very excited to get over to the UK, Europe, America; we'll take it anywhere if the opportunity arises, but we just have to make sure the audiences are there first," Ben says. "I don't think we wanna get on a plane for that long to play to no one!"
Having recently played to bigger audiences in Australia supporting The Story So Far and Citizen, Ben realises that valuable experience that comes with touring with more established bands. "We did a tour in last year with one of my heroes growing up. They're a band called Something For Kate who are Australian rock royalty," Ben excitedly recalls. "They're a big deal here, and the singer Paul Dempsey has a solo career as well that I absolutely love.
"At a show in Adelaide, the power in the venue cut out during their set and [Paul Dempsey] didn't even flinch. He just walked over to the side of the stage, grabbed an acoustic guitar and then walked out into the crowd, stood on a table in the middle of everyone and played a few acoustic songs while they fixed the power. It made the show ten thousand times better, and everybody's jaw was just on the floor.
"He just waltzed back up on stage when the power went back on and started playing again", Ben recalls, still in awe of this recent memory. "So it's things like that. We probably would have just cried and packed our stuff up if that happened to us."
For the time being, Slowly Slowly have a lot to be excited about. With 'St Leonards' now unleashed to the world, the four-piece can sit back and let the world become absorbed with the results of months of work in musicianship and production, and a lifetime of experiences worked into 13 tracks. "I just hope that people can get lost in the stories of it, I guess," Ben Stewart concludes, as he dwells on what he'd most like listeners to take from the album.
"I just want it to be one of those records that I grew up loving that was very all-consuming. Not so much a record that had a couple of songs on it you liked, but something that could piece together a bit of a journey."
'St. Leonards' by Slowly Slowly is out now on UNFD Records.
Slowly Slowly links: Facebook | Twitter | Bandcamp
Words by Andy Davidson (@AndyrfDavidson)