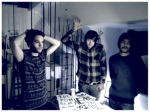 Eastbourne's Hold The Fight have revealed details of their new mini-album, 'With A Breath & A Hope', which is set to be released on 13th March through Nothing But Love Collective.
1. How many times man, I'm not Caesar!
2. Eleanor!
3. Baby, you be the architect!
4. Who's game for another one line adventure?
5. We will sink your battleship!
6. Face it kid you can't build a bridge out of algebra!