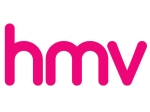 According to The Telegraph newspaper, HMV are planning to announce the closure of 60 to 100 stores this week.
The move comes as Deloitte, the administrators who are overseeing HMV plan to restructure the high street retail chain.
The location of the stores set to be closed are yet to be finalised, but the chosen shops will remain open until all their stock has been sold. The closure of the stores could lead up to 1,500 job losses.
 Last week, the administrators cut 190 HMV jobs at the company's head office which led Poppy Rose Cleere, HMV's social media planner, to post a series of disgruntled tweets on the company's official Twitter account.