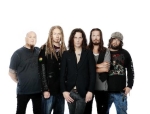 HIM have revealed details of their new album, 'Tears on Tape.'
1. Unleash The Red
2. All Lips Go Blue
3. Love Without Tears
4. I Will Be The End Of You
5. Tears On Tape
6. Into The Night
7. Hearts At War
8. Trapped In Autumn
9. No Love
10. Drawn & Quartered
11. Lucifer's Chorale
12. W.L.S.T.D.
13. Kiss The Void
In addition the band will be teaming up with Metal Hammer magazine to release a special "fanpack" and will include the following:
Full studio album + 2 bonus tracks ("Buried Alive By Love" & "The Kiss Of Dawn" recorded live in the studio ). 
Giant double-sided door poster.
Exclusive interviews with Ville Valo and all members of HIM.
An extended track-by-track guide to 'Tears On Tape.'
An interview with the architects behind the sound of Love Metal Hiili Hiilesmaa and Tim Palmer.
A detailed guide to HIM's extensive back-catalogue.
The true, exclusive story of the Heartagram.
An exclusive gallery from the band's own private collections.
Interviews by the band with as assortment of their own heroes.
The 'Tears on Tape' (fanpack) will be available for 4 weeks from 29th April.