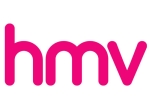 According to online reports, Entertainment retail chain HMV is set to go into administration tomorrow morning (Tuesday January 15th).
Directors of the HMV board met this evening (Monday Janaury 14th) to discuss possible options regarding the high street chain's future. One option is said to be a possible plan to call in administrators.
Last year, HMV sold several live music assets including London's Hammersmith Apollo, the HMV Foum in Kentish Town and Manchester's HMV Ritz.